Spectacular Amazon (NASDAQ:AMZN) revenue growth and the star power of CEO Jeff Bezos have mesmerized investors over the past couple of years to generate one of the greatest stock runs a company this size has ever undergone while delivering deteriorating earnings and cash flow (Figure 1). Companies such as Amazon.com, SalesForce.com (NYSE:CRM) and Netflix (NASDAQ:NFLX) are three examples of companies in the middle of major investments that have traded short-term profits for long-term growth. When in these modes traditional valuation methods such as Discounted Cash Flow [DCF], Price to Earnings (P/E) multiples and sum of parts analysis are not applicable. In the case of Amazon, investors have pinned the stock price to a multiple of forward revenue with extremely high correlation (R-squared > 0.94 over the past 5 years). We will examine if the magnitude of this metric is appropriate based on a simple approach to valuing companies in this situation.
Figure 1: Amazon Stock Price vs. Disappearing Earnings & Free Cash Flow
From the equation in Figure 2, we can see that Amazon's stock has been priced to ~1.8x forward revenue (the model defines forward as just reported last quarter revenue plus the next three quarters of revenue). Let's examine what this ratio implies of investor expectations for Amazon's future financial performance. Is this expectation real, or do we have a bubble on our hands?
Figure 2: Correlation of Amazon Stock Price to Forward Revenue since 2008 Q1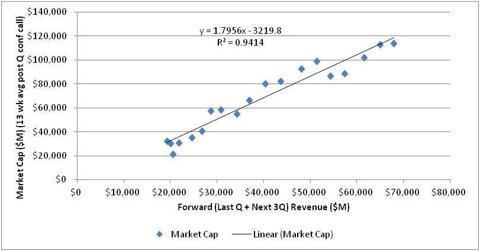 No matter what bulls proclaim, the decoupling of price to earnings and cash flow in Figure 1 cannot last indefinitely, particularly as Amazon growth has been slowing immensely (Figure 3). It will either return to profitability or will get crushed over the next couple of years. If we assume Amazon achieves a consistent level of profitability at some point, by definition earnings and free cash flow will approximate the rate of revenue growth and be valued as such. Based on this, we can determine the appropriate Price-to-Sales ratio (P/S) to apply to Amazon (or any company in this state) based on the expected level of net profit margin and revenue growth for Amazon once this hyper-investment period is complete.
Figure 3: Amazon Year-on-Year Growth Rate is Declining Significantly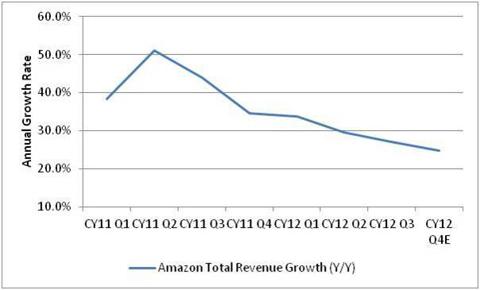 The valuation equation is the following:
P/S = (RGR * 100) * (NYSE:NM)
Where:
P/S = Price to Sales Ratio (Market Cap / Revenue)
RGR = Future Revenue Growth Rate (%)
NM = Target Net Margin (%)
We can apply this simple formula to a matrix and determine the appropriate P/S ratio under different circumstances (Figure 4).
Figure 4: Forward P/S Valuation Matrix

A couple of examples to demonstrate how accurate and simple the equation can be:
eBay (NASDAQ:EBAY) today has 28% net margin and a forward growth projection of about 15%. According to the model eBay should trade at 4.20 sales (15% * 100 * 28%). eBay currently trades with a forward P/S = 4.25 ($69.3B/$16.3B).
Google (NASDAQ:GOOG) today has 22% net margin with a forward growth projection of 24%. According to the model Google should trade at 5.28 sales (22% * 100 *24%). Google currently trades with a forward P/S = 4.71 ($243B/$51.6B).
For Amazon to maintain that forward P/S ratio of 1.8, one of the following scenarios would need to play out for example:
If it achieves Walmart (NYSE:WMT) levels of net margin going forward (3.6%), it would need to achieve a 50% revenue growth rate going forward.
If it can maintain its current 25% growth rate going forward, it would need to achieve consistent 7% net margin.
It is impossible to imagine Amazon achieving either consistent 50% growth or 7% net margin going forward (see my previous article on why), so it would appear to be vastly over valued today with a Forward P/S of 1.8. Even an upside scenario would bound a 25% growth rate with a 3.5% net margin. That would suggest a Forward P/S of 0.875, or a mid CY13 valuation of a $149 per share [0.875 * ($79.3B revenue) / (465M shares)].
Conclusion
Investors have valued Amazon stock consistently over the past five years by applying a forward P/S ratio of 1.8x. While utilizing this ratio for valuation during periods of significant investment is warranted versus more traditional methodologies, the value itself implies extremely unrealistic expectations for future Amazon growth and / or profitability once the investments are completed. In relation to other companies, Amazon appears to be overvalued by a factor of two.
Disclosure: I am short AMZN. I wrote this article myself, and it expresses my own opinions. I am not receiving compensation for it (other than from Seeking Alpha). I have no business relationship with any company whose stock is mentioned in this article.