Android is in its death throes.
Well, this may be overstating a bit, but I do believe that the Smartphone OS landscape will be very different in 4 years, and that Android OS, by Google (NASDAQ:GOOG), will be the loser. My basic thesis is that Windows Phone 8 (WP8) from Microsoft (NASDAQ:MSFT) and BlackBerry 10 from Research in Motion (RIMM) will take massive market share from Android. (See Part 1 and Part 2 for the basic rationale, and Part 3 for my market share predictions up to 2016.)
In this part, I will note an interesting point from a recent ChangeWave Research report.
I. Windows Phone 8 - Doing Well
On January 15, ChangeWave released a report on the "Mobile Wars." One data set they collected was the satisfaction rating of the respondents with their current smartphones. They report on this by the smartphone operating system.
They write:
We looked at operating system customer satisfaction based upon the OS consumers have on their smart phones. As in previous surveys, Apple is the clear leader here - with 71% of iOS users saying they are Very Satisfied with their phone.

But the big surprise is that users of Microsoft's Windows Phone operating system (53%) now rank it higher in terms of customer satisfaction than do users of the Android mobile operating system (48%) - a clear sign of strong user satisfaction with Windows Phone 8. [emphasis added]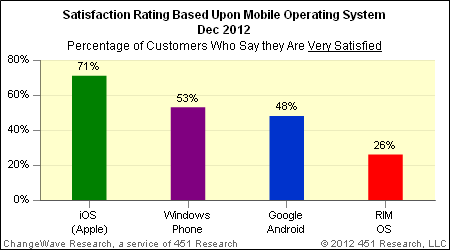 II. Nokia
Regarding Nokia (NYSE:NOK), they went on to note:
Nokia is the biggest beneficiary of the higher Windows Phone satisfaction levels to date. The Finnish manufacturer's Very Satisfied rating jumped to 56% this quarter putting it in a dead heat with Samsung (55%) for second place - though both remain well behind Apple (70%), the industry leader.
III. Analysis
In my original article for this series, I hypothesized that Android would loose serious market share to WP8 and BB10. At the time, I wrote:
Caveat - this argument is predicated on the supposition that Window Phone 8 is NOT a complete disaster. If it turns out to be another Vista, then all bets are off on this horse.
According to this survey, this is no longer an issue. It appears, at least from first blush, that WP8 is doing well.
IV. Conclusion
Of course, WP8 is still new and relatively untested. It will take time for more people to evaluate it and to see if any major glitches come up.
One has to wonder if there is any tendency of first adopters to be more exuberant about their devices than other users, at least if the device does not bomb.
That said, this first indication is that WP8 phones are doing much better than had been expected. (I don't think many people have high expectations for Microsoft in the satisfaction category. [he said, tongue in cheek]) If these early results are continued as the platform grows, then I think we can look forward to a real resurgence, and expanding market share.
Since the Apple (NASDAQ:AAPL) iPhone continues to have the highest satisfaction ratings, it seems to me that these new sales will be mostly at the expense of Android. This is as I predicted earlier.
Time will tell.
=======
An aside....
On a related note, I would like to point readers to another article with other reasons for Android demise, by fellow SA contributer Bert Danner. It is a very interesting and detailed post. I quote just a small portion:
Market share "success" under these conditions will prove to be a fleeting phenomenon, as no meaningful platform advantage exists. The reason the Android platform does not have a self-sustaining network effect is because it lacks a meaningful financial opportunity for developers and service providers. The type of consumer that purchases Android is looking for free deals and has little interest in making ongoing purchases. In fact, Android's overriding appeal is to consumers with an aversion to spending money. In contrast, Apple's platform is designed to attract those consumers who enjoy buying things, especially nice things. This is why Apple's customers are so valuable to Apple's developers and service providers, whereas Android presents developers with little profit opportunity.

The basis of competition within the Android marketplace will continue to make the platform unattractive to developers. Android phones are manufactured by OEM hardware manufacturers and sold through the telephone carriers. The majority of Android phones currently being sold run old Android versions - two or three versions back. The software on these phones will probably never be updated. They cannot run the newest Android applications. The only conclusion that can be reasonably drawn is that these phones are being purchased by consumers for use primarily as advanced feature phones, not as a mobile computing platform.
See:
The Network Effect: Why Apple's iOS Will Win The Platform War Over Google's Android
-----
Android is Dead? Series posts:
In part 1: Why? I put out my thesis and basic arguments.
In part 2: Titans Clash, I note corroborating analysis from a Goldman Sachs report titled Clash of the Titans.
In Part 3: The Numbers, I proposed a 2016 market share scenario, complete with numbers, in which Android had lost significantly to Windows Phone 8, and BlackBerry 10.
In Part 4: New Contender Windows Phone 8, I discuss the new Windows Phone 8 operating system, and a couple of particular devices.
In Part 5: Number of Players , I addressed criticism that 4 was too many players in the market.
In Part 6: Nokia Triumphs, I discuss Nokia's recent success with it Lumia models.
In a future segment, to come, I will do an analysis similar to part 4 for Research in Motion's BlackBerry 10 OS.
Disclosure: I am long AAPL. I wrote this article myself, and it expresses my own opinions. I may open long/short options positions in AAPL or other mentioned companies in the next 72 hours. I am not receiving compensation for it (other than from Seeking Alpha). I have no business relationship with any company whose stock is mentioned in this article.