As Apple's (NASDAQ:AAPL) stock tumbled in late 2012, while short interest was surging, analysts rushed to lower their estimates and cut their price targets, sometimes in a very awkward way, causing even more downside.
Now it seems that everybody you'll talk to is going to say that Apple's best days are just a far memory, and that the future holds just compressed margins and a lower market share. On which basis? But of course on all those speculations of an imminent demise, now spread over the web, which were actually already circulating in the last decade. Well, we may then want to take a better look to Apple's past, in order to put all the pessimism now surrounding the stock in the right context, and especially to gain a better perception on what the future might be.
Speculation n. 1: Nobody wants the iPhone anymore, Samsung is king now
The Galaxy S III sells indeed pretty well: no other Samsung (OTC:SSNLF) product has ever sold more is such a short time. This of course means that Apple is certainly doomed.
Wait a second: taking a look at the numbers, it turns out that Samsung sold 40 million Galaxy S IIIs in 7 months. Well, Apple sold almost the same number (35m) since the beginning of June to the end of September, and is now expected to report sales of almost 50 million iPhones for the last quarter (even though the Galaxy S III is sold around the world at a 25-30% discount to the iPhone 5): that's 100%+ more handsets shipped.
Moreover, alleged cuts to components manufacturers are adding to the speculation that the iPhone isn't trendy anymore, and fewer people want it. That's totally false: in spite of a fiercer competition, which has been virtually non-existent since the iPhone 4 came out to the very recent period, iPhone demand is strong as usual, if not stronger than ever. These are in fact the results of a ChangeWave research which came out on January 15.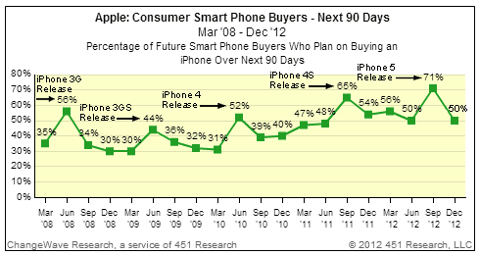 Speculation n. 2: Apple's innovation has stalled
Almost everywhere you head on the web, you can easily find someone claiming that Apple innovation is finished: they'll say that Apple doesn't get enough patents anymore, that Apple actually doesn't invent anything anymore. There's something wrong with these assumptions. Just look at Apple's history for a moment:
Did Apple invent the PC? Of course they didn't, it had already been around for many years even before 1976. Did Apple invent the PC as the world has learnt to know it and, especially, to use it? Yep, they did.
Did Apple invent the MP3 player? Of course they didn't, that technology was already there. Did they take an unknown technology by the masses, pair it with the most intuitive and most usable interface a device could have with a software which was totally unique to create the most sold MP3 player? Yes again.
Did Apple invent the smartphone? Nope, it was already there, even though it was such a not-so-great experience that almost nobody used it. Did they employ that technology, combined with a total new approach towards usability and UI, to shape from the ground-up the category of the smartphone, building what still today is the most used and loved device of that genre? Absolutely yes: Apple revolutionized how people interface with their mobile phones shaping the existent technology as nobody else has done.
Did Apple invent the tablet computer? Absolutely not, it had been there for almost ten years, even though it was a little bit clunky and nobody used it. Did Apple create the best experience a regular guy could have handling a tablet computer with the iPad, substantially inventing a new category of technological products which did not exist before? Yup again: even though the technology was already there, Apple's groundbreaking approach towards design, usability and performance lead to a totally new device, which is today changing how people relate to technology itself.
Apple has always revolutionized, reshaped a category and they had a huge success doing that. Is there anybody else who is doing the same thing? Nope, there isn't (point them to me if you know somebody else). Apple is doing what they have always done: creating the best products possible, and according to consumers, they're still nailing it (Time's magazine gadget of 2012 is iPhone 5, if you were wondering).
At the moment, there's nothing different compared to one, two years ago. You could only argue that they've not done enough, that they have not revolutionized the last big category in which their presence is almost inexistent: TV. Listening to Tim Cook's words, though, something is being baked. Will it come soon as many are forecasting? Only time will know.
Assumption n. 3: The board is not sufficiently investor-friendly
The dividend is too low, the company doesn't repurchase enough stock. Really? Prior to march 2012 AAPL didn't even have a dividend or a stock repurchase program! You'd need to go back to 1995, when Steve Jobs wasn't back at Apple yet, to see the last dividend issued by the company prior to last year. After Jobs came back in 1996, Apple has never cared if the investors where pleased or not: at Apple, they kept working hard, trying to achieve the best products possible, and investors got hugely rewarded by the stock appreciation, which followed the growth in earnings.
Apple has not been so investor friendly in a very long time, and I really don't see why they should be asked to do even more: the stock repurchase program is there (many companies flush with cash don't have one: Google (NASDAQ:GOOG) anyone?); the dividend yield is high, actually higher than 40% of the dividend issuers quoted in the US.
Yes, the pile of cash Apple is sitting on is gigantic, and could maybe be put to a better use, but until proven otherwise, the CFO has always done a spectacular job and Apple has never been famous for doing big acquisitions: it's not in the DNA of the company to mindlessly spend money.
Conclusions
Overall, Apple is surrounded by an extreme pessimism inflated by distorted financial media, which find it easy and remunerative to amplify the fears of all those Apple-longs now underwater, and to cheer long time Apple-haters by spreading rumors and unconfirmed pieces of news.
All real news - Apple stores packed during the holidays; the iPad mini, in spite of the criticism, appears to be extremely successful; more than 50% of the US smartphone market recently obtained by the iPhone for the first time ever - actually point yet again to the best quarter ever for the Cupertino based company.
The current price, moreover with January 23 big announcement coming, offers a compelling entry point. For the most prudent investors, though, the best thing will probably be to wait for the results to come out, and only then, if the numbers are indeed strong, click the buy button.
Disclosure: I am long AAPL. I wrote this article myself, and it expresses my own opinions. I am not receiving compensation for it (other than from Seeking Alpha). I have no business relationship with any company whose stock is mentioned in this article.
Additional disclosure: I may initiate a long position in GOOG over the next 72 hours