An article in the "Arizona Republic 'Phoenix Becomes Virtual Investor's Housing Market', reveals how a handful of large financial institutions are dominating housing purchases and ownership in regions such as metro Phoenix. Key takeaways:
Real-estate investment firms owning nearly 20%, or one out of every five, of the region's single-family houses and condominiums. That's double the number of rentals considered normal in metro Phoenix in 2000, according to housing-market analysts. Wide swaths of the metro area now show 25-30% of all house are investor-owned. The pace quickened in 2012, as investors have purchased more than 30% of all single-family houses and condominiums sold. Investors now own 225,000 homes.

"Investors helped stabilize Phoenix's housing market," said Mark Stapp, director of real-estate development for Arizona State University's W.P. Carey School of Business. "My concerns are that too many investors are treating Phoenix's homes as a commodity. The type of investor has shifted dramatically this year, from small and large local investors to billion-dollar funds based in New York and Los Angeles. A Republic analysis of purchases, provided by real-estate data firm Information Market, found that in some areas of metro Phoenix, the most active three or four investors own more than half of the rentals.

Market analysts worry about investors' impact on traditional buyers, who are finding it extraordinarily difficult this year to close a deal. Sellers, especially those of distressed properties and of homes priced below $150,000, often take the simpler route, accepting bids from investors paying cash instead of from traditional buyers who need to get a mortgage.
A quick glance at Craigslist rentals in Greater Phoenix shows literally hundreds of daily offerings.
Tom Lawler writes about how this large investor-landlord trend accelerated in the fourth quarter. All cash transactions are indicative of large investors. Of course, large investors get their financing at the corporate level by taking advantage of the bond bubble or inflated preferred stock offerings.
In searching articles around the Web, there's not too much yet regarding how rent collections are going for these big landlords. Suffices to say, judging from the following unemployment levels in the cities below, these are not healthy communities economically. Unemployment: Las Vegas 10.8%, Phoenix 6.7%, Sacramento 11.7%, Orlando 7.5%, Toledo 8 %, Los Angeles 10.9%. As I suggested in my article "The Sorry State of the Consumer," many of the new tenants of this housing are government dependent and are counting on continued transfer payments from government sources. The fact that many people in these communities are one paycheck away from being completely broke is not new.
Chart source: Calculated Risk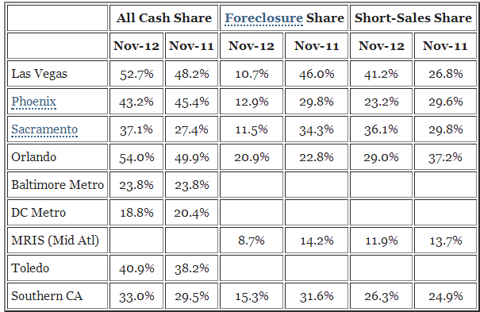 The trend for home ownership to a rental society construct is visible in this chart.
Source: Colony Financial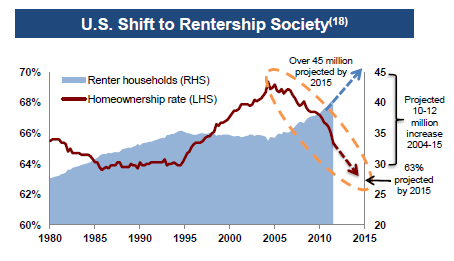 These landlords project a 6% cap rate on their rentals. In a corporate presentation, one REIT Colony Financial (CLNY) used the following optimistic chart on expected returns. The expenses at $510 a month look too low. They are using 5% vacancy rates but are involved in many of the same high unemployment cities mentioned above. Credit loss of 2% renting to middle class people (renting at $1,275 a month) is outright delusional. In fact, households earning over $40,000 annually will be unsubsidized under Obamacare, are ineligible for food stamps, won't be covered under the big expansion of Medicaid and will be paying more payroll taxes. I can't imagine a worse group to rent to, as they don't get the government handouts, live in depressed cities and are asked to pay hefty rents. CLNY as of January 4 had 5,382 properties in urban areas across six states and 42% were unleased. Most were bought in the second half of 2012.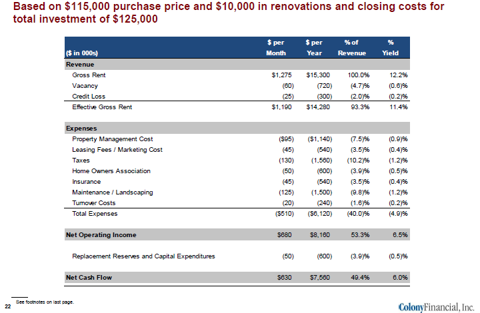 There is obviously a renovation cycle that goes along with this institutional pile on of distressed residential housing. My SWAG (guess) is that standard renovations are done quickly, perhaps within a month of closing. Colony states its goal is about $10,000 in renovations. It is uncertain when the appetite for rental housing to poor people generating 4.5-5% cap rate runs its course, but once it does the remodel boom in stocks like Home Depot (NYSE:HD), Lowe's (NYSE:LOW), Lumber Liquidators Holdings (NYSE:LL) and Williams-Sonoma Inc. (NYSE:WSM) will come to an end -- making comparisons against the remodel boom difficult to match.
Disclosure: I have no positions in any stocks mentioned, and no plans to initiate any positions within the next 72 hours. I wrote this article myself, and it expresses my own opinions. I am not receiving compensation for it (other than from Seeking Alpha). I have no business relationship with any company whose stock is mentioned in this article.