On January 4, I argued here on Seeking Alpha that the sharp increase in the share prices of several dedicated corn ethanol producers on news of the fiscal cliff deal was an overreaction. Shares in the two companies experiencing the biggest gains, BioFuel Energy (NASDAQ:BIOF) and Pacific Ethanol (NASDAQ:PEIX), have since fallen from their highs January 3, by 18% and 10%, respectively (see figure). [Interestingly, Rex American Resources (NYSE:REX), which scarcely budged after the fiscal cliff deal was announced, is up 10% over the same period, while Green Plains Renewable Energy (NASDAQ:GPRE) is still flat for 2013.] The market appears to have realized that while the provisions of the fiscal cliff deal may signal a shift to a more favorable stance in Washington D.C., toward the broader biofuels industry, corn ethanol producers will not directly benefit (unlike biobased diesel producers).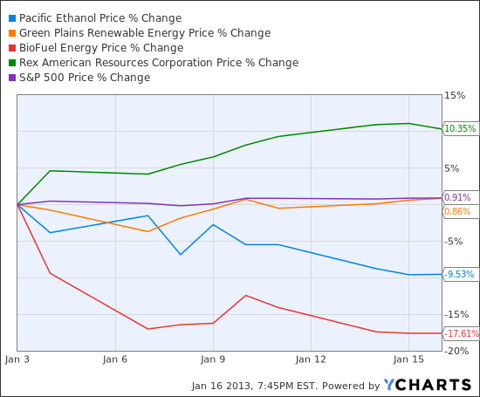 data by YCharts
A notable change in market conditions has occurred since the beginning of the year, however. D6 Renewable Identification Numbers [RIN], virtually all of which go toward corn ethanol production, have increased in value from $0.05/RIN on January 3, to $0.13/RIN as of January 16. At risk of engaging in hyperbole, this is an historic event; D6 RINs have been trading between $0.01/RIN and $0.04/RIN [pdf] for virtually their entire existence.
This surge in value is the result of a number of significant changes in the operating environment for corn ethanol producers. The prices of gasoline and corn have sharply diverged since the beginning of the year, with the U.S. price of gasoline just above its 1-year low (see figure). While such a divergence alone is not sufficient to explain the change in RIN values (a similar situation in July had little impact on them, after all), the corresponding fall in daily ethanol production from 830,000 barrels per day [bpd] to 784,000 bpd does. As a reminder, RIN values operate as a function of gasoline and corn prices, increasing as the former decreases and the latter increases. In other words, RIN values increase during difficult operating environments to support biofuel producers until conditions improve. An important caveat is that RIN values only increase when such an increase is necessary to incentivize enough production to meet the annual volume mandated by the revised Renewable Fuel Standard [RFS2]. Last summer, when the corn ethanol industry was on pace to produce 106% of the 2012 mandated volume, was particularly rough for producers as a result because RIN values were unable to offset the sharp increase in their feedstock costs (i.e., a condition of overproduction relative to the 2012 mandated volume existed in the industry, so the value of RINs fell to near zero since they were not needed to satisfy the mandate).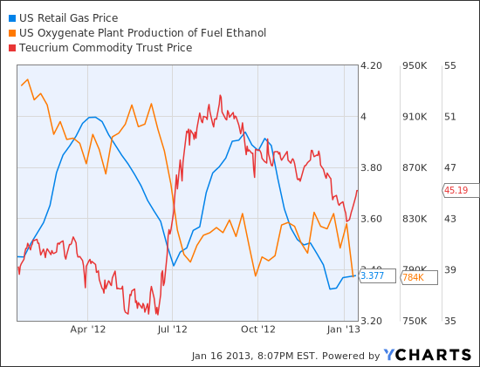 data by YCharts
The operating environment has changed in recent weeks, however, and RIN values are responding to higher corn prices and lower gasoline prices now that annual production is on pace to reach only 12.4 billion gallons in 2013, or 90% of the mandated volume for the year. Daily U.S. ethanol production will need to return to levels not seen since last July if D6 RIN values are to return to their previous levels. The capacity is still there, obviously (even if some of it has been idled), and I don't expect share prices to return to their pre-drought highs as a result, but signs of life in the D6 RIN market should translate into lower risks for investors in dedicated ethanol producers over the next few months. Shares could even advance on news of facility restarts in response to the higher RIN values, although investors should note that the industry's long-term headwinds still remain. Additionally, share prices have quickly retreated following gains on positive headlines twice since November (first following the EPA's mid-November decision to uphold the ethanol mandate, and again following the fiscal cliff decision), so playing such a move is a risky proposition at best.
Disclosure: I have no positions in any stocks mentioned, and no plans to initiate any positions within the next 72 hours. I wrote this article myself, and it expresses my own opinions. I am not receiving compensation for it (other than from Seeking Alpha). I have no business relationship with any company whose stock is mentioned in this article.