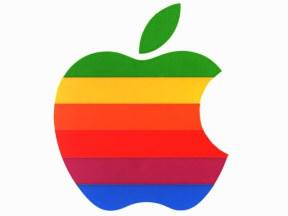 Crossroads
Apple (NASDAQ:AAPL) has two clear choices at this point in its life: 1) Continue to create the next great "wow" products. 2) Keep on doing what it is doing, growing markets of its existing leadership products, transitioning toward a slower-growth model.
Loss of the "WOW" Factor
As the recent Consumer Electronics Show keynote speech demonstrated, consumers are no longer wowed by tablets and mobile. While once they were fascinating magical devices, now they come to expect them. As the catch phrase went, today's consumers are "born mobile."
Numbers seem to back that observation - in the U.S., 80% of new mobile phone sales are now smartphones.
Armchair CEO
So where should Apple go from here? I'm not smart enough to tell the most successful company in the world what it should do next. However if I had to play Apple CEO, I'd do my best to offer my own humble suggestions.
Readers, feel free to play along, tell me in the comments section what you would do if you had control of Apple. Or tell me why my ideas are terrible, or why you liked them.
Leverage the Past to Define the Future
If you look at Apple's string of successes, each new product was a success because it leveraged the engineering and product design experience from its predecessor. Portable digital music players, smartphones and tablets, had been around for years before Apple entered these markets. Yet somehow the Apple model delivered so well, it pretty much drove them out of the niches, and to masses.
The Apple Platform
The clear lesson I learn from Apple is the creation of a fantastic platform. The i products are more than just devices. They are robust, highly engineered core platforms, which can execute and deliver solutions. With very slight modifications and extensions, this platform can be used to deliver new solutions into existing markets.
Apple Pi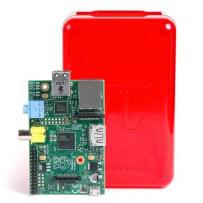 Source: MCM Electronics
There is a transformation going on in technology circles, and it's being led by cheap, small footprint devices, most famously, a British device called Raspberry Pi. The Raspberry Pi costs $25. That's right - $25. For this price, it is a fully operable computer, the size of a credit card.
Techies are using this technology in very interesting ways, from odd devices like earthquake sensors, to a media streaming device, which is able to access Apple's Airplay service. $25 for the device vs. $100 for an Apple TV.
The device was so popular, it had several months of backordered delays, and the suppliers could not keep up with demand. Now in full production, it has sold over 1 million units. The device even has its own app store.
Certainly Apple, which has already produced a very robust, small footprint platform, with rich development tools and exceptional content delivery, could come up with a similar device to deliver to the masses, and do it better than anyone else.
Extend the Core with Razer Precision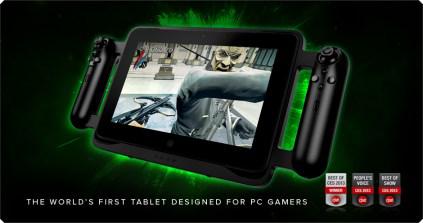 Source: Razer
To enable niche solutions, the core platform needs to be able to support hardware extensions. Razer introduced a product at Consumer Electronics Show 2013, which does just this. This core product is a tablet, but can be extended with a keyboard to create a PC, and further to create a gaming console, with custom controls.
How many people have you noticed flopping or turning their phones or tablets all over the place, while playing their game? What if the phone could be accessorized in a streamlined, Apple-certified way to extend the hardware?
This is where Apple can work on a unified hardware extension program, defining an engineering standard for partners that want to plugin to its products, similar to the way in which USB, Bluetooth and Thunderbolt were developed.
Open Source Hardware Components Increase Core Demand
Encourage open source development of hardware the way IBM did years ago when it spent $1 billion on Linux, or when Sun (NYSE:ORCL) developed Java. Take a look on Kickstarter, and you will see so much mobile development going on, both at the hardware and software level, it's pretty amazing. This is a market Apple can not only encourage, but exploit, taking its platform to the next level.
Vehicle Information Systems
How many of you use your smartphone to help you navigate your way on trips in your car? I know most of my friends, and my family do, and recently I stopped using my car's fancy GPS system in favor of Google Maps on the iPhone. In fact I don't even use my car's unit for anything, not even the radio. I simply use it to power the speakers in the car, and the iPhone does the rest.
Apple already has the best content delivery system and a hardware platform, and should leverage this to create an easily pluggable device for the automobile.
Ford (NYSE:F) recently announced an app developer program for its Microsoft Sync platform, and Kia (OTCPK:KIMTF), Fiat (FIATY.PK), and Nissan (OTCPK:NSANY) also use the Windows Embedded platform.
Out of all the products Apple could do, I'd like to see it do this one the most, and I'd even like it to take it to the next level by combining it with something like the Google (NASDAQ:GOOG) glasses or a heads-up display for that "WOW!" factor. Imagine being able to navigate your map without ever having to look down at the display at all, keeping your eyes on the road, or having blind spot cameras protecting your space.
Leapfrog the Competition
Kids love the Leapfrog (NYSE:LF) gaming console. I mean they are going absolutely nuts over it. How about a kid-friendly iPad platform?
Apple TV
Not to be confused with the current Apple TV product, this is actually a full blown television set. Many television sets have Internet connectivity built into them already, and the production costs of flat screen TVs have dropped dramatically in the past few years, so this seems like a natural step.
Consumers have come to expect digital, Internet delivery content over traditional channels. Intel (NASDAQ:INTC) has recently announced its intention to be in the game, so television hardware and content delivery will have some powerful new competitors coming soon.
Reports from several sources are predicting that Apple will release a television in 2013.
Apple SWOT Analysis
Now that we have examined some possible growth initiatives for Apple, let's do a quick SWOT analysis on Apple stock.
Strengths
Highest rated brand in the world
Intuitive, robust products with very high engineering standards and software tightly integrated with hardware
Wildly successful marketing (Fans will market the product literally for the company)
Massive cash stockpile and cash flow
Weaknesses
Loss of Steve Jobs
Victim of its own success leads to exceptionally high earnings growth expectations
Expectation of "next big thing" in product pipeline
Lack of traction in the enterprise space
Emerging markets difficult to penetrate because of premium price
Opportunities
Leverage existing core strengths to enter untapped markets in content delivery - TV, car automobile information systems, couple this with augmented reality
Deal with China Mobile (NYSE:CHL) would support and boost earnings growth and prove Apple can win in global markets
Threats
Commoditization will introduce value options
Temptation to use cash stockpile for poor acquisitions
Key Income and Value Metrics
Founded: 1976
Cash: $29.13 billion (balance sheet reported cash only)
Apple scores extremely well in most areas. With its massive cash stockpile, robust earnings growth, zero debt, low P/E, ridiculously low PEG, and high O-Metrix scores, this makes a strong investment case.
Apple has the highest-rated brand in the world, and is a market leader in smart phones and tablets, the two hottest items in technology.
However, Apple price is a bit on the high side, and I would also like to see a five-year string of dividend growth.
Five-year dividend Growth: N/A
Yield: 2.00%
Payout Ratio: 0.06
Debt/Equity: 0
P/E - ttm : 11.8
Five-Year PEG: 0.53
Percentage over Graham Number: 48.04% (Target Price 353.63)
O-Metrix Score: 10.15
Composite Opinions
Morningstar: 5/5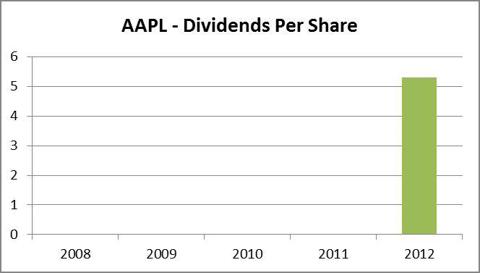 Data: MSN. Charts: Stock Market Functions Add-in for Excel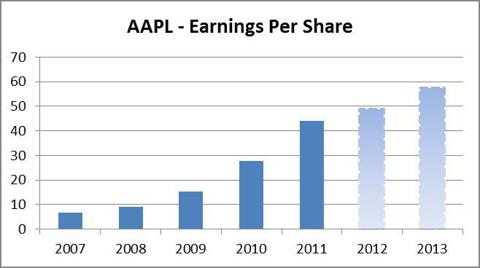 Data: MSN. Charts: Stock Market Functions Add-in for Excel
Conclusion
As amazing as Apple has been as a company for the past five years, it does not match my style as a deep value investor who tends to buy quality companies after major pullbacks.
I also have questions about where growth will be coming from going forward. Apple can continue to simply do what it is doing, and that may just be fine, being a Technology Staple for decades to come.
After all, companies like Chevron (NYSE:CVX) have been generating the same product for decades, and have made massive fortunes simply by delivering a quality product to customers.
Thank you Apple and Steve Jobs for keeping hope and innovation alive when we needed it the most.
Disclosure: I am long CVX, MSFT, INTC. I wrote this article myself, and it expresses my own opinions. I am not receiving compensation for it (other than from Seeking Alpha). I have no business relationship with any company whose stock is mentioned in this article.