The year of transformation for J.C. Penney (NYSE:JCP) has come and gone. By most accounts, the road to department store reinvention has been a rocky one for JCP. Sales have dropped considerably the last three quarters on a year over year basis. The financial media have beat up JCP in articles such as this over the last 9 months. Bears point to these results as proof of their thesis: Getting rid of coupons has disenfranchised the customer base of JCP. Short term results seem to infer that people prefer looking at a marked up price tag and applying a coupon rather than just paying a flat low price, even if the flat low price is lower. The many competitors of JCP include Macy's (NYSE:M), Kohl's (NYSE:KSS), Sears (NASDAQ:SHLD), Dillard's (NYSE:DDS), Stage Stores (NYSE:SSI), Target (NYSE:TGT), Wal-Mart (NYSE:WMT), T.J.Maxx (NYSE:TJX) and Ross Stores (NASDAQ:ROST). These competitors have taken market share away from JCP since the "no coupon" strategy was launched. Bulls point to the 30% increase in productivity in the 10 new shops across 700 of 1,108 JCP stores. If JCP can expand a similar productivity increase throughout 100 shops in each store at a 40% gross margin and 27% SG&A by the end of 2015, JCP could earn $6 per share per Bill Ackman. The purpose of this article is not to debate the merits of the bull or bear case when JCP opens 30 new shops in 2013 at 700 locations. This article focuses on market chatter surrounding 4th quarter sales.
Piper Jaffray is estimating a 32% drop in same store sales during the month of November. Analysts on average predict a 24.9% drop in same store sales in the 4th quarter. These projections appear to be based on trends from Q1 to Q3 rather than any research in the current quarter. In the absence of information, there seems to be a lot of misinformation. The New York Post late Friday night posted a piece in which they said "sources close to the company" told them sales were down more than 30% in the quarter. Later in the article, the source changed to an "insider" who was briefed on sales. The SEC Fair Disclosure Regulation requires publicly traded companies to release material information to all investors at the same time. Unless you think JCP leaders would release extremely material information on national sales figures to a journalist before issuing a press release to investors, the New York Post article should be given little credence. The timing is also unusual with close to 10,000 $17.50 January 19 puts traded earlier that day. At most, the New York Post is probably quoting one store associate or perhaps a seasonal ex-associate from a local store, all conveniently not attributed.
Very little analyst research is based on actual traffic data or in store research. With the short float over 45%, this is rather peculiar. The article below will discuss pending 4th quarter results with research that seems to clearly refute what analysts project using sourced research. The most eye opening information I found was a list of positive news given by the JCP store leaders themselves throughout the country.
J.C. Penney has easier year over year comparisons
Most analysts think the easy year over year same store sales comparisons start with the first quarter of 2013. In actuality, the easier comparison actually starts in the fourth quarter of 2012. In the fourth quarter a year ago, JCP reported revenue of $5.42 billion. This was CEO Ron Johnson's first quarter as he transitioned with Mike Ullman. JCP operated under the old model in November and December, but got rid of the coupon strategy during the January month. Although not reported anywhere, if you extrapolate total fourth quarter revenue for 2011 and 2010 against the December same store sales reports, you will find that January same store sales were down 12.7% last year. Therefore, comparisons this quarter will be easier than analysts project.
Black Friday and Christmas promotions drove traffic
As opposed to Q1 through Q3 of this year, JCP has been far more promotional in Q4. JCP launched a Black Friday promotion that the CEO said was successful, resulting in traffic up over the previous year. JCP stores were stocked with door busters and items marked off 30%. Nationwide, many news outlets reported the boost in sales when interviewing JCP store leaders. At one, the manager said the "6 A.M. opening was probably the best opening (he'd) seen yet." There are many similar news reports on Black Friday traffic at JCP across the country that are easily searchable online. Furthermore, according to Placed, a location analytics company, JCP had the 4th highest in store traffic gain of all stores on Black Friday. This is purely anecdotal evidence, but I visited a number of JCP stores where I live throughout Black Friday, and saw the most busy JCP stores I've seen in years. Clearly, when JCP wants to promote on value, people do come.
Black Friday was not the only JCP promotion of Q4. On the first day of the quarter, JCP texted a clearance event to millions of customers. Starting November 1, JCP offered free haircuts to kids every Sunday. In addition, JCP offered a free Christmas photo to each family in November. I made an appointment and took my kid in for a picture. Employees told me sittings were booked full the entire month. At the appointment, I discovered that in order to get the free pictures, I had to pick it up in the store 10 days later during a separate visit (a smart traffic strategy). During the weekend of December 8th, there was a 20% off "Friends and Family" promotion. As more anecdotal evidence, I visited numerous JCP locations in my city and found the stores to be extremely packed that weekend. There was a 20% off sale for coats and jewelry not only the week before Christmas, but during the week after. This must have been a success as JCP traffic on Christmas Eve had the 5th largest gain of all retailers.
The biggest JCP promotion of the year was "Merry Christmas America," which had store employees at cash registers give out buttons with codes to win prizes between Black Friday and Christmas Eve. One in four buttons won some type of prize, mostly gift certificates with a $5 or $10 value. The genius of the promotion was that it increased traffic through repeat visits both to get more buttons and to redeem the certificates. If the average customer only comes to JCP four times a year, or once per quarter, then encouraging them to shop multiple times in the 4th quarter was a key strategy to boost sales. Whether or not I am believed in regards to what I saw during the traffic driving events, the fact that JCP has been far more promotional since the first day of the quarter clearly shows that the company had a big plan to win the Christmas season through promotion. Articles that point to the promotions being the result of poor sales in the quarter don't make much sense when it's clear it was planned.
Positive online trends
Online retail metrics point to a positive trend this quarter. JCP was one of the top 5 retail websites visited on Black Friday per Experian Marketing Services. Amongst the top 5, JCP had the biggest online jump from Thanksgiving to Black Friday (26%). According to comScore, JCP.com traffic jumped 48% in November from October. Experian Marketing Services also reported that for the 12 weeks from November 1 through Christmas, JCP was the fifth most visited retail website. The articles I read today on JCP seem to take 3rd quarter online traffic performance and extrapolate it to the 4th quarter. In previous quarters, there were not many sales, comparison prices, or clearance events online. However in the 4th quarter, the JCP website became highly promotional. Based on the data above, it appears that JCP had a successful quarter online.
J.C. Penney store leader feedback
Unlike the New York Post, I will list my sources and be up front where my information comes from. All of my sources come directly from store managers commenting on store performance during the holiday season and could have been found online after a few hours of researching. Although as a company JCP has not released store results in any way, when you look at the comments from store leaders across the country, you can piece together a strong Christmas season for JCP. I searched and reviewed almost all available news articles on JCP, and did not find one that had a store leader even hint at sales being poor. The following recent quotes are taken from local news sources and represent almost all of the quotes one can find searching online pertaining to JCP store performance.
1. Store Leader, Tulsa, Oklahoma - "The store did surprisingly well during the holiday season and is expecting big sales in the coming week."
2. Store Leader, Fayetteville, North Carolina - "Christmas sales had been good." At the same store another leader said "We've had a great traffic turnout, which is fantastic. Everyone's out shopping."
3. Store Leader, San Angelo, Texas - The "store's traffic was comparable to last year despite significant changes in the corporate marketing strategy. We just had an absolutely smooth holiday season."
4. Store Leader, Mason City, Iowa - "The holiday shopping season at J.C. Penney was bigger than predicted."
5. Store Leader, Colonial Heights, Virginia - The "store leader for the JC Penney store in Southpark Mall in Colonial Heights, was pleased with the holiday shopping season and saw improved figures over last year. Overall, our holiday season went really well, Steele said. It was better than expected, which is always good."
6. Store Leader, Wallkill, New York - "Sales were brisk, especially for seasonal clothing items. I can say that we're pleased. The four to five days before Christmas exceeded our expectations."
7. Store Leader, Aberdeen, South Dakota - "The button promotion has been a big hit. The button promotion has helped increase traffic and sales at the Aberdeen store."
8. Store Leader, Washington, Missouri - "Christmas sales in 2012 were comparable to the previous year, but she didn't have exact numbers yet."
9. Store Leader, Baxter, Minnesota - "Couldn't comment about sales data for the holiday season, but said the button promotion giving shoppers a chance at winning prizes with purchases was successful.
10. Store Leader, Bismarck, North Dakota - "Gift cards have been a popular item for the shoppers this holiday season. We've actually seen here a big increase in our gift card sales. I believe our gift card sales were up about 25 percent versus last year."
11. Store Leader, Sequim, Washington - "This year's holiday shopping season at his store at 651 W. Washington St., went exceptionally well, adding that the store has been relatively light on merchandise recently because it's selling so quickly. The sell-through on our merchandise has been amazing, Quinn said. The weekends for the Sequim J.C. Penney have consistently been the busiest since Thanksgiving, Quinn said. It surprised all of us," Quinn said. The sales momentum is still there."
12. Store Leader, Columbus, Georgia - "We've got two extra days with the weekend built in. So we're expecting a big crowd (said the store manager) Friday afternoon, with traffic already picking up at his Peachtree Mall location. Black Friday was good for us - and it's the same for everybody - it slows down and then peaks again on the weekends. But it's just building toward this coming weekend."
13. Store Leader, Grandville, Michigan - "The JC Penney store at Rivertown Crossings Mall in Grandville was one popular place to be. The store's leader says Saturday was the second biggest shopping day of the year.
14. Store Leader, Dartmouth, Massachusetts - "The store has been steadily busy every single day for the last two weeks."
15. Store Leader, Jackson, Tennessee - "Since the door has opened (the amount of customers) has just increased throughout the day and each day it's gotten a little stronger.
16. Store Leader, Wichita, Kansas - "We're very busy. Everybody is last minute shopping. This past week has been really busy and hectic."
If you plot these data points on a map, it results in a pretty good survey (blue checkpoints). The only thing that could strengthened it would be some data points in the southwest.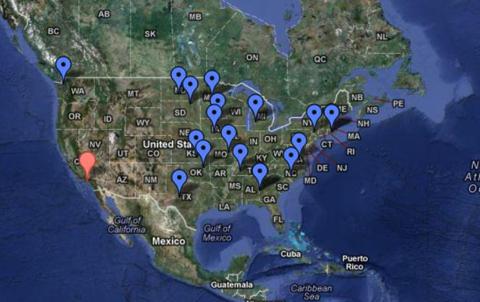 Conclusion
It is obvious that JCP turned the promotion machine back on during the 4th quarter. Because the de-promotion started last January, the year over year comparisons are slightly easier this quarter, and provides a very low bar to beat in upcoming quarters. Based on all available research online, it appears that JCP had its best Black Friday in years, had a large boost in online sales, and had both store traffic and sales beat internal expectations. With a huge short ratio of over 45%, any positive news regarding improving sales trends will likely shoot the stock up, similar to last fall when the stock went over $30.
Disclosure: I am long JCP. I wrote this article myself, and it expresses my own opinions. I am not receiving compensation for it. I have no business relationship with any company whose stock is mentioned in this article.