Below we highlight the year to date performance of the 10 S&P 500 sectors with just 6 trading days left in 2008. As shown, Financials are by far the worst with a decline of 57.9% this year. Financials are followed by Materials (-47%), Technology (-44%), and Industrials (-43%). The other 6 sectors are actually outperforming the S&P 500 as a whole, which is currently down 39.8% this year. The Consumer Staples sector has held up the best this year with a decline of 19.4%.
click to enlarge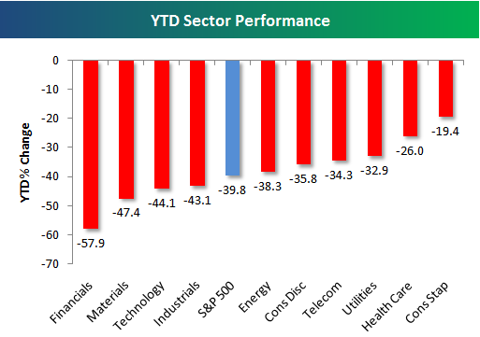 In the Russell 3,000, just 312 stocks are up year to date, while nearly 4 times as many (1,172) are down more than 50%. Below we highlight the 30 best performing stocks in the index year to date. As shown, Emergent Biosolutions (NYSE:EBS) is up the most at 401%, followed by Star Scientific (STSI) (322%), Crawford & Co. (NYSE:CRD.B) (205%), and Idenix Pharma (NASDAQ:IDIX) (145%). There are hardly any notable names on the list of winners, with probably the most recognizable names being Dollar Tree (NASDAQ:DLTR), Finish Line (NASDAQ:FINL), and Panera Bread (NASDAQ:PNRA).
2009 at least has one thing going for it -- it's going to be extremely hard for anything to be worse than 2008.