Market Recap:
The market had a tremendous day on Thursday as economic data outweighed a mixed bag of earnings. Housing starts jumped over 100K for the 2012 annualized rate to come up to over 950K. That number was the highest seen in four years, and it showed a lot of strength in the housing recovery. That news lifted markets, along with initial jobless claims dropping to under 340K despite expectations that the number would come in at 370K. The number was the lowest it had been in five years. The market also rallied despite Citigroup (NYSE:C) and Bank of America (NYSE:BAC) reporting disappointing quarterly reports. C missed expectations with EPS at 0.38 vs. 0.97 expectations. The company missed earnings due to a large amount of restructuring charges, as it laid off over 11K in December. BAC also seemed weak, making just 0.03 EPS, but beating expectations of 0.02. Those estimates were mostly revised after the company announced last week that it was settling with Fannie Mae and federal regulators over mortgage issues. The company's large payment out hit the its bottom line but once again, it is a one-time charge. Since C's earnings seemed to be more company-specific, and BAC's to be due to fines, the market was not spooked. Both companies saw pretty solid results otherwise, with BAC increasing mortgage origination year/year.
The Dow Jones finished the day up 112 points at five-year highs. Crude oil finished up 1.5%. Gold finished up 0.3%.
Stocks To Trade:
Today, we are looking at an earnings trade in Titan International (NYSE:TWI), longs in Cliff Natural (NYSE:CLF) and Coca-Cola (NYSE:KO), and a short in Google (NASDAQ:GOOG).
For an earnings trade, we are looking at Titan International today. The company was another of our top picks for earnings season, and with the type of growth the company is expected to see, we believe TWI is poised to take off. The company is expected to show over 25% growth in earnings and over 35% growth in revenue in its coming quarterly report. Both are very solid numbers, showing a company in a solid growth mode. On top of that, 2013 is expected to show another 20%+ growth in earnings and over 35% growth in revenue. Yet, the company's valuation is still very cheap. The key to finding the best value stocks is looking for those that have the best growth and the lowest value, understanding why they are cheap, and then attacking. TWI currently holds a PE at 10.5 and a future PE at 8.5. Why so cheap? The company has grown tremendously in the last two years, and we believe the market just has not caught up with it yet. At the end of 2010, the company had made $882M with an EPS at 0.01. The stock price was about $20. The small-cap name is expected to have $1.9B in revenue this year. The company's growth has been consistent, but shares have not been able to sustain long-term growth. Potentially, part of the problem is the company operates in the highly discounted auto industry. Either way, the stock is cheap. We believe that a great way to play this discrepancy is buying the stock long and selling puts below it. We like buying the stock on a break of $24, which has been strong resistance. The stock has not broken strongly under $18 since 2011, so we like that area for selling puts. If the stock pushes to $18, we can add to our equity position for an averaged position. If TWI never touches $18, we get the entire premium from the sold put. We can sell the Apr2013 $17.50 puts for a 20% potential gain.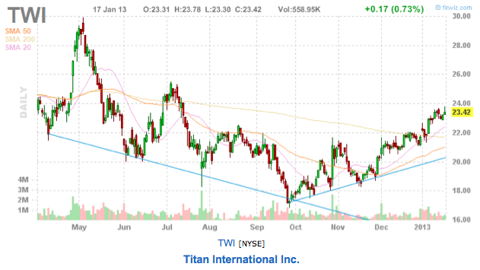 Trade: TWI, Long/TWI, Apr2013 $17.50 Puts, Sold
Buy Point: 24.00/Max Gain 20%
For longs, we like the looks of Cliffs Natural Resources and Coca-Cola. CLF looks like the stock could be ready for a nice breakout to the upside. The company has been moving down since the beginning of the year due to China's economic growth outlook weakening, along with concerns in iron ore prices. Dahlman Rose, for example, just recently downgraded shares of CLF to a price target of $20 due to a belief that the company thinks iron ore prices are at a cyclical peak. Yet the recovery in iron ore prices makes CLF look undervalued. We disagree with Dahlman Rose's view and agree with Deutsche Bank, who believes iron ore price recovery is a reason to buy. Right now, CLF is trading with a sub-6 PE ratio. That number is extremely low. The number is low because analysts estimate that the company will see another drop in 2013 earnings and revenue of about 15% and 8%, respectively. Yet, with a super low PE and future PE around 10-11, which is also cheap, the company looks undervalued to us. Some recent developments make us believe that iron ore prices could remain up. First, the product needs demand. Additionally, Vale (NYSE:VALE) believes that the production of steel in China will increase again as civil construction rebounds. That is good news for iron ore, since it's the core material in steel. Further, CLF garners around 90% of its income from iron ore. The higher the price of iron ore, the better CLF's stock. The trend is up for iron ore, as China has shown better industrial activity, and we like to play CLF if it can break a key resistance line of $37. China's GDP report will be key to CLF on Friday. If good, CLF should soar. If bad, CLF could reverse. We believe a nice way to play CLF is to buy if the report is solid, as it will mean a definite reversal in the notion that China is consolidating.
Equity Trade: CLF, Long
Breakout Point: $37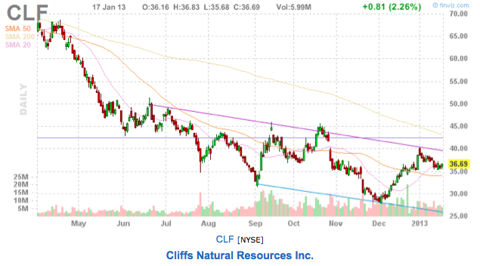 Another stock we like long is Coca-Cola. After a rough end to 2012, 2013 is starting out very well for the beverage producer. The company has benefited from the fiscal cliff diversion, as it means more spending money for the majority of Americans who may have cut soda purchases as a result of higher taxes. The company definitely has a bit going against it right now. Several analysts have noted that carbonated beverage sales will weaken in 2013 again, and they believe that consumers are shifting away from the drink to healthier options. In the last 10 days, Argus downgraded the stock, and estimates were also lowered at Bernstein. Yet this trend of lowered sales is nothing new, and already looks priced into shares. KO is trading for a decent 17 future PE. While definitely not showing a ton of value, this stock still has a solid yield over 2.5%, and remains a low volatility play with long-term strength. That strength is definitely not in question, and we believe that shares are ripe for the picking. The main reason we like KO to continue to show strength is that the company is so much more than a soft drink company, and we believe that international markets continue to develop. The company gets 60% of its revenue from global sales, and the company is expected to resume growth in 2013 as Asian and South American markets bounce back. The company is expected to see close to 10% growth in earnings and 5% growth in revenue, which are both very solid numbers for a multinational blue chip. The stock has not broken $35 in over six months, and we like selling puts there. What that allows us to do is make money on KO if it does not dip below $35, but own shares below that level if it does, which will bring the PE to under 18, we can sell $35 puts for 17% potential for May expiration.
Options Trade: KO, May 2013, $35 Puts, Sell
Max Gain: 17%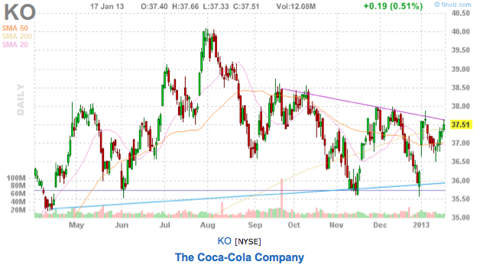 One stock that we are looking at bearishly is Google. We recently posted our 2013 update for the company with a Hold rating and a $692 price target. We believe upside in GOOG remains questionable for 2013. The problem for the company comes from a lack of rise in profitability metrics like return on assets and return on equity. You probably did not know, but GOOG has seen a constant decline in ROA every year since 2005. What does this mean? ROA is profits/assets. Either assets have to rise in comparison to profits, or profits have to decline in order for ROA to decline. The case for GOOG is that the company has continued to invest into assets that have not returned the same level of profits. Acquisitions like Motorola, developments like Google + and Google Offers, and more have been big costs that are not leading to profits. That means that GOOG is acquiring products/building new products to sustain growth, not to lead to more growth of earnings, which would show expanding ROA. This issue is dire for Google. We believe that the company needs to correct this before shares can continue higher. Right now, we believe that shares are stuck, and prefer a bear call spread on the stock, which will take advantage of weakness in shares. We have calculated the upper limit in shares for 2013 at $770. Right now, we can make over 20% on the 770/775 bear call spread for March expiration, which is a terrific opportunity for investors in GOOG to make money as shares linger this year. If you are not in GOOG, you can use the bear call spread as a great way to start an investment in the stock and hedge your risk. You can see our full 1800-word discussion of Google here.
Options Play: GOOG, Mar2013, 770/775 Bear Call Spread
Max Gain: 22%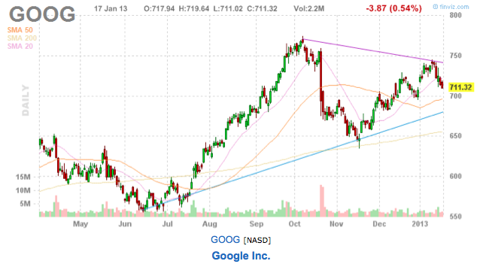 Tomorrow's Outlook:
The market looked stronger on Thursday. Friday, though, will be another big day for the market that could send shares in either direction as China reports GDP. Expectations are for the country to release GDP at somewhere around 7.8% - 8.0%. A beat over 8% would be a reason to buy. China is the biggest growth market for many American companies, and Chinese strength is necessary for a bull market in the U.S. A miss under 7.8% could reverse recent gains and put a weak spin on the market. Other important news to watch for tomorrow will be GE (NYSE:GE) earnings. The bellwether of the economy will be the first major non-financial to report earnings. We will be interested to see how the company reports its outlook for 2013 and any ill effects from the fiscal cliff.
Charts courtesy of finviz.com
Disclosure: I have no positions in any stocks mentioned, and no plans to initiate any positions within the next 72 hours.
Business relationship disclosure: The Oxen Group is a team of analysts. This article was written by David Ristau, one of our writers. We did not receive compensation for this article (other than from Seeking Alpha), and we have no business relationship with any company whose stock is mentioned in this article.