After the bell on Thursday, chip giant Intel (NASDAQ:INTC) released its fourth quarter and full-year results. The company missed both its own midpoint and analyst expectations for revenues. On an earnings per share front, the company beat, but that beat was due to a significantly lower tax rate and the company's continued buyback. Overall, I was not impressed by the results, and given the rally we've seen in recent weeks, was not surprised that the stock sold off in the extended hours session.
Q4 Results:
For the fourth quarter, Intel reported revenues of $13.477 billion, a decline of $410 million, or 2.95% from the prior year period. This revenue figure missed analyst expectations of $13.53 billion, and missed the midpoint of the company's guidance for $13.6 billion.
The following table shows Intel's fourth quarter GAAP margins over the past three years. I will use these numbers to further analyze Intel's quarter and year over year results.

Intel's gross margins fell year over year thanks to a rise in the cost of goods sold, up $725 million, or 14.69%. When you combine that with the nearly 3% decline in revenues, gross margin dollars fell by $1.135 billion, a fall of 12.68%. That led to the 646 basis point drop in gross margins. The only positive here is that Intel guided to 57% GAAP gross margins for a midpoint, so the decline wasn't as much as they originally expected.
R&D spending increased by $321 million, or 13.91% year over year. Marketing, general, and administrative expenses declined by $15 million, or 0.76%. Overall, these two operating expenses totaled $4.587 billion, a little more than the $4.5 million Intel guided to. Overall, operating expenses, including amortization, increased by $309 million, or 7.1%. That pressured operating income even more, especially after the decline in gross margin. Operating income fell by $1.444 billion, or 31.4%. Operating margins declined by 971 basis points over the prior year period.
Overall, net income declined by $892 million, a decline of 26.55%. There were a couple of things that helped ease that fall. Other income items turned from a loss of $12 million to a gain of $49 million, and the tax rate was just 22.97%. That compares against last year's Q4 tax rate of 26.75%, and Intel's guidance for 27%. Intel benefited from higher profits in lower tax jurisdictions.
In terms of earnings per share, Intel came in at $0.48, compared to $0.64 in the prior year period. The decline in earnings per share was not as large as the decline in net income, thanks to the company's buyback program. The buyback reduced the company's diluted share count for the period to 5.095 billion from 5.242 billion in the prior year period. Earnings per share beat analyst expectations by three cents, helped tremendously by that tax rate.
Full Year results:
For the full year, Intel reported revenues of $53.341 billion, a decline of $658 million, or 1.22%. Because Intel missed on the Q4 revenue numbers, they missed analyst expectations slightly as well for the full year. Analysts were looking for $53.43 billion.
But the more worrisome fact was that Intel kept taking down its forecast throughout the year. When Intel gave initial guidance after Q4 of last year, the company was expecting revenue growth of about 7% to 9%. They ended up with a revenue decline of more than 1%. The company was looking for GAAP gross margins of 64% originally. As you can see in the following full year margin table, that didn't happen either.

Intel cut its revenue forecast after Q2 down to just 3% to 5% growth, and they still couldn't get anywhere close to that. Intel issued a revenue warning in September, and since then, expectations have been really low, but as we saw Thursday, they couldn't even hit those lowered expectations.
I won't go into as much details on the full year results, because the overall trends are very similar, to a lesser extent though. The first quarter or two of 2012 weren't as bad as the last two, so the year over year declines and margin drops weren't as bad as the 4th quarter ones. In terms of earnings per share, Intel came in at $2.13, down from $2.39 in 2011.
Balance Sheet:
The following table shows some key balance sheet data for Intel, at the end of 2010, 2011, the third quarter of 2012, and the data we received Thursday for the end of 2012. Dollar values are in millions.

*Includes cash and cash equivalents, short-term investments, trading assets, marketable equity securities, and other long-term investments.
The balance sheet has changed a bit since the end of Q3 as Intel raised $6 billion, in part to fund its buyback. That has pushed up the company's cash balance a bit, along with its current ratio and working capital. Since those two ratios are based off current liabilities, of which the long-term debt is not a part of, those ratios are artificially inflated by the capital raise. However, the debt (liabilities to assets) ratio jumped, because total liabilities rose faster than total assets thanks to the debt issuance.
Intel's balance sheet is still in good shape. During Q4, the company generated approximately $6 billion in cash from operations, paid dividends of $1.1 billion and used $1.0 billion to repurchase 47 million shares of stock. As of Thursday's close, the dividend yield was 3.97% on an annual basis, but that yield was up to nearly 4.2% in the after-hours session.
One other positive for the balance sheet was the decline in inventories. Intel's inventory balance declined by almost $600 million since Q3, a decline of 11%. Now, inventories were up a little more than $600 million year over year, a rise of 15.58%. However, in Q3, the year over year inventory rise was more than 34%, nearly $1.4 billion. There was a bit of a concern about high inventories after Q3, but those fears should subside a bit with these results.
Guidance:
For Q1, Intel guided to a revenue midpoint of $12.7 billion, plus or minus $500 million. That number is a bit disappointing, with analysts looking for $12.92 billion. GAAP gross margins are expected to be 58 percent, down a bit from 2012's Q1 figure of 64 percent. That is similar to the decline we saw in Q4. Intel does not provide earnings per share guidance, but you can expect them to decline year over year given this forecast. Intel is guiding for a year over year decline in revenues and lower gross margins. Analysts currently expect $0.39 for Q1, compared to $0.53 in the 2012 Q1 period.
But the bigger guidance given was Intel's initial 2013 guidance, which I've copied below from their report.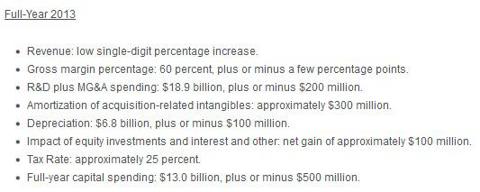 For 2013, analysts were expecting a 1.7% rise in revenues, so you figure the "low single digit growth" figure is roughly in-line with estimates. Intel's forecast for 60% gross margins would represent another decline from the 62.15% we saw in 2012. Additionally, their forecast for R&D plus MG&A spending was about $700 million above 2012 levels. Analysts were looking for $1.94 from Intel in 2013 after $2.10 in 2012. Given that Intel did $2.13 in 2012, I'd expect to see analysts come up a little on the 2013 forecast, probably to somewhere in the $1.96 to $2.00 range.
Valuation:
Intel had run up a bit lately, so this report seemed to fit in the "buy the rumor, sell the news" camp. Intel's results were released a little before the bell, and the stock initially jumped on the news. At Thursday's close of $22.68, Intel shares were up nearly 18% from their 52-week low of $19.23.
The question here involves what a fair price to pay for Intel is. For my analysis, I'm going to compare Intel against Microsoft (NASDAQ:MSFT) and Cisco Systems (NASDAQ:CSCO). Why did I choose these? Well, even though they are not all involved in the same businesses, they are all large cap value technology companies. All three at this point are low-growth type companies that pay decent dividends, along with buying back plenty of shares. I'm going to use calendar year 2013 earnings for Intel and Microsoft. For Cisco, I'm going to use four quarter earnings, with the fourth quarter ending in January 2014, since the company uses a slightly different fiscal calendar.
At this point, Microsoft is expected to grow revenues in the high single digits, and Cisco in the mid single digits. Intel just guided to low single digits. In terms of earnings, Microsoft and Cisco are expected to grow in the mid single digits, with Intel forecasted to produce a decline in the mid single digits. Now, Intel does have the advantage of a larger dividend. Based on the last price in Thursday's after-hours, Intel yields 4.19%, Microsoft yields 3.38%, and Cisco yields 2.67%.
Intel doesn't give you the growth, but it gives you the dividend and larger buyback. Intel is buying back a billion dollars a quarter in its own shares, roughly the same as Microsoft. But Intel's market cap is just $107 billion, and Microsoft's is $228 billion. Cisco bought back about $250 million in its latest quarter, and has a market cap just a little above that of Intel. So Intel's dividend and buyback make up for the lack of growth at this point.
So based on that, it all comes down to the price to earnings valuation in my opinion. For Intel, I'm going to use $2 for the 2013 earnings number, and Microsoft and Cisco are based on current analyst expectations for $3.17 and $2.03, respectively. Based on those numbers, Intel trades for 10.74 times, Microsoft is at 8.54 times, and Cisco is at 10.28 times. For Intel and Microsoft, analysts use GAAP numbers, but they use non-GAAP estimates for Cisco. So if you think about Cisco in GAAP terms, the P/E is probably a bit higher, in the 12 to 13 range.
If you were to average Cisco and Microsoft, Intel seems fairly valued. However, I've been discussing in recent Cisco articles that Cisco is a bit overpriced after its own rally. So I probably would tend to use the P/E of 12 for Cisco, and if you average that with Microsoft, you get roughly 10.27. That's where I figure Intel's fair value is, at 10.27 times 2013 earnings. If you believe Intel will do $2.00, then $20.54 is your fair value.
You may remember in the past I used 10 times for Intel, but I was using a slight discount because of the uncertainty over the buyback. Since Intel cleared that up with the debt issue, I'm giving them a little higher valuation. But I'm still a bit under where the stock is now because I'm still worried about margins and net income. Intel didn't totally calm any of those fears with their latest report. Some might call my valuation a little low, but I'm not going to give them a higher one until they can control costs and improve the bottom line. I will not reward them for quickly declining net income.
Final Thoughts / Recommendations:
Intel's report on Thursday was a bit disappointing, as the company again missed on revenues and issued Q1 revenue guidance that was below expectations. The company did beat on the bottom line, but it was only due to a much lower than expected tax rate. Intel still has a lot to prove, expecting very slow revenue growth in 2013, and probably a continuation of the decline in earnings. However, the buyback should soften some of that blow, and the 4% yield remains fairly juicy for a large cap tech name.
Intel took a five percent plus hit in the after-hours session, which is likely to hit the sector on Friday. You are likely to see a decline in the iShares Semiconductor ETF (NASDAQ:SOXX), of which Intel was the largest holding as of Wednesday. That might change Friday. For those looking for a quick trade, I'd suggest one of the three times leveraged exchange traded funds, either the Direxion Daily Semiconductor Bull 3X Shares (NYSEARCA:SOXL), which is the long, or the Direxion Daily Semiconductor Bull 3X Shares (NYSEARCA:SOXS), which is the short. These products aren't recommended for all investors, however, which is why those who don't know what they are should avoid them. For traders though, they are the way to go. I might initiate a position in SOXS Friday, although most of the move will have probably been made by then.
Disclosure: I have no positions in any stocks mentioned, but may initiate a long position in SOXS over the next 72 hours. I wrote this article myself, and it expresses my own opinions. I am not receiving compensation for it (other than from Seeking Alpha). I have no business relationship with any company whose stock is mentioned in this article.
Additional disclosure: Investors are always reminded that before making any investment, you should do your own proper due diligence on any name directly or indirectly mentioned in this article. Investors should also consider seeking advice from a broker or financial adviser before making any investment decisions. Any material in this article should be considered general information, and not relied on as a formal investment recommendation.