After spending considerable time dissecting Disney's many facets, I have found it worthy of a long-term investment. Aside from revenue or earnings growth, I looked at another area many investors like to see growing on a regular basis. This factor can be quite important, especially for long-term investors. Yes, I'm speaking of the dividend.
Disney (NYSE:DIS) isn't typically thought of when considering income stocks. And why would it be? The yield is relatively low, at just 1.5%. The annual dividend payout of $0.75 certainly does not entice many income seeking investors. But when you break down Disney's payout, it definitely becomes a consideration. Let's take a deeper look and see where Disney fits in all of this.
Before getting into the dividend breakdown, let's take a quick look at the 3-year chart of Disney. The chart below has RSI and MACD measurements, as well as three moving averages. The three moving averages are the 50-day, 100-day and 200-day simple moving averages, which will help define the overall trend of Disney over the past three years. Below, the chart:
Disney's Three-Year Chart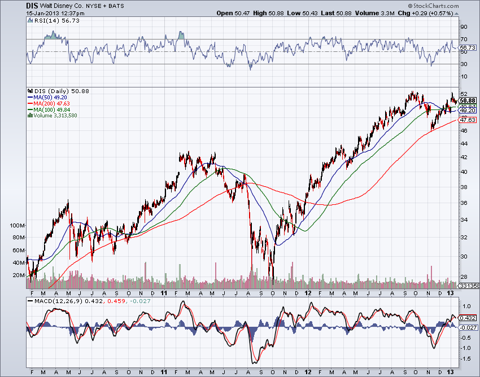 Source: Stockcharts.com
As you can see on the chart above, Disney has severely violated the long-term support of the 200-day simple moving average in the autumn of 2011. While most stocks were diving as well, long-term investors don't typically like to see such a dramatic fall in stock price. Since then however, Disney has recovered nicely.
Below is a table with several important factors when analyzing the dividend. Here we have the annual dividend payments for the past 10 years (2003-12). Also included is the change in payment amounts - whether up or down - as well as the percentage change in the dividend. Below are the results:
| | | | |
| --- | --- | --- | --- |
| Year | Dividend Payout ($) | Change In Dividend ($) | Change In Dividend (%) |
| 2003 | $0.21 | N/A | N/A |
| 2004 | $0.24 | +.03 | +14.3% |
| 2005 | $0.27 | +.03 | +12.5 |
| 2006 | $0.31 | +.04 | +14.8 |
| 2007 | $0.35 | +.04 | +12.9 |
| 2008 | $0.35 | +/-0 | +/-0 |
| 2009 | $0.35 | +/-0 | +/-0 |
| 2010 | $0.40 | +.05 | +14.3 |
| 2011 | $0.60 | +.20 | +50 |
| 2012 | $0.75 | +.15 | +25 |
Before 2011, the dividend increases were pretty predictable. The payouts would increase by ~14%. Eventually, the increases would go to about +12% and eventually it was juiced back up, so the growth matched 14% again. That all changed when Disney boosted the dividend by 50% in 2011 and 25% in 2012.
With the exception of 2008 and 2009 - when equities were deep in the credit crisis recession - Disney has increased its dividend by double-digit figures each year, over the past decade. You could average all the years together and still get double digit results -- +11.4% to be exact -- but this figure is highly skewed due to the 50% and 25% dividend increases over the past two years.
It's also important to remember that in 2008 and 2009, Disney didn't grow its dividend. But that doesn't mean it didn't pay one. It continued to pay out $0.35 until the world regained stability and began to recover from a brutal bear market.
To illustrate the dividend increases there are two graphs below. The first graph shows the annual dividend payout over the same 10-year period as the table above. The second chart shows the percentage increase for the dividend over the 10-year period.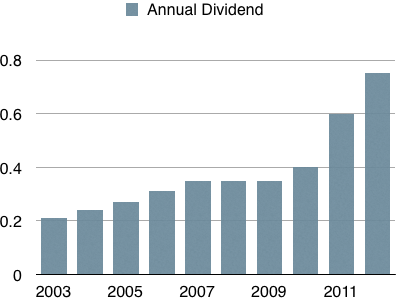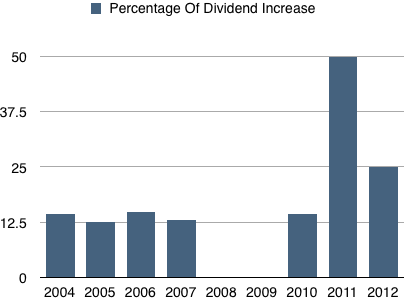 Hopefully the two charts above help illustrate the data found in the table. For me, I like to do both, for some reason the visualization is quite helpful. Still, while the dividend payment doesn't necessarily make Disney a notable stock for the income-oriented investor, the dividend growth should attract investors who consider the dividend an important piece to their portfolio puzzle.
While the dividend yield is low at 1.5%, the double-digit dividend growth is not. I think if you couple the dividend growth with the revenue and earnings growth, you've got one heck of a stock. This can make it tough for investors to decide where exactly Disney fits in their portfolio - an income stock? Perhaps a core stock? Maybe a growth stock?
That's why I've classified Disney as one of my "hybrid" stocks. It seems to fit into so many different categories that it needs one of its own. Disney has paid out a dividend every year since 1982, and I don't expect that to change anytime soon. I expect Disney to continue its excellent dividend growth and as a shareholder, look forward to an increased payout this year. I remain long and bullish on shares of Disney.
For an in-depth analysis of Disney's revenue and earnings growth, see my Seeking Alpha article here.
Disclosure: I am long DIS. I wrote this article myself, and it expresses my own opinions. I am not receiving compensation for it (other than from Seeking Alpha). I have no business relationship with any company whose stock is mentioned in this article.