In this article, we will examine macro-scale forces which have led to the outperformance of the healthcare REIT sector and why these forces will continue to propel these companies going forward. Once viability of the sector has been demonstrated, we will continue with an examination of the optimal stock allocation within the sector. I conclude that Ventas (NYSE:VTR) is the best positioned for outperformance, based on the logical chain of reasoning detailed below.
Macro forces
Thanks to quantitative easing and the yield starved market, cost of debt has declined significantly.
This decline in the cost of borrowing has occurred across the board resulting in each sector having a nearly identical cost of debt.
Given the nearly equal standing in cost of capital, the greatest spreads will go to those with the highest cap-rates. The healthcare sector immediately stands out due to its ability to repeatedly make triple-net acquisitions at cap-rates as high as 11%. When these acquisitions are financed with debt at today's low interest rates, it results in historically high spreads. Such macro statistics demonstrate the strength of investment within the sector and have led me to overweight it. However, to ascertain proper allocation amongst the healthcare REITs, we must take the examination down to a micro-scale and evaluate the desirability of each company individually.
Intra-sector allocation
Before we get down to individual companies, let us consider the subsectors. We can break healthcare properties down to 3 types of facilities: Senior living (ALFs), true medical (hospitals and MOBs) and SNFs. I will refer to these together as the "healthcare trifecta." Various policy changes could drastically alter the funding for any given subsector in a way that remains somewhat unpredictable. However, we can avoid this problem by maintaining an equal exposure to each of the subsectors on the basis that a majority of individuals who live long enough will end up in at least one of the 3. A balanced portfolio amongst the subsectors makes it inconsequential as to which one. Keeping this in mind, let us look at the various healthcare REITs to choose from.
| | | | |
| --- | --- | --- | --- |
| Company (ticker) | Market Capitalization | Price/FFO | Primary Subsector(s) |
| HCP Inc. (NYSE:HCP) | $20.91B | 17.2 | All 3 |
| Ventas Inc. | $19.28B | 16.8 | All 3 |
| Healthcare REIT (HCN) | $16.05B | 20.6 | All 3 |
| Senior Housing Properties (NYSE:SNH) | $4.33B | 13.9 | Senior Housing |
| Omega Healthcare (NYSE:OHI) | $2.78B | 11.9 | SNFs |
| Healthcare Trust of America (NYSE:HTA) | $2.19B | 21.3 | MOBs |
| Healthcare Realty Trust (NYSE:HR) | $2.18B | 18.9 | MOBs |
| Medical Properties Trust (NYSE:MPW) | $1.73B | 13.9 | Hospitals |
| National Health Investors (NYSE:NHI) | $1.70B | 21.5 | SNFs and ALFs |
| LTC Properties (NYSE:LTC) | $1.12B | 16.1 | SNFs and ALFs |
| Sabra Healthcare (NASDAQ:SBRA) | $886mm | 17.6 | SNFs |
| Brookdale Senior Living (NYSE:BKD) | $3.44B | n/a* | ALFs |
*BKD is an REOC not a REIT, so FFO is not applicable. Its multiple will be discussed in detail later.
As a note, MOBs and hospitals are very different facilities, but I have lumped them into the same subsector due to correlation of performance. Increased demand for hospitals creates demand for increased staffing which in turn stimulates demand for MOBs.
Thus far, we have established the desirability of the sector and reasoned as to why an even allocation across the healthcare trifecta mitigates policy risk. In pursuit of the ideal healthcare REIT portfolio, it becomes necessary to eliminate some of the options so as to only pick the best of the best. Below is my reasoning as to the best of each subsector.
The Senior Living REITs (NHI, LTC, SNH and BKD)
National Health Investors: 2 aspects of NHI make it a weaker investment than its competitors:
1) As of 9/30/12, NHI had only $194mm of debt for a debt-to-equity ratio of less than 0.5. Given the cheap debt and the strong cap-rate acquisition pipeline available to the sector, such little leverage is holding back its earnings as will be shown in point 2.
2) These weak earnings lead to an earnings multiple of 21.5 which is too high for investment as much better values are available elsewhere.
LTC Properties: An encouraging aspect of LTC is its recent Kansas development at a cap-rate of 9.25% + 2.5% annual escalators for a 10-year contract. Such opportunities absolutely warrant leverage, but LTC engages in the same overly conservative finances of NHI. It too has a debt-to-equity ratio around 0.5. In the current environment, leverage is not a weakness, but the key to superior earnings. As most of these healthcare REITs have triple-net locked in earnings, maintenance of the debt is relatively low risk.
Senior Housing Properties: While its earnings multiple of 13.9 is rather attractive compared to the sector's average around 17, I do not trust its management (REIT Management and Research otherwise known as RMR) which is single-handedly enough for me to remove it from my consideration. I am not suggesting that it is not a viable investment, but simply that it is not one that I wish be involved with.
Brookdale Senior Living: On January 15th, Brookdale announced the acquisition of 12 senior living communities, 11 of which were at cap-rates in excess of 9%. These were financed with a 10-year term loan at a rate of LIBOR + 259 bps. At the current level of interest rates, this is a nearly 6% spread. Such accretive acquisitions along with a healthy amount of leverage have created strong earnings which make it an excellent value. As an REOC, it does not use FFO, but rather a similar metric called Cash From Facility Operations or CFFO. As of 3Q12, it had a price-to-CFFO of around 12.81, and it should be even lower now thanks to the excellent acquisition.
In my opinion, BKD is the strongest investment choice for exposure to ALFs.
Hospital and MOB REITS (HTA, HR and MPW)
Healthcare Trust of America: I dismiss HTA on the same criterion with which I did SNH, I do not fully trust management as I feel they are self-interested. It comes from the American Realty Capital family which recently sold one of its companies, American Realty Capital Trust (NASDAQ:ARCT), to Realty Income (NYSE:O) at a questionable price. ARCT's shareholders had to go to great lengths to reject the initial deal and obtain a new contract of more favorable terms. ARC management would have been the beneficiaries of the initial contract and seemed to care little about the value of the deal to shareholders. Once again, I am not implying that HTA is a bad investment, simply that I want nothing to do with it.
Healthcare Realty: HR ran into the unfortunate circumstance of being hurt by its excellent laddering of debt. Its notes and bonds are so long term and well laddered that very little debt came due in 2012. Consequently, it has missed out on much of the refinancing opportunities available in the current environment. While its current cost of debt is fine, the inability to fully capitalize on the capital markets leaves it behind the competition. Additionally, its P/FFO of 18.9 is a bit too pricey.
Medical Properties Trust: While I lumped MOBs in with hospitals, I do find hospitals to be the stronger angle due to a higher barrier-to-entry and their economic necessity. MPW is the closest to a pure-play on hospitals among REITs which makes it an interesting choice. Despite material appreciation resulting in 35% total returns over the past 52 weeks, it still has a fair valuation of 13.9 P/FFO which makes it the best value in the sub-sector.
In my opinion, Medical Properties Trust is the purest and cheapest exposure to the hospital/MOB subsector.
Skilled Nursing Facility REITs (SBRA and OHI + the two hybrids covered in the ALF section)
Sabra Healthcare: Sabra is a phenomenal company which I have written about extensively, but its days as a value stock have come to a close. With over 94% returns over the past 52 weeks, it has certainly been good to its shareholders, but all this appreciation results in full valuation. Its 17.6 earnings multiple is almost unprecedented for such a small company and leaves it with little room for capital appreciation. It is a great company, but no longer a great value.
Omega Healthcare: OHI like the rest of the sector made large gains resulting in 33.8% total returns over the past 52 weeks. However, OHI is unique in that it matched the price gains with earnings growth, thus preserving its low multiple. Numerous accretive acquisitions launched its FFO/share from $1.69 in 2011 to $2.12 in 2012 and an estimated $2.23 in 2013. Such powerful earnings potential gives it not only the best valuation among SNF REITs, but in the entire sector.
I believe OHI to be the best choice for exposure to skilled nursing facilities.
The Diversified Healthcare REITs (HCP, HCN and VTR)
These big companies have been particularly successful at restructuring debt, each sourcing large amounts of capital at extremely low rates.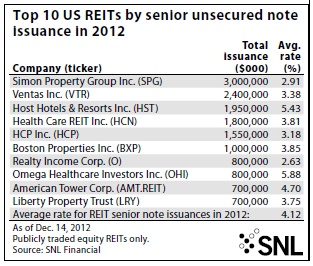 On the new financing side, we see that all three diversified healthcare REITs grabbed up large amounts of capital at rates under 4%. Ventas and HCP came out ahead with the most issuance and the lowest rates respectively. However, the 2012 debt retirement shows only Ventas making material progress.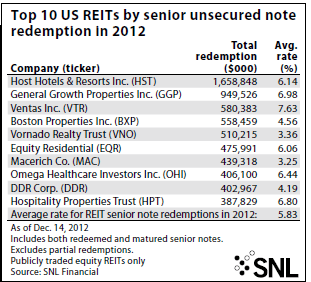 With $580.383mm of Senior notes redeemed or retired in 2012 at a weighted average 7.63% refinanced at 3.38%, the annual savings are immense. The 425 basis point gain on spread directly contributes $24.67mm annually to FFO. This provides immediate and long-lasting strength to Ventas. As the clear winner of the current financial environment, and the best valued among the diversified healthcare REITs, I believe Ventas to be the best single choice for exposure to all three subsectors.
Putting it together for a REIT portfolio
The sector is very desirable in the current environment and I believe the best allocation within it should cover the trifecta. Picking from only the best of the best, there are two ways to achieve optimal allocation: Ventas alone or OHI + MPW + BKD.
Each of these choices provides benefits and either can be optimal depending on an individual investor's needs. An equal weight between OHI, MPW and BKD provides the best value with a weighted average price/earnings of 12.87, while Ventas gives the extra safety and quality that come from a large and well-managed company. As a value investor, I would typically go for the cheaper alternative, but the value gap is significantly smaller than it has been in the past. Despite strong operational performance, Ventas has lagged the market over the past month and 3 months.
1-month laggard
3-month laggard
In contrast, BKD, OHI and MPW outperformed the market. Thus, the value gap is greatly diminished.
Outlook of healthcare REITs
As is the case with other sectors, there is a tightening of cap-rates for new acquisitions among healthcare REITs. The 11% cap-rates that were obtained so frequently over these past couple years will likely become rare or nonexistent, so expect a slight deceleration in external growth. However, as interest rates remain low, continued organic spread improvement remains possible as more expensive debt comes due. As many of the acquisitions came with contracts as long as 15 years, earnings should remain strong for the foreseeable future.
Risks of the sector
The sector is particularly sensitive to policy changes. Any number of things could happen that would adversely affect earnings. As an example, Obamacare is presently providing reimbursement for the treatment of those who cannot afford healthcare. Repeal or change could cause diminished revenues or even impairment charges for care that cannot be reimbursed.
Disclosure: 2nd market capital and its affiliated accounts are long VTR, OHI, MPW and SBRA. This article is for informational purposes only. It is not a recommendation to buy or sell any security and is strictly the opinion of the writer. I am long OHI, MPW, SBRA, VTR. I wrote this article myself, and it expresses my own opinions. I am not receiving compensation for it (other than from Seeking Alpha). I have no business relationship with any company whose stock is mentioned in this article.