eBay (NASDAQ:EBAY) recently reported in its Q4 2012 earnings that mobile revenue GMV was 17% of total GMV for 2012, or $13 billion out of $75 billion. This exceeded Wall Street analysts' expectations of 13% for mobile GMV, which may explain the pop in ebay's stock price. This is similar to when Facebook (NASDAQ:FB) reported Q3 results a few months ago showing faster mobile monetization of 12% of revenue, lead to the stock popping 10%-plus that day and running up ever since.
The mobile Internet era is affecting the entire Internet industry landscape. Companies well-positioned within mobile will thrive and survive in this new environment. This article will not only look at mobile traffic for eBay and Facebook, but also for top Internet companies including Google (NASDAQ:GOOG), Pandora (NYSE:P), Zynga (NASDAQ:ZNGA), OpenTable (NASDAQ:OPEN), Groupon (NASDAQ:GRPN), LinkedIn (LNKD), Netflix (NASDAQ:NFLX), Priceline (PCLN), Expedia (NASDAQ:EXPE), and Amazon (NASDAQ:AMZN). By reviewing the current mobile traffic and revenue numbers of major Internet companies, I hope to help investors identify which companies are better positioned and could have an early advantage in the mobile Internet era.
Mobile Industry Data
According to StatCounter, as of November 2012 mobile traffic represented 13.4% of total Internet traffic worldwide (12.4% in the U.S.). As smartphones continue to replace basic feature phones around the world (see details in this article on global handset market statics) and faster wireless networks (LTE) and Wi-Fi hotspots roll out across various countries, mobile traffic should increase by 70% and comprise 20%-plus of total Internet traffic in 2013.
Click to enlarge images.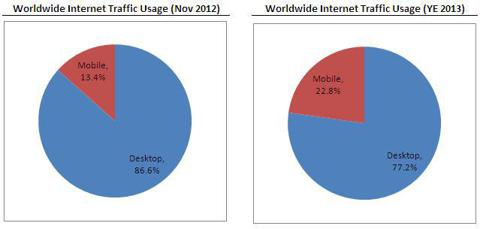 In 2012, mobile e-commerce in the U.S. and Europe made up 10% of total e-commerce, or $37 billion out of $370 billion. By 2014, mobile commerce is projected to increase to 23% of total e-commerce, or $101 billion out of $439 billion.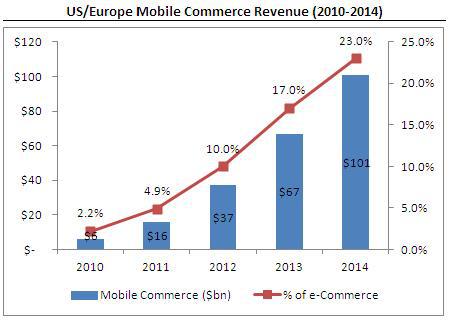 Finally, in terms of mobile ad spending, search engine marketers (SEMs) have said that mobile advertising is roughly 18% (average of the three data firms) of total online search ad spend.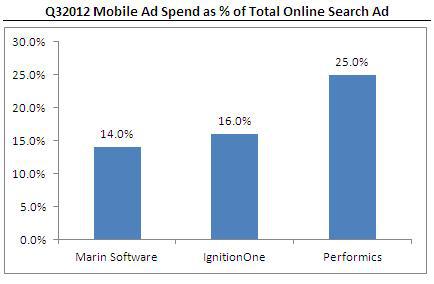 Which Companies Are Well-Positioned for Mobile?
Below is a summary of the top Internet companies and the percent of their traffic and revenue coming from mobile. Data has been sourced from the most recent company filings, press releases, and earnings transcripts.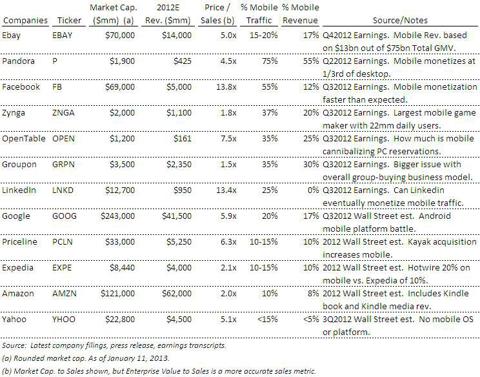 Facebook: As mentioned above, Facebook probably has the most to gain or lose from mobile, given that nearly 60% of its traffic now comes from mobile. In Q3 2012, Facebook reported that mobile revenue was up to 12% of total revenue (14% of ad revenue). Mobile monetization occurred much faster than Wall Street analysts were expecting (Q3 2012 mobile revenue of $150 million vs. Wall Street estimates of $80-$100 million). Note that the $150 million mobile revenue in Q3 2012 is also up from essentially zero in Q1 2012 (Facebook's mobile monetization only started in March 2012). As a result, the stock was up 10%-plus that day and has continued its steady run.
Facebook has gotten around the smaller screen issue (mobile monetizes less than desktop because of smaller screen size for ad placement) by using "Sponsored Stories" on mobile. Sponsored Stories are like Twitter's "Promoted Tweets" and are essentially paid news feeds that show up on your mobile Facebook app news feed (mixed in with your friends' news feed updates). Some users have complained about this, but advertisers seem to like the product and continue to allocate mobile ad dollars to Facebook for it.
I wrote an article recently valuing Facebook (to read it, click here) anywhere from $20-$30 (I would not buy at current levels), but if mobile monetization continues successfully for Facebook I would have to revisit my valuation.
eBay: As disclosed in its Q4 2012 results, eBay's mobile GMV was $13 billion in 2012 (17% of total GMV). In addition, its Paypal business had $14 billion from mobile in 2012 (or 10% of Paypal's volume). ebay has a broad portfolio of mobile apps including eBay, eBay Motors, eBay Fashion, eBay Now, Paypal, Stubhub, rent.com, half.com, where.com, and many others. eBay has invested heavily in mobile in recent years and this strategy could help it take e-commerce market share from Amazon (AMZN has 10% traffic and 8% revenue from mobile, or about half of ebay's mobile results).
Pandora: As shown above, Pandora is heavily levered to mobile, with 75% of traffic and 55% of revenue coming from mobile. The biggest concern to this risky mobile play is that content costs (for music rights) are the same costs for mobile or desktop users, but mobile monetization is only one-third of desktop monetization (i.e., smaller screen space issue). Pandora is even more levered to mobile than Facebook and one of the highest beta plays on mobile, but you would have to get comfortable with the music subscription/ad supported business model first.
Apple (NASDAQ:AAPL): Finally, while not mentioned in my table above given it is not a pure Internet company, Apple is also another mobile play. Apple's iPhone and iPad mobile products comprise of 75% of Apple's sales. In addition, its iTunes/App/iBook segment alone does $11 billion of sales in 2012. Apple has been one of the largest beneficiaries of the mobile revolution, and I believe that it will continue to be (click here and here for my previous Apple articles).
Conclusion
The shift from desktop to mobile Internet usage will present unique opportunities as well as challenges (cannibalizing desktop sales, smaller screens/ad space, etc.) for Internet companies in the coming years. Hopefully this article has helped investors identify which Internet companies have embraced the mobile trend and, as a result, may be better positioned to survive and thrive in the new mobile Internet era.
Disclosure: I am long AAPL and short AMZN. I wrote this article myself, and it expresses my own opinions. I am not receiving compensation for it (other than from Seeking Alpha). I have no business relationship with any company whose stock is mentioned in this article.