Anyone who subscribes to the premise that investment strategy begins with business strategy should be looking for companies with "total advantage."
By this I mean multiple barriers to competitors which allows them to achieve sustainable competitive advantage: Above industry average profitability and equity performance over the long-term.
Here we have identified three such companies investors may want to consider for their portfolio: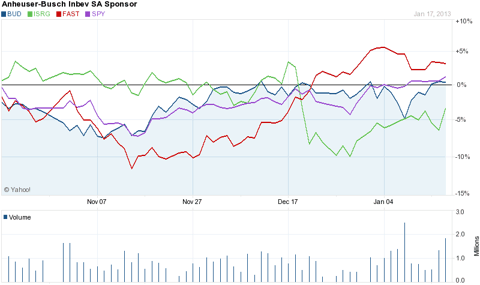 | | | | | | |
| --- | --- | --- | --- | --- | --- |
| Company | Forward PE | Qtrly Revenue Growth (yoy) | Qtrly Earnings Growth (yoy) | Operating Profit Margins | Return on Assets |
| Anheuser-Busch InBev SA | 17.47 | 0.50% | 15.60% | 31.82% | -- |
| Intuitive Surgical | 28.73 | 20.4 | 49.80 | 40.14 | 16% |
| Fastenal | 24.47 | 10.4 | 12.90 | 21.34 | 22.97 |
Anheuser-Busch InBev SA (NYSE:BUD) is a major producer, marketer, and distributor of beer and soft drinks.
Market Share of Top Firms in The Beer Market by Volume (2010)
| | |
| --- | --- |
| Company | Market share |
| AB InBev | 47.9 (%) |
| Miller Coors | 28.9 |
| Crown Imports | 5.3 |
| Heineken USA | 4.0 |
| Pabst | 2.7 |
| Diageo | 1.3 |
| Other | 2.1 |
Source: Beer Insights, 2011
AB InBev enjoys three advantages: economies of scale, scope, and branding. In 2011, the company had close to $40 billion in sales (47.9 percent of the beer market). AB InBev markets 200 brands, including MillerCoors (50 percent market share). Recently, the company acquired GroupoModelo, which is expected to strengthen its market position in the beer market.
Intuitive Surgical (NASDAQ:ISRG): This company is in the robotic surgery business, which is growing by leaps and bounds (as can be seen in the above table). The company designs and manufactures state-of-the-art technology like the Da Vinci Surgical System for various procedures such as urologic, gynecologic, cardiothoracic, and general surgeries. The Da Vinci System consists of a surgeon's console or consoles, a patient-side cart, and a 3D vision system.
Intuitive Surgical enjoys a number of advantages that give the company a near monopoly in this area. There is a "first mover" advantage, which made the Da Vinci Surgical System a standard in the industry. Also, there are the economies of scale, which gives the company a cost advantage.
Then there is the bundling of hardware with services like doctor training, which makes the cost of switching to different machines prohibitively high.
Fastenal (NASDAQ:FAST): This is a screw and bolts retailer. Yes, screws and bolts, tons of them in all sorts of varieties! Since 1987, its stock has outperformed the stocks of Apple and Microsoft (NASDAQ:MSFT) -- gaining 37,178 percent compared to Apple's (NASDAQ:AAPL) 5,542 percent, and Microsoft's 9,906 percent.
Fastenal enjoys multiple advantages that constrain entry of new competitors to its business. One of its advantages is scale, the cost savings associated with a larger corporate size; Fastenal has 2,585 stores in the US and Mexico.
Another advantage is scope, the cost savings associated with the offering for sale of different products by a single corporation rather than by different corporations -- Fastenal sells hundreds of thousands of MRO, construction and OEM products that extend to 15 product lines.
A third advantage is customization, the benefits associated with the offering of customer-tailored solutions; Fastenal's manufacturing facilities can tailor products to different customer needs.
A fourth advantage is bundling, the package of different product characteristics to create unique consumer offerings; Fastenal's extensive store network and highly trained personnel allows the company to bundle products with services.
A fifth advantage is aggregation, the benefits associated with pulling a large number of orders together; Fastenal helps its customers cut their transaction costs by offering them a one-stop solution to their hardware needs.
Compounding Fastenal's multiple advantages is the integration of its supply chain activities that creates a formidable barrier of entry for new competitors; the company owns manufacturing facilities, a transportation fleet, distribution centers, inventory supply systems, and retailing and sales service facilities.
The bottom line: Don't overlook sleeper stocks, especially if they have multiple sources of sustainable competitive advantage.
Disclosure: I have no positions in any stocks mentioned, and no plans to initiate any positions within the next 72 hours. I wrote this article myself, and it expresses my own opinions. I am not receiving compensation for it (other than from Seeking Alpha). I have no business relationship with any company whose stock is mentioned in this article.