Much has been made in recent weeks about the lack of adequate pipeline capacity in the U.S. and Canada due to a flood of increased production from the prolific shale and oil sands plays. As a result, Canadian Heavy crude futures contracts for March 2013 are trading at a $35.75/barrel discount to NYMEX light sweet. The pricing pressure on Canadian heavy has caused some concern among investors of Suncor Energy Inc. (NYSE:SU) and at least one analyst at Reuters. But should SU shareholders sell the stock? I say "No". Here's why.
Suncor has several positive catalysts going forward in 2013:
Low oil sands operating costs
Significant refining operations
Record quarterly cash flows
Growing production
Reduction in historical capital ex rates
Shareholder friendly management
Additional Pipeline Capacity Only A Matter of Time
Geopolitically secure asset base
Let's take a look at each of these bullets in more detail below.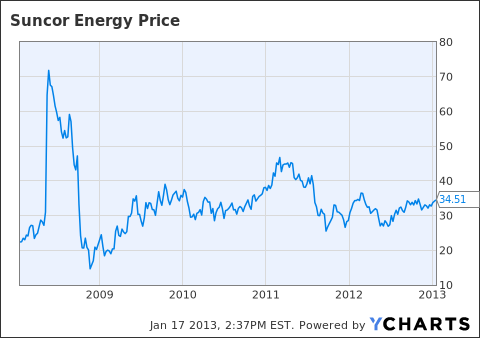 data by YCharts
SU = $34.51
Mkt Cap = $52.8 Billion
P/E ((ttm)) = 11.1
EPS ((ttm)) = $3.12
Div (Yield) = $0.52 (1.50%)
Data courtesy of Yahoo Finance.
Oil Sands Operating Costs of $33.35/barrel
In Suncor's Q3 2012 earnings announcement the company reported oil sands operating costs were $33.35 per barrel (excluding Syncrude). Currently, Canadian heavy March contracts are trading at a $35.75 barrel discount to NYMEX light sweet. Meantime, NYMEX light sweet for March is currently trading at $94.68. This means Canadian heavy is effectively being bought for ($94.68-$35.75) = $58.93/barrel. Obviously SU would like to realize a higher price. Still, that is a profit of ($58.93-$33.35)=$25.58/barrel for Suncor. Its oil sands production in Q3 averaged 378,900 barrels per day. So that works out to an operating profit of $25.58*378,900=$9.69 million per day from oil sands production. Not bad.
Significant Refining Operations: 455,000 bpd
As a result of its merger with Petro-Canada (Canada's 2nd largest refiner) in 2009, Suncor is now a fully integrated oil company with significant downstream operations. According to the company's website, SU operates the following refineries:
Edmonton, Alta.: 135,000-barrel-per-day refinery runs entirely on oil sands-based feedstocks and produces a high yield of light oils
Montreal, Que.: 137,000-barrel-per-day refinery produces gasoline, distillates, asphalts, heavy fuel oil, petrochemicals, solvents and feedstock for lubricants
Commerce City, Colo.: 98,000-barrel-per-day refinery produces gasoline, diesel fuel and paving-grade asphalt
Sarnia, Ont.: 85,000-barrel-per-day refinery produces gasoline, kerosene, jet and diesel fuels
That is a total of 455,000 barrels/day of refining capacity. And the company has taken steps to increase advantaged low-cost feedstocks:
The Edmonton refinery has been optimized for processing oil sands crude feedstocks.
At the Sarnia refinery, a $1 billion investment in new equipment has enabled the production of lower sulfur diesel fuel and improved operational efficiency.
At the Commerce City refinery, a $

4

40 million (US $445 million) upgrade has enabled the refinery to meet clean fuels regulations and handle a wider range of oil sands products.
Also, its St. Clair, Ontario ethanol plant produces 382 million liters of ethanol per year from corn.
What this means is that Suncor is much less leveraged to Canadian heavy crude prices than it used to be. For every dollar the price of heavy falls, it's an opportunity to pick up that margin in the refining business. In addition, Suncor is benefiting from low natural gas feedstock costs. Indeed, for the nine months already reported in 2012, SU made more net earnings in refining than it did in oil sands production:
Net Earnings

(by Segment)

Nine Months Ended Sept. 30

($ millions)

2012

2011

Oil Sands

1,498

1,813

Refining and Marketing

1,681

1,419
It is clear Suncor should no longer be viewed (or valued) as simply an oil sands producer. Significant downstream refining capacity has reduced the company's exposure to weak heavy crude pricing.
Record Cash Flows
In Q3 2012, the company reported quarterly cash flow from operations of $2.740 billion ($1.78 per common share). This was a quarterly record despite planned maintenance at oil sands and offshore assets.
Growing Production
In its Dec. 3, 2012 cap-ex and production outlook, the company released the following 2013 production outlook:
Suncor Total Production
2013 full year outlook
Dec. 3, 2012
Suncor Oil Sands (bpd)
350,000 to 380,000
Syncrude production share (bpd)
34,000 to 38,000
North America Onshore (boe/d)
41,000 to 46,000
East Coast Canada (bpd)
55,000 to 60,000
International (boe/d)
90,000 to 96,000
Total production (boe/d)
570,000 to 620,000
This compares to 2012 full year production expectations, taken from Q3's earnings report, of 540-580,000 boe/day. 2013's production outlook represents an increase of approximately 8% in overall production and approximately 12% in oil sands production year over year. Sure beats the production declines many of Suncor's big-oil peers have been reporting over the last few years.
Reduction In Historical Cap-Ex Rates
In its Q3 report, SU reduced its outlook for 2012 capital expenditures reduced by $850 million to $6.650 billion.
In the Dec. 3 update, the company announced it had agreed with its joint partner, Total (NYSE:TOT), to minimize spending on the Voyageur Project, effective immediately. Steve Williams, who took over as Suncor CEO in Q2, said:
Our 2013 capital plan demonstrates our commitment to be absolutely diligent in pursuing those projects expected to provide profitable, long-term growth for shareholders. As a result of our disciplined and prudent spending in 2012, we will begin 2013 with a strong balance sheet and the ability to fund our capital program completely from internal cash flow.
Shareholder Friendly Management
In July Williams repeated that SU would be more focused on profitable growth, rather than simply growth for growth's sake. From the Q3 earnings report:
Suncor continued to return cash to shareholders through dividends and share repurchases. The company completed its initial $1.5 billion common share repurchase program during the quarter and, in September, announced a new program that is authorized for up to $1 billion of additional share repurchases. As at October 26, 2012, the company had returned $1.725 billion to shareholders in 2012, through $1.164 billion in share repurchases and $561 million in dividends. The company increased its quarterly dividend 18%, to $0.13 per share from $0.11 per share, in the first quarter of 2012.
I expect the company to raise its dividend again in Q1 2013. I would advise Suncor's management to put more of the company's returns toward the dividend as opposed to share buybacks. The dividend, I believe, has some catching up to do in order to reflect SU's better fundamentals and to come up to speed with its peers. They need to reward shareholders who have stayed with the stock despite over three years of under performance.
Additional Pipeline Capacity Only A Matter of Time
In my recent article, The Seaway Pipeline Expansion is Bullish for Suncor Energy, I explained why I thought Canadian heavy crude would make up the majority of the expanded Seaway pipeline's capacity. In this article, Paul Sankey says:
We have 20 major pipeline projects being developed and starting in 2013 alone for about 4 million barrels a day of oil transport into Houston by 2015, which we think is the biggest single oil pipeline infrastructure addition ever seen in the world. And by the way, we have same thing happening in 2014, another 20 pipelines for a similar amount for additional oil transport.
The majority of Gulf refining capacity is configured for heavy crude. The heavy crude refiners have a choice: they can either run light sweet crude inefficiently, undergo expensive refinery modifications to run light sweet crude more efficiently, or continue to use heavy crude as its feedstock. I suspect they will stick with the latter option. In that case, Canadian heavy is preferred over Venezuelan.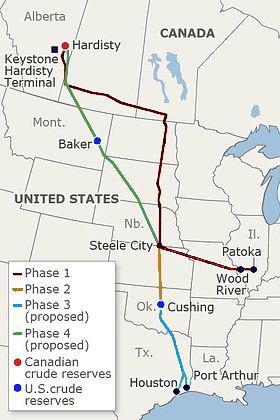 With respect to eventual approval of the Keystone XL pipeline, who the heck knows? My suspicion is that Obama's decision last year to nix the XL was a pre-election political decision disguised as environmental protection. But the pipeline has been re-routed so as to lessen its impact on the Nebraska aquifer. That will be the excuse Obama and the State Department need to permit construction to proceed. I expect a decision in the first part of this year so construction can begin in the spring. When completed, the XL will add 510,000 barrels per day of capacity. That, of course would be great news for SU and would likely increase realized prices for Canadian heavy.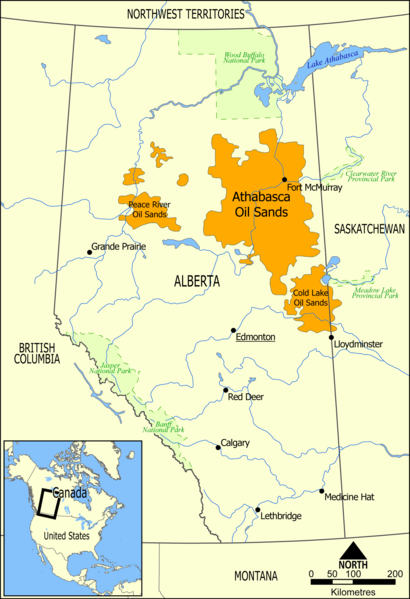 Geopolitically Secure Asset Base
Suncor has international operations in Libya, Norway, Syria, and the UK. That said, from its Q3 report, of Suncor's 540-580,000 boe/day 2012 production outlook, only 77,000 - 85,000 boe/day (~14%) will be produced internationally. So most of the company's production comes from the oil sands. Indeed, in 2013 they are expecting oil sands production to be 350-380,000 boe/d (~61% of the total). Syncrude, North American onshore, and east coast Canada production make up the balance. The point is, production is predominately in safe and secure Canada.
All of the company's refining assets are in Canada or the U.S.
One only has to read the daily headlines about unrest in Algeria, Libya, Iraq, Syria and elsewhere to understand the advantages of Suncor holding the majority of its assets in good-old North America.
According to this list of the largest Canadian Oil Companies, SU has total proved and probable gross reserves of 7,107 Mboe. Of this total, only 333 Bcf is gas. 6,774 Mboe is oil. That's massive. As a rough comparison, at year-end 2011, Exxon Mobil's (NYSE:XOM) proved reserves base was 24.9 billion oil-equivalent barrels. XOM's proved reserves base is split 49 percent liquids and 51 percent gas. So let's say that works out to 12.2 Mboe of liquids (oil and NGLs) for XOM. Roughly then, SU has about half the oil reserves of XOM, yet its market cap is about 1/8th of XOM. I know I am painting with a broad brush here, but it is food for thought. Note I have equated "proved and probable" SU reserves to "proved" reserves for XOM. But that may not be a bad comparison since we are talking about oil sands as opposed to conventional reserves, and I allowed XOM's NGLs into the equation, whereas SU's reserves were all oil.
Summary
Suncor Energy's stock has gone nowhere in over three years. However, during that period the company has fundamentally changed. The company's merger with Petro-Canada not only made Suncor Canada's largest oil company, but it also made it a fully-integrated oil company with significant downstream operations. Major project completions, and increased cash flows means the company starts 2013 with a strong balance sheet and the ability to fund its cap-ex program completely from internal cash flow. As a result, the company says it is now more focused on increasing shareholder returns. The company has announced $2.5 billion in share buybacks so far. In Q1 2012, the dividend was increased 18% to $0.13/share (quarterly).
Q4 2012 earnings will tentatively be announced on January 30th. With 12 analysts covering SU, the consensus EPS estimate is $0.82, and the high and low estimates are $1.07 and $0.56, respectively. If the stock meets the estimate of $0.82, it would peg 2012 full year earnings at $3.33/share. That would be up 27% from 2011's $2.63/share.
S&P estimates 2012 earnings at $3.40 and at $3.61 for 2013.
While Canadian heavy prices are indeed under pressure, SU is making up for it in the downstream. Meantime, its oil sands business remains very profitable with operating costs of $33.35/barrel. I believe North American refiners will continue to demand Canadian heavy, and that rail service will mitigate takeaway issues until more pipeline capacity comes online. In my book, Suncor Energy is a long-term strategic energy holding. S&P agrees. They currently have a 4-STAR "Buy" rating on the stock and 12-month price target of $43.
Disclosure: I am long SU, XOM. I wrote this article myself, and it expresses my own opinions. I am not receiving compensation for it (other than from Seeking Alpha). I have no business relationship with any company whose stock is mentioned in this article.
Additional disclosure: I am an engineer, not a CFA. Please do your own research and contact your investment adviser. I am not responsible for investment decisions you make. Thanks for reading and good luck!