Even as many of the major market indexes are now reaching new five-year highs, AT&T (NYSE:T) shares have been noticeably weak for the past few days and now we may know why. After the market closed on Thursday, January 17, the company announced it would take a $10 billion non-cash charge in the fourth-quarter. The charge is related to an actuarial loss in its pension fund of about $12 billion, which was partially offset by gains of around $1.9 billion. In addition, the company was affected by Hurricane Sandy and lower margins on smart phones. When this news came out, the stock dropped even further in after-hours trading, to about $32.75.
Even though $10 billion is a lot of money and it grabs headlines, this additional pullback in the stock seems to be a solid buying opportunity. In order to arrive at that conclusion, there are a number of factors to consider. First of all, it makes sense to put the charge into perspective. For example, in the third quarter of 2012, AT&T generated about $6.5 billion in free cash flow and it had about $31.5 billion in revenue, and that is for just one quarter. Those kinds of numbers show that the $10 billion charge is not out of proportion for a company of this size, especially since it is a non-cash charge.
Furthermore, a pension charge is not a big surprise even though a stock can dip on the news in the short term. Many major U.S. corporations have already or are expected to face similar charges, much of which is due to record low interest rates that have impacted pension fund returns. Because of this, the stock pullback might not last for long. In addition, many analysts and investors already expected that AT&T would be faced with margin pressures on smart phones in the fourth quarter and that is one reason why the stock has trended lower in the past few weeks. That means this news might already be more than priced into the stock. One analyst even expected a sell-off and saw it as a buying opportunity as he stated in a recent note:
"Similar to what we are expecting with [Verizon], while the stock could trade off at the print, we believe that a massive pull forward of smartphone upgrades into 4Q could set [AT&T] up for a strong 1Q and 2013... [We] believe that weakness resulting from this margin pressure could lead to a buying opportunity," writes Schildkraut, in a Jan. 15 note to clients assessing telecom earnings.
As this stock was trading around $35 in just the past couple of weeks and has now dropped below $33, it's finally a good time to consider buying the dips. This stock offers one of the highest dividends in the market with a yield of around 5.3%. It's also worth noting that AT&T shares offer a higher yield than Verizon (NYSE:VZ). This stock also trades at a lower PE ratio when compared to Verizon, so there is clear value here. Plus, as the chart below shows, this stock is trading at a key support level and at the bottom of its recent trading range. That means AT&T shares might not have much downside left, and a rebound could even be coming. Sometimes, stocks go up soon after bad news is released; just look at shares of Boeing which rebounded the day after the FAA announced it was grounding all 787 planes. AT&T shares could be poised for a similar rebound, and that is why buying this solid dividend-payer makes sense now.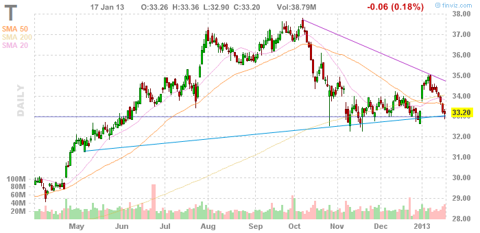 Here are some key points for AT&T:
Current share price: $32.66
The 52 week range is $29.02 to $38.28
Earnings estimates for fiscal year 2012: $2.37 per share
Earnings estimates for fiscal year 2013: $2.54 per share
Annual dividend: $1.80 per share which yields about 5.3%
Here are some key points for Verizon:
Current share price: $42.13
The 52 week range is $36.80 to $48.77
Earnings estimates for fiscal year 2012: $2.42 per share
Earnings estimates for fiscal year 2013: $2.84 per share
Annual dividend: $2.06 per share which yields about 4.9%
Data is sourced from Yahoo Finance. No guarantees or representations are made. Hawkinvest is not a registered investment advisor and does not provide specific investment advice. The information is for informational purposes only. You should always consult a financial advisor.
Disclosure: I have no positions in any stocks mentioned, and no plans to initiate any positions within the next 72 hours. I wrote this article myself, and it expresses my own opinions. I am not receiving compensation for it (other than from Seeking Alpha). I have no business relationship with any company whose stock is mentioned in this article.