Investing in banking institutions is tricky business. Their balance sheets are a filled with loans, the quality of which is almost impossible to determine. Examining credit quality statistics such as delinquencies and write-offs tells you everything you need to know about the past. It tells you nothing about the future.
Unless you are sitting at a desk inside a bank and are privy to the lending standards that the bank requires and then testing to make sure those standards are being upheld, the truth is you can't know the quality of the loans being written.
Heck, it is hard enough for someone working inside a bank to know if credit standards are being maintained. These are huge, decentralized operations where effective control systems are not easy to maintain.
Combine the black box nature of the balance sheet of a bank with the fresh in our minds financial crisis of 2008 and it isn't hard to see why the sector fell so far out of favor.
In September of 2011 I wrote an article for Seeking Alpha suggesting that while I questioned my ability to analyze Bank of America (NYSE:BAC), I was willing to piggy-back on the work of Warren Buffett and Bruce Berkowitz and invest in the embattled company.
There is a major complication to me and my "stick to my circle of competence" plan. There are some investors who are just so good, and who make so few mistakes that I'm almost willing to follow them blindly into some ideas. When two of these world class investors converge on the same idea at the same time when nobody else is interested I get up on the edge of my seat. There are no style points in investing. No extra credit for finding your own ideas. All that matters is making money, so if you can borrow from another investor successfully then that is the right course of action. We have two exceptional investors who we can follow today with Bruce Berkowitz and Warren Buffett and the financial sector. Specifically into Bank of America.

To add further intrigue to their shared interest is that the last time Buffett and Berkowitz were getting greedy with the same bank stock the result was an overwhelming success.

The last time they were in the same place at the same time they made 5 times their money in a few years. I've watched them make countless other intelligent investments over the last twenty years. Why would Bank of America be any different?
When I wrote the article Bank of America was trading for roughly $7 per share. Today it sits at $11.30 which is a snappy 61% increase in 16 months.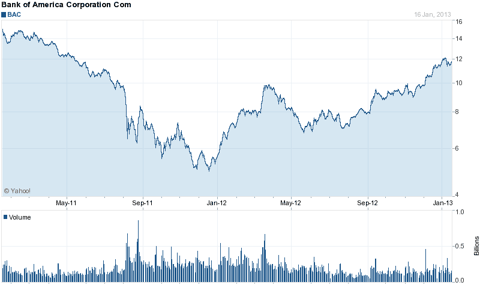 With the stabilization in the housing market and continued strengthening of Bank of America's balance sheet it is starting to look pretty clear that Buffett and Berkowitz were right to be bullish on Bank of America when everyone else wouldn't touch it with a ten foot pole.
The good news for us investors is that Bank of America is still plenty cheap and we can still profit from following Buffett and Berkowitz.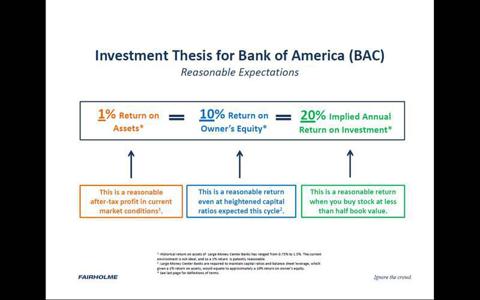 The slide above shows the very simple recipe that Berkowitz thinks about when looking at Bank of America. Once we get past the one-off items that continue to hit earnings it is not unreasonable to assume that Bank of America can earn a 1% return on assets. Given expected capital ratios around 10% that 1% return on assets will equal a 10% return on equity. Therefore, if you are able to buy shares at half of book value (which you can today) you can lock in an earnings yield of 20% at current prices.
Since I already had the opinion of Berkowitz and Buffett, I went looking to see if I could find other smart guys who are invested in Bank of America to see how they thought about it as an investment.
I found a couple in well known hedge fund manager Tom Brown and respected mutual fund manager of Oakmark Funds Bill Nygren. The message that both of these smart gentleman were spreading about Bank of America was also pretty simple:
1) Bank of America is trading at half of book value and should at some point reach book value (implying 100% upside)
2) Looking out two years Bank Of America should earn $2.00 to $2.50 per share, which, with a price to earnings multiple of 10 (which is fairly standard for the banking industry) would put shares at over $20 (again implying 100% upside)
Nygren and Brown are on exactly the same page when it comes to Bank of America.
That makes four investors with excellent track records, all of whom are saying basically the same thing about Bank of America. When four great investors are all telling me that there is 100% upside in a stock they own I think it is time to listen.
And I am.
Disclosure: I have no positions in any stocks mentioned, and no plans to initiate any positions within the next 72 hours. I wrote this article myself, and it expresses my own opinions. I am not receiving compensation for it (other than from Seeking Alpha). I have no business relationship with any company whose stock is mentioned in this article.