Shares of publicly traded private equity firms should continue to perform well in 2013 due to a number of factors including low interest rates, strong fundamentals, and favorable economic environment. Three leading investment companies that I expect will outperform the general market include Blackstone Group (NYSE:BX), Kohlberg Kravis Roberts & Co. (NYSE:KKR) and Fortress Investment Group (NYSE:FIG).
In fact, Blackstone, KKR and Fortress stock prices have appreciated by about 26%, 15% and 25% since August 13, 2012, when I first discussed these three investment management companies. This performance is favorable compared with the return of about 5% for the S&P 500 (see graph). This article will take a look at these companies' recent performance and why their strong performance should continue in the current economic environment.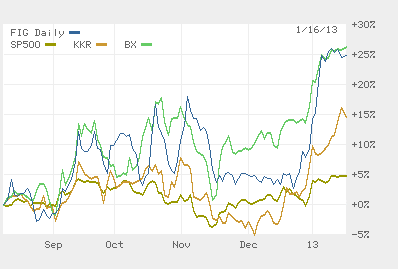 Recent Performance
The stock prices of Blackstone, KKR and Fortress have risen significantly and their price-to-earnings ratios based on 2012 earnings are 10.4 (from 9.6 on August 13, 2012), 6 (from 5.5) and 11.3 (from 9.6), respectively. Similarly, Blackstone's and Fortress' price-to-book value (tangible) have risen to 6.4 (from 5.1) and 4.8 (from 3.9) with only KKR's price-to-book value falling, to 2.2 (from 5.8). This is still lower than the S&P 500 price-to-earnings ratio of 15.2 based on 2012 estimated earnings and comparable with its price-to-book value ratio (tangible) of 4.6.
Thus, the strong stock price performance, in the past five months, of private equity firms has been driven, first, by multiple expansions. And second, Blackstone, KKR and Fortress reported quarterly results above estimates for the quarter ending September 30, 2012, of $0.55 (32.5% positive surprise from the average estimate), $0.69 (45% surprise), and $0.12 (8.1% surprise) per share, respectively.
The strong quarterly performance was driven mostly from growth in assets under management and from increases in performance fees for Blackstone. For example, during the first nine months of 2012, Blackstone reported $1.1 billion of performance revenue (or 39% of total revenue) compared with performance revenue of $0.8 billion in the same period of 2011, or a 38% rise.
As of September 30, 2012, all three companies had significantly higher assets under management compared with September 30, 2011. Blackstone led the group with $205 billion (up 30% from 2011), followed by KKR with $66.5 billion (up 13.3%) and Fortress with $51.5 billion (up 18.1%). There were no significant negative events in the fourth quarter and the market was nearly flat, so a strong finish to 2012 should be expected as all three companies are well positioned to make the best out of challenging times.
All three firms continued to gather assets, enter new deals and/or deliver strong performance results. Blackstone successfully closed on several new funds including a $2.5 billion energy focused fund, a $1.5 billion tactical opportunities fund (a hybrid between a hedge and a private equity funds), and a $13.3 billion private real estate fund. From an investment standpoint, Blackstone acquired Vivint (the largest home automation company and second-largest home security service company in North America), closed the purchase of Motel 6 in North America from Accor SA, and entered a strategic partnership with LLOG Exploration for developing oil and gas assets in the Gulf of Mexico.
KKR was also busy, mostly on the investing side as the company entered into a partnership to develop a 971-acre business park in Houston, TX, announced it would acquire a British oil and gas company (Acteon) and the U.S. insurance broker Alliant (from Blackstone), and made strategic investments in Sunrise Senior Living, Accellos, Westbrick Energy (Canadian oil and gas company), and United Envirotech (Chinese industrial firm). And Fortress won an award for best investment manager in Asia and closed on a $1.65 billion Japanese investment fund, while also paying in full its outstanding debt.
In the past few months, private equity firms have received a lot of negative media comments due to one of the presidential candidates working in that industry. While some of the criticism is not without merit, private equity firms play an important role in the economy by bringing capital and expertise where it is most needed. In addition, many private equity firms have established environmental, social and corporate government standards (ESG).
For example, in the past few months, Blackstone announced a solar program for portfolio companies that will reduce environmental impact and energy use. And KKR, teamed with the American Heart Association to evaluate the impact of corporate wellness initiatives on 140,000 employees at four portfolio companies. This is in addition to millions of dollars donated each year to educational, entrepreneurial and other causes.
2013 Outlook
The outlook for leading private equity and hedge funds companies in 2013 is positive. There are a number of reasons, including a low interest environment, where government or "safe" securities will provide a very low return so there will be more demand for higher return credit investments. One such area is non-performing mortgages and loans and asset backed investments in general.
Second, equity correlations are starting to breakdown, so there will be more opportunities for global investment firms that know how to invest. Third, there are a lot of uncertainties with more traditional sources of financing, such as banks, and investment firms, including Blackstone, KKR and Fortress are able to fill this void. Fourth, traditional hedge fund strategies such as long-short, emerging markets debt, and commodities will likely become more attractive in 2013 due to the reasons already discussed above.
Further, Blackstone and KKR (and Fortress to a lesser extent) are large investors in real estate and energy projects. Real estate is a good hedge against inflation when interest rates are low, and the oil and gas industry is growing while also being capital intensive but providing stable returns. Finally, private equity firms should benefit from record levels of new issuance of U.S. high-yield and leveraged loans, as discussed in Blackstone's Q3 conference call.
Conclusion
While the stock prices of Blackstone, KKR and Fortress have outpaced the returns in the S&P 500 since August of last year, their shares still offer attractive investment opportunities. The case for investing in the shares of these large private equity and alternative investment firms is further helped by the dividend yields Blackstone (2.4% annualized yield), KKR (5.8%) and Fortress (4.00%) offer. As with any investment, there are risks, but these three companies have proven that they can invest wisely under evolving market conditions.
Disclosure: I have no positions in any stocks mentioned, and no plans to initiate any positions within the next 72 hours. I wrote this article myself, and it expresses my own opinions. I am not receiving compensation for it (other than from Seeking Alpha). I have no business relationship with any company whose stock is mentioned in this article.