Market Vectors Junior Gold Miners ETF (NYSEARCA:GDXJ) seeks to replicate as closely as possible, the price and yield performance of the Market Vectors Junior Gold Miners Index. Today, the Index provides exposure to a global universe of 80 publicly traded small and medium-capitalization companies. Each of them must currently generate or hold real property that may potentially produce at least 50% of their revenues from gold and/or silver mining, or primarily invest in gold or silver.
The fund - whose inception date was November 9, 2009 - will normally invest at least 80% of its total assets in securities that comprise the index. In spite of being smaller, less liquid and more speculative than larger companies, those junior miners under the umbrella of this ETF surely allow a simple and easier way to put their fundamentals at work with a kind of reward that may be astonishing.
This ETF is definitely a great way to play a most relevant and promising segment of gold sector. Indeed, Gold and Silver, in a longer term perspective are headed to keep an excellent uptrend and achieve even major levels as the stagnation crisis will surely go on doing a lot of harm in our wealth.
Gold has a long way up to go and gold companies guided by the sector blue chips will also do very well. But in my opinion the main jump in prices and opportunities for excellent returns will lie on the junior gold miners.
Those following the gold industry are very aware of the tremendous upside potential of junior gold miners making quite possible that some of them which are included in GDXJ will skyrocket as a result. Now it is time to express that the notion of risk/reward applies here completely and even if it may be true that many of these companies will not follow the expected rise in prices, several others, being well chosen as high-quality juniors, surely are going to make very nice returns as well as strongly diluting the high risk of the mentioned ETF. In the longer term for each 5 stocks that will go nowhere there will be one or two that will jump with a return of 100x+ not only matching the risk but going much far beyond.
Junior gold miners are ready to break out because they have been held back for some time, as gold continues to move up. Many investors will notice their growth fundamentals, which in a number of cases are most underestimated.
The ETF Holdings as of 01/14/2013 amounts to 2.7b in assets which is really amazing, and includes companies listed on several exchanges, mainly on Canada and the US, with producer companies and also explorers with very good potential. In the other hand, the Fund shows a very balanced asset allocation for each company. As a matter of fact, larger companies have a bigger degree of participation but with a smooth graduation between them. For instance, Canadian producer B2 Gold Corp (BGLPF.PK) is now in first place with only 3.9% of the Fund total net assets and the following four companies show allocations going from 3.5% to 2.6%. Silvercorp Metal (NYSE:SVM), Endeavour Silver (NYSE:EXK), Aurizon Mines (AZK) and Seabridge Gold (NYSEMKT:SA) are at the moment the leading US miners of this Fund with participations of 2.16% to 1.94%.
We may also find, among others, Golden Star Resources (NYSEMKT:GSS) with 1.4% and Vista Gold Corp (NYSEMKT:VGZ) with 0.46%. They are all gems or potential ones at different stages of development and they have a strong portfolio of exploration assets which, in many cases, point to a great possibility of remarkable discoveries of precious metals.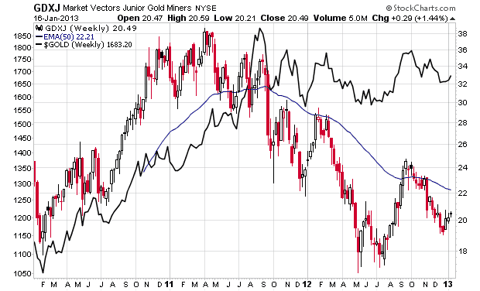 Charts courtesy of StockCharts.com.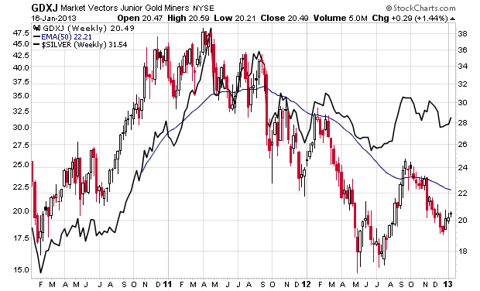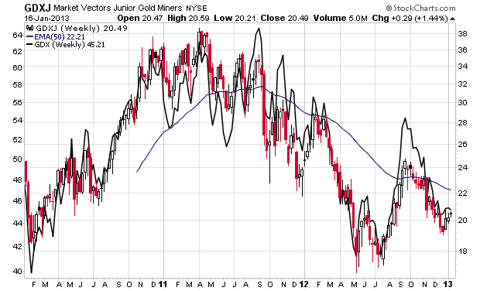 After analyzing the charts above we can see that, during the last 15 months, Junior miners have underperform largely Gold and Silver, even at a deeper level than the larger Precious Metals producer companies included on the GDX ETF. I think that now is a very good time to buy GDXJ as most investors are out of the market and fail to think on a long term basis. And exactly what needs to be done is to capture those low prices and do not worry about that situation on a daily basis. Profits will arrive in due time and the 5% (more or less) portion of a global Portfolio that should be taken by GDXJ investment will be surely important to the overall return. Again, one must remember that, in this case, upside capability is far larger than downside potential.
But as this ETF remains well defended, with the risk being diluted as already explained, investors may want to expand risk (and later reward) by picking only 6 to 10 of those specific junior stocks. By doing so, risk/reward seems to be increased significantly because with a much small diversification risk rises heavily. However, as stock selection is intended to be very demanding and accurate it will lead to much larger expected profits only possible with this kind of company. This action will translate to a much more promising ratio of risk/reward, which is precisely what we were looking for. But that will be another story as I intend to do that research soon.
Disclosure: I have no positions in any stocks mentioned, and no plans to initiate any positions within the next 72 hours. I wrote this article myself, and it expresses my own opinions. I am not receiving compensation for it (other than from Seeking Alpha). I have no business relationship with any company whose stock is mentioned in this article.