The fiscal cliff is now behind us and the U.S. defense budget is in place. Exchange traded funds such as the iShares Dow Jones US Aerospace and Defense ETF (BATS:ITA) and the PowerShares Aerospace and Defesne (NYSEARCA:PPA) could suffer indirectly from government spending cuts, however, the companies they hold are supported by joint ventures, strategic alliances and large international orders.
"Many aerospace and defense firms are high-quality firms, with high barriers to entry, substantial scale, and characteristics of a duopoly or oligopoly regarding the specific products they produce. As a result, aerospace and defense companies are able to extract pricing and enjoy economies of scale. Many companies in ITA possess economic moats, which Morningstar's equity analysts define as having durable competitive advantages," Robert Goldsborough wrote for Morningstar.
A quick look at ITA and PPA has both up just over 3% for the first few days of the year, but ITA is up around 13.7% over the past year while PPA is up around 17%. The ETFs are supported by the high quality mega-cap companies they hold, however, the U.S. budget cuts will play a role later in performance later on in the year.
The Pentagon recently entered into a purchase agreement with Lockheed Martin (NYSE: LMT) to build more jets at a lower price. Canada seems skeptical about proceeding with its purchase plan of F-35 from Lockheed, however, the Pentagon assured that it will buy a fifth group of F-35 Joint Strike Fighter jets, a long impending deal pertaining to the costliest weapons program in the U.S. history, reports Zacks.
The Budget Control Act of 2011 is adversely affecting the future of defense spending, with a $487 billion reduction in aerospace and defense spending to be implemented over the next 10 years. An additional $500 billion in defense spending cuts from 2013-2021 is proposed if Congress can not come up with a plan to reduce the national deficit by $1.2 trillion by March 2013.
As of last month, the U.S. Senate announced the approval of a $633.3 billion budget for a base budget, overseas operations and extending U.S. sanctions on Iran.
iShares Dow Jones US Aerospace and Defense ETF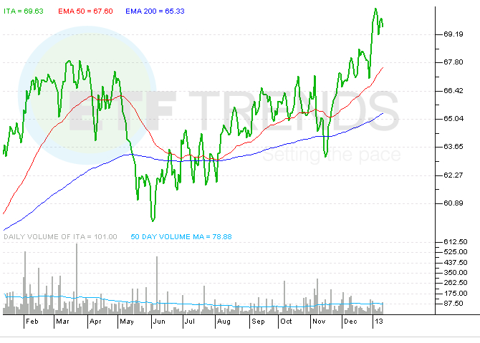 Tisha Guerrero contributed to this article.
Disclosure: I have no positions in any stocks mentioned, and no plans to initiate any positions within the next 72 hours. I wrote this article myself, and it expresses my own opinions. I am not receiving compensation for it. I have no business relationship with any company whose stock is mentioned in this article.