Market Vectors Vietnam ETF (NYSEARCA:VNM) has rallied 25% in just one month, and government intervention to help boost the economy should bolster this performance in 2013.
"We are very encouraged to see that the government is very committed to stabilizing the economy, and that is what we continue to see going into 2013," Trinh Nguyen, general director and chief investment officer at Manulife Asset Management (Vietnam) in Ho Chi Minh, said in a recent report, as quoted in the The Wall Street Journal.
For the new year, Vietnam is waving goodbye to inflation, and a rise in foreign exchange reserves has helped buoy the local currency. The government is working on encouraging foreign investment by raising the cap on foreign ownership in local companies to more than 49%. It also will widen the daily trading band for share prices to 7% from 5%, beginning Tuesday, report Vu Trong Khanh, Daniel Inman and Mark Cranfield for the WSJ.
"There's optimism that corporate earnings will be good this year as the government appears to be more determined to take action to boost the economy, especially with inflation cooling," Le Thi Hai Duong of BIDV Securities said in a Bloomberg article.
In 2012, Vietnam's economy grew 5.03%, the slowest pace in 13 years. The Vietnamese economy is expected to grow about 5.5% this year, while the Central Bank is taking steps to quell inflationary pressure, reports Bloomberg News, linked above.
The VNindex was up 18% in 2012, and is keeping pace with Southeast Asian counterparts such as Thailand and the Philippines.
"Foreign investors have poured a lot of money into the country as a result of strong growth and positive reforms. Positive demographics further support the future growth prospects," reports Neena Mishra for Zacks. "Vietnam continues to be the main beneficiary of the migration of low-end manufacturing out of China as the producers try to take advantage of wages that are about half of that in China. The shift in China's policy to focus more on domestic consumption will also benefit Vietnam as an outsourcing center."
Market Vectors Vietnam ETF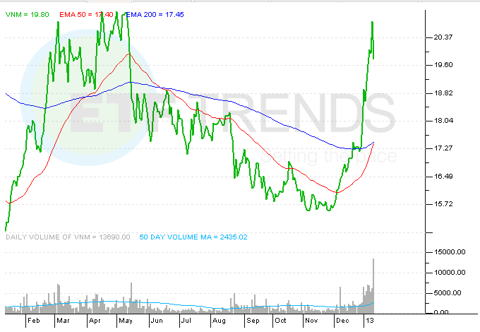 Tisha Guerrero contributed to this article.
Disclosure: I have no positions in any stocks mentioned, and no plans to initiate any positions within the next 72 hours. I wrote this article myself, and it expresses my own opinions. I am not receiving compensation for it. I have no business relationship with any company whose stock is mentioned in this article.