My Seeking Alpha fellow commentator Paulo Santos recently published an article showing how there is something wrong with the market. Paulo compared the performance of Amazon (NASDAQ:AMZN) and Apple (NASDAQ:AAPL), and showed that how fundamental analysis would have indicated Amazon to be down and Apple to the up. However, the market keeps doing just the opposite. Lately Apple has had a ~30% correction while Amazon keeps going up, up, and away.
It is precisely things such as this that break the hearts of investors and make them swear off the market. Tech stocks, especially, are like that. Often they completely defy reason. I swore off tech stocks after the 2000 crash. However, I do keep a small position in the best tech stock in the market.
What do you think is the best large-cap tech stock to invest in the past 5 years? If you answered Apple or Amazon, or other darlings such as Microsoft (NASDAQ:MSFT), Intel (NASDAQ:INTC), Oracle (NYSE:ORCL), Cisco (NASDAQ:CSCO) or Google (NASDAQ:GOOG) you would have been wrong. It is not even the story stock of the past few years as smartphones swamped the market, Qualcomm (NASDAQ:QCOM), nor it is that darling of the 1990s, eBay (NASDAQ:EBAY). It is the ProShares UltraPro QQQ ETF (NASDAQ:TQQQ).
ProShares UltraPro QQQ seeks daily investment results, before fees and expenses, that correspond to triple (300%) the daily performance of the NASDAQ-100 Index.
So, every day, if the Nasdaq-100 (NASDAQ:QQQ) goes up by 1%, this ETF returns 3%. If the former goes down by 1%, the ETF is down -3%. If Nasdaq-100 is flat, the TQQQ ETF is flat. What would happen if an investor were to invest a dollar in this ETF and held it for 30 years? My model shows that Buffett like returns would be the likely result.
But first things first. How has this ETF done lately?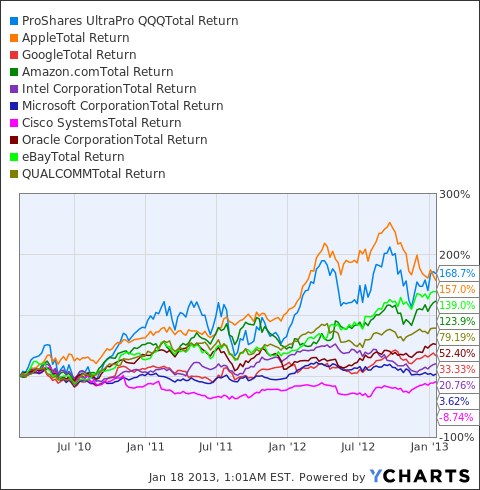 As the chart shows, it has beaten all the major large-cap tech stocks handily since inception.
Back to the original question: If it keeps up the same performance, what kind of returns can investors expect over the next 30 years? A little statistical modeling is in order. The TQQQ has not been around for a long time, so I decided to simulate it using the core ETF, QQQ.
To create my model I first downloaded daily prices for the Nasdaq-100 for the past 10 years. This period has seen a crash and a subsequent bull market. So, the last 10 years are quite representative years and I chose them for my modeling.
The average daily return for this index is about 0.05%, and the standard deviation is 1.42%. Using this information, I created a set of 7,800 daily returns (covering 30 years) for QQQ, and 7,800 daily returns for TQQQ leveraged at 3x for QQQ. At the end of the 7,800 daily returns, I estimated the price of TQQQ, and calculated the average annual return.
The 95% confidence interval for the average annual return for 30 years using this strategy is 32-44%. In other words, there is 95% probability that worst case you get 32% per year, and hence beat what the fabled investor Warren Buffett returned over his illustrious career.
Not too shabby for a simple buy-and-hold strategy.
There is a lesson in all of this. Individual stocks are notoriously fickle. They are almost impossible to predict, even with all kinds of fundamental and (gasp!) technical analysis. But a market basket of technology stocks have a very predictable path - which is up. This is because technology is what creates value in modern society. That doesn't mean each individual technology stock will be fairly rewarded by the market, however. Some will win, some will lose, and most will move in unpredictable ways. But the volatility goes down if one holds a basket of these beasts, and the general return becomes positive.
Now, this is an index fund investment strategy. This means that you as an investor have to accept one thing, that you cannot beat the market, and have to accept average returns. However, these days we have this wonderful thing called leveraged ETFs. They allow you to take a ho-hum, boring, average performing index ETF, and add high octane fuel to it in the form of leverage. This adds back the volatility, and hence the risk, which in turn increases reward. And then you can beat the market.
The downside to adding the risk is that there may be violent swings (like, for example, the 30% fall in Apple), but the longer you hold it, the more certain are you that you will make a handsome profit. A lot of the profit, incidentally, is eroded away, as due to a sad fact of life called Geometric Brownian Motion, leveraged ETFs erode value over the core ETF.
For example, in the 10 year period I chose as the representative years for the QQQ, QQQ was up about 13%. A 3x leverage on that should have yielded a 39% average return for the TQQQ, but because of the erosion, the 95% confidence interval is 32-44%, so you may only get 32% in average return instead of 39%, or a 7% erosion.
It is still a very good deal, however, and gives the holder a lot of security over holding individual stocks. Remember that story stock of the 90s, Dell (NASDAQ:DELL)? It is now on the auction block. This is how it goes in technology. The winner now will later be last, as the times are always a-changin'.
Disclaimer: This is not meant as investment advice. I do not have a crystal ball. I only have opinions, free at that. Before investing in any of the above-mentioned securities, investors should do their own research, consult their financial advisors, and make their own choice.
Disclosure: I am long TQQQ. I wrote this article myself, and it expresses my own opinions. I am not receiving compensation for it (other than from Seeking Alpha). I have no business relationship with any company whose stock is mentioned in this article.