Evans Bancorp, Inc. (NYSEMKT:EVBN) is a financial holding company. The company has two wholly owned subsidiaries: Evans Bank, N.A. (Evans Bank or the Bank), which provides a range of banking services to consumer and commercial customers in Western New York near the Niagara Falls area, and Evans National Financial Services, LLC (ENFS), which owns 100% of The Evans Agency, LLC (TEA). The banking business segment includes both commercial and consumer banking services, including an array of lending and depository services. The insurance agency segment includes the activities of selling various premium-based insurance policies on a commission basis, including business and personal insurance, surety bonds, risk management, life, disability, and long-term care coverage. It also provides claims adjusting services to various insurance companies and offering non-deposit investment products, such as annuities and mutual funds. (Source: TD Ameritrade.)
Recent Income Growth
This financial company has regained its footing after the 2008-09 banking disaster. For the past three years, the net income growth rate has been 29%. The graph below shows the growth of income since 2009.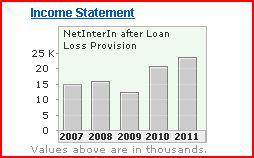 The company's growth in deposits and loans is depicted below: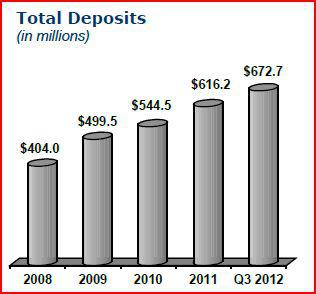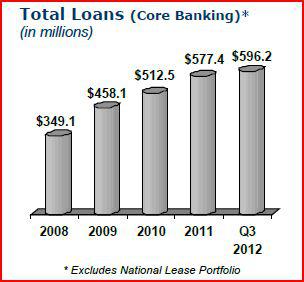 Management states on its website that it is actively pursuing a strategy of growing the company by:
Expanding its retail branch by starting new branches and/or acquiring them from others.
Actively purchasing smaller insurance agencies in their market area.
A call was made to the company about these initiatives since there was a lack of recent expansion activity. The company's investor relations contact did not respond to my inquiry.
Financial Statistics
The P/E of EVBN is running between 9 and 10. It is selling below book value of $17.82. Tangible book value, where all intangibles like good will are subtracted out, has grown from $12.72 per share in 2009 to $15.77 currently. The current annual dividend is $0.48, which represents a 3% return at the current price of $16.00 per share. The dividend is paid semi-annually and was recently raised from $0.22 a share to $0.24. The first 2013 dividend was paid early at the end of December to avoid the proposed tax hikes for 2013. Therefore, it is likely the next dividend will not be paid until September 2013. This dividend only represents 25% of net income so there is plenty of room for further dividend increases.
Earnings per share were $1.77 per share for fiscal year 2011. Earnings for three quarters for fiscal 2012 are $1.35 assuming a 35% tax rate. With another quarter to report in February, earnings for fiscal year 2012 should again show an increase over the prior year.
The price of the stock has risen about 30% over the past year. See the graph from Interactive Brokers below:
Click to enlarge image.

Even though there has been strong appreciation in the company's stock over the past year, there appears to be plenty room for more which will be commented on below.
Insider and Institutional Activity
Insiders own 5% of the company's shares. Mutual funds and institutions own about 33% of the shares available. There has been very little activity by insiders over the past six months. There were about 1,400 shares purchased and none sold. The same picture emerges with mutual funds and institutions. There were about 4,000 shares purchased and none sold. Both insiders and funds are holding on to their shares, even those insiders who received their shares as incentive awards which are often immediately turned to cash kept their shares.
Stock Rating Agencies
The Street rates EVBN a buy. It bases its rating on the strength of the company's growth in income and cash flow as well as the company's efficiency in the use of capital. Ford Equity Research also rates EVBN a buy on the basis of its relative valuation. EVBN's operating earnings yield ranks 94% above the other companies in the Ford universe of stocks. Ford projects that EVBN will outperform the market over the next six to 12 months.
Conclusion
EVBN is paying a 3% dividend and has raised the dividend each of the past two years as income has risen. The company seems poised to increase net income this fiscal year as it has in the prior two years. EVBN is only paying 25% of earnings on dividends so it has room to increase the pay out again. Since the company has a lower P/E than most other banks of equal size and profitability, I agree with the rating agencies cited above that the stock should outperform the market over the next year. If the company meets or exceeds the expected $1.85 per share earnings and the P/E were to grow to 12, the price of the stock could grow to $22.20 per share. This price would place the stock at 1.5 times book value where growing profitable banks have been selling lately. My recommendation is buy -- buy it for the double barreled possibilities, higher dividends, and capital appreciation.
Disclosure: I am long EVBN. I wrote this article myself, and it expresses my own opinions. I am not receiving compensation for it (other than from Seeking Alpha). I have no business relationship with any company whose stock is mentioned in this article.