Excitement is building and Research In Motion (RIMM) is pulling out all the stops to ensure that its much anticipated Blackberry 10 platform hits the ground running when it is introduced with at least two new BB10 phones on January 30th.
In the world of smartphones, it's important to have access to a large universe of software applications or "apps." After all, it's the apps that make the "smartphone" "smart," and not just a "phone."
One of the supposed knocks against Blackberry devices is the relative dearth of applications when compared to those available for download to Android or Apple (NASDAQ:AAPL) products. I say "supposed" because this is an issue that has been up for debate in the past, and Blackberry users counter that they have plenty of apps from which to choose, and which are also more relevant and useful than those available on the other two platforms.
Regardless, to make sure the company would not be found wanting in the apps department, last weekend the firm held a Port-A-Thon "porting party," where it paid developers $100 for each app that was approved for Blackberry App World. In addition, developers could win blackberry devices, and even trips to Blackberry Jam Europe by meeting additional incentives. As a result, RIM reported that over 15,000 apps were added to its library in just this past week. Earlier this year, Chief Marketing Officer Frank Boulben said that the company had 70,000 apps ready for launch. It is possible that with this latest effort and a couple of weeks left to go before launch, the100,000 application level could be breached?
My take? Frankly, a "porting party" where the company gave away prizes like a carnival barker smacks of desperation. And well it should, as this is RIM's last best chance at survival as an ongoing entity.
Investors will point to the recent strength of the stock price as proof positive that support is there for the product. The stock has held up well, and I expect that it will continue to move north as the launch date approaches. However, I would also remind these investors to revisit the chart for Palm in the months before and after the introduction of its much hyped WebOS platform and the highly anticipated launch of the Palm Pre. Initial reviews of the product were positive, especially from those in the tech community (sound familiar?), and the stock rose from $3/share in early 2009 to around $18/share. However, with no cash and margins being squeezed, it was a little too little and a little too late for the new platform and much ballyhooed Pre. Here's a look at what happened next: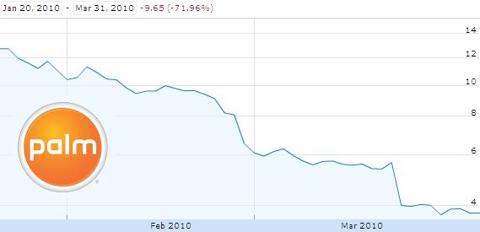 Palm is no longer a standalone entity, and was purchased on a sum of the parts basis by Hewlett Packard (NYSE:HPQ) who, if truth be told, would probably like a re-do on that transaction.
The fact is, size does matter, and even with 100k apps, RIM does not offer an ecosystem remotely close to the 750K+ apps offered for Android and iOS devices.
Port-a-Thon or no Port-a-Thon, according to a recent IDC survey of application designers, less than 10% reported that they where "very interested" in developing applications for Blackberry. By comparison, from the same survey a year earlier, over 32% of respondents indicated they were "very interested" in working with Blackberry. In this case, it seems that "absence does not make the heart grow fonder," as developers appear to have lost significant interest in working with Blackberry while they waited out the increasing delays in the platform launch.
Likewise, consumers do not seem to be lining up in droves, either. According to the Device OEM Performance Tracker from WDS, through November YOY, shipments of RIM devices were down over 30% from prior year shipments, and data from Kantar WorldTech Panel shows that YOY, RIM has lost significant share in virtually every global market, save Germany (see below).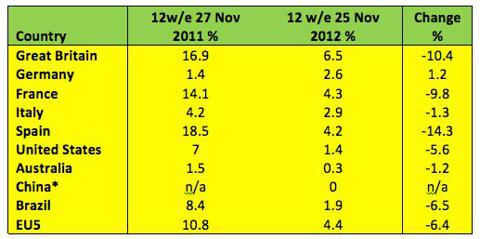 Further, given the new user-pay service model that is going into place along with the new platform, and the fact that as many as 60 million of RIM's 80 million subscriber base are consumers who will likely not see much value in paying more than $1-$2/month for security or device management services that they currently receive for free, the profitability of the company's service revenue will depend on corporate enterprise clients who rely on RIM's vaunted high level security functions. However, similar enterprise security functions being offered by Android and iOS systems erode the pricing power that RIM previously enjoyed, and will likely impact ARPU. This is critical because Service has been the sole driver of revenue, given that margins on Devices are pretty much zero.
Ironically, because the service model on the BB7 will remain unchanged, a BB7 subscriber will be more profitable to the company than a BB10 subscriber. However, carriers are going to be incentivized to move BB7 customers to the BB10, which will have the effect of obliterating gross margins.
So has the Fat Lady sung for RIM? Well, I think that it's premature to say so, but a lot of things have to fall into place for it to remain viable. If management can stabilize revenues with the BB10, and realize revenue of $11 billion and gross margins of 9% in FY14, that would equate to an EPS of $1.40-$1.50. Using a 10x average smartphone industry multiple, this gives us a price target of $14-$15 -- or essentially right were we are now. Put another way, even if everything goes right for the company, there is NO UPSIDE to the current stock price.
A more likely scenario is that the BB10 receives a lukewarm reception from the global smartphone community, and the company continues to lose market share as competition increases. ARPU will deteriorate as BB10 phones replace older more profitable BB7s, and what revenue is generated under the new service model pricing will be absorbed by the company as it continues to sell Devices at a loss.
I don't know about you, but Friday's $15.84 close is starting to look pretty good to me.
Disclosure: I am long AAPL, T. I wrote this article myself, and it expresses my own opinions. I am not receiving compensation for it. I have no business relationship with any company whose stock is mentioned in this article.