The anticipated decision from Europe on Arena Pharmaceuticals' (NASDAQ:ARNA) anti-obesity drug will have to wait for another month (at least). The Committee for Medical Products for Human Use (NASDAQ:CHMP) finished meetings today with reports on several drugs. Arena's Belviq was not included in the report.
Arena had been edging upward in anticipation of a positive result from the CHMP January meetings. Now, with Belviq not included in the reports, Arena has dipped below a $10.00 stock price once again. The next meetings for CHMP are scheduled for February 18th, 19th, 20th, and 21st. There is no guarantee that Arena will be on that agenda, but at some point, the European agency has to render a decision. For investors, frustration is likely the word of the day.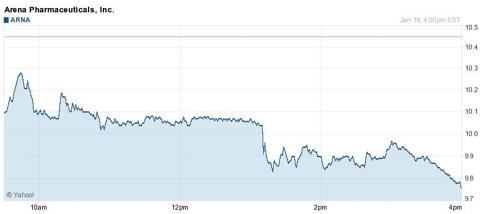 Here in the United States, Arena received DEA scheduling earlier this month which should pave the way for a U.S. launch of Belviq sometime late in Q1. Competitor Vivus (NASDAQ:VVUS) did not pass European muster late last year and is working on another attempt. Thus, while Vivus got a head start in the U.S. with a September 2012 launch of Qsymia, the company will cede a European launch to Arena if Arena can garner approval from CHMP.
Because CHMP meets once a month, there is now a waiting period of about 4 weeks before any European news is likely delivered. This could cause Arena to once again take a breather and trade within a range again. This is a dynamic that has been happening to Arena for quite some time.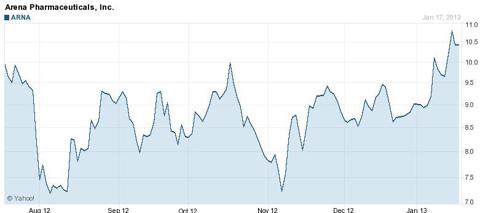 The dynamic of the swings in Arena has made it a bit of a traders' dream for the past 6 months. Essentially Arena is on the cusp of becoming an equity that is based on actual sales results rather than speculation. This has created a virtual battleground ranging from passionate longs that feel the stock will be a "blockbuster" and "skyrocket" to shorts that feel the market is giving way too much credit to the potential of an anti-obesity drug. This has investors in the sector watching Arena, Vivus, and late comer Orexigen (NASDAQ:OREX) closely for clues as to the real potential of the market.
Savvy traders have been playing the Arena range for months now. A great range has been buying when the equity dips and volume dries up and selling when upward volume peaks and then corrects. If an investor is watchful enough, a $1 to $2 play can be had a couple of times a month.
While I like the speculative side of the anti-obesity market and feel there is potential, my worry is that expectations are quite lofty and living up to them could be challenging. Early in the week, I trimmed half of my Arena position at a 40% profit in order to lock in some gains. My strategy is that I still hold the equity for the potential but, at this point, want to see some sales results and exactly how successful the launch is. I own my shares at $7.32, so I have a decent cushion to the downside if initial results fail to meet expectations and can enjoy upside if the results are good. Each investor needs to develop their own strategy.
Right now, we are looking at the potential of a decision from Europe a month from now. The company could be announcing quarterly results sometime in mid-February as well. The period between February 8th and February 21st could prove to be quite an interesting time for Arena as well as for those invested in it. While the disappointment of a no-decision from Europe may sting a bit, Arena has a resilience that seems to keep it averaging up over time.
Stay tuned because Arena is once again getting interesting.
Disclosure: I am long ARNA. I wrote this article myself, and it expresses my own opinions. I am not receiving compensation for it (other than from Seeking Alpha). I have no business relationship with any company whose stock is mentioned in this article.
Additional disclosure: I have no position in Vivus or Orexigen.