Actionable Items:
Highest Positive Spread: First American Minnesota Municipal Income Fund II (NYSEMKT:MXN)
Focus Stock: Templeton Emerging Markets Fund (NYSE:EMF)
Last Week's Focus Stock: Cohen & Steers Total Return Realty Fund (NYSE:RFI)
CEF Weekly Fund Type Performance: ConvtSecFnds was ahead of the CEF funds this week jumping 1.4%. Both WrldEqFnds (+1.3), SpecEqFnds (+1.2%) and PrefStkFnds (+1.1%) were runners-up. The S&P 500 stocks funds was up only +0.9% while GenEqFnds was +0.8%.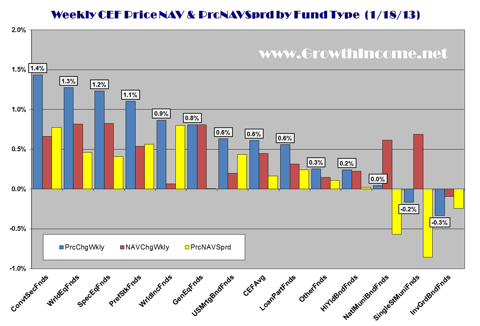 Losers were InvGrdBndFnds (-0.3%), SingleStMuniFnds (-0.2%) and NatlMuniBndFnds (NASDAQ:FLAT). The PrcNAVSprds were the losers with price per share underperforming NAV. PowerShares CEF Income Composite (NYSEARCA:PCEF) was up +0.2% which was holding debt-instruments while the GrowthIncome was up 0.6% holding all fund types.
ETF's oil (NYSEARCA:USO) is up +2.1% price rise last week, gold (NYSEARCA:GLD) a +1.3% increase, and real estate (NYSEARCA:VNQ) a +1.0% price per share-all speculations of an increase in recovery models.
Highest Focus Stock for the Week: First American Minnesota Municipal Income Fund II was ahead by a price increase of 6.5% and NAV per share was 0.4%. The PrcNAVSprd was 6.0% (positive number may be a decline for CEFs). Minnesotan may have a right to view this security as a favorite, but +20.7% in the premium is a little special. The assets are only $35.1 million and the yield is only 4.3% (tax-equivalent of 6.7%). The volume last week was 5,160 and the average daily volume was 2,477.
Lowest Spread and Focus Stock for the Week: Templeton Emerging Markets Fund share price declined -0.3% and its price was a positive 1.9% from its NAV per share; its PrcNAVSprd decline was -2.2%. The emerging markets fund has $404 million and its yield has been annual (end of year) at a 1.4%. The discount is 7.7%. World equity funds have been a leader in the CEF's space. The shares have announced an Open Market Share Repurchase program.
Last Week's Focus Stock: Last week we had Cohen & Steers Total Return Realty Fund . The stock was up 2.9% last week. We had said that the price was a little high and said we would not buy it at these prices. The real estate ETF's advancing 1.0% may have dampened that enthusiasm.
Disclosure:
I am long EMF, RFI, PCEF. I wrote this article myself, and it expresses my own opinions. I am not receiving compensation for it. I have no business relationship with any company whose stock is mentioned in this article.