Hedge funds had another mediocre year in 2012. The widely tracked HFR Weighted Hedge Fund Index returned 6.2% following a loss of 4.1% in the prior year, while the S&P 500 Index (NYSEARCA:SPY) surged 16% in 2012 after a 2% gain in 2011. Some high-profile managers suffered big losses or left the industry. Heavy-weight John Paulson, who made his name by betting against subprime mortgages, is still deep under water. His Advantage Plus Fund was down 19 % as of end of October, following a 53% loss in 2011. Another star trader, Greg Coffey, left Moore Capital after two years of losses in his emerging market funds. This has raised the question again: Does the hedge fund industry face diminishing returns after the industry has become so big?
Hedge funds have enjoyed spectacular growth over the past 15 years, climbing from about $120 billion of assets under management in 1997 to about $2 trillion in assets in recent years, according to BarclayHedge. Despite a temporary outflow after 2008 financial crisis, total AUM have almost clawed back to the peak of 2007. There are many reasons for this growth. But undoubtedly the most important one is hedge funds' ability to deliver superior uncorrelated returns accompanied by reduced volatility. Proponents of hedge funds point out that the outsized performance is possible due to their lightly regulated status, flexible investment process, skilled managers, and the ability to use unconventional assets and strategies, such as investing in illiquid assets, taking short positions, using leverage or derivatives and taking bets on event arbitrage (see chart 1 for AUM growth).
Chart One: Hedge Fund Assets Under Management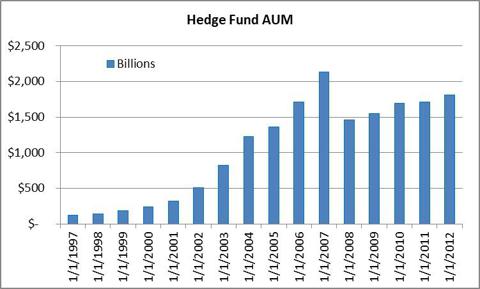 Source: BarclayHedge
However, hedge funds operate in extremely competitive markets, where information and trading advantages are unlikely to last for long. Hedge fund managers normally consider themselves as alpha generators. As the industry becomes bigger and assets under management grow, it has become harder and harder to deliver alpha. Many managers have found that markets inefficiencies disappear quickly. Also, to manage a large amount of assets, the managers find it difficult to execute trades without moving the market. Even worse, many hedge funds are chasing the same opportunities. Meanwhile, attracted by the high fees and high incentive pay structure, many unskilled me-too managers have started and run hedge funds. As a result, hedge fund returns have declined steadily over last two decades. The law of diminishing returns is taking effect in the hedge fund industry.
To prove the point, I have calculated annualized five-year rolling returns, as shown in Chart Two. There is a very clear downward trend in aggregate hedge fund returns, declining from 20% to around 1% in the last twenty years. The other disturbing observation is that correlations between hedge fund performance and equity markets are increasing over the years (see chart 3 for detail). This may imply that hedge fund managers are taking more beta risks as it is getting harder to find alpha opportunities.
Chart Two: Annualized Five-Year Rolling Returns of HFR Hedge Fund Index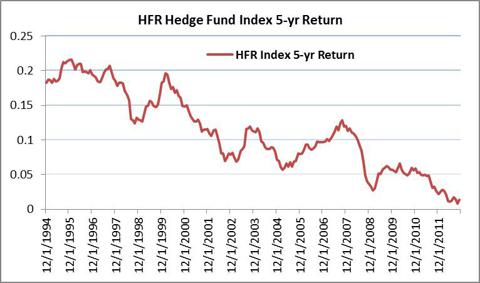 Source: Hedge Fund Research, Inc, Julex Capital Management, LLC
Chart Three: Rolling Correlations between HFR Hedge Fund Index and S&P 500 Index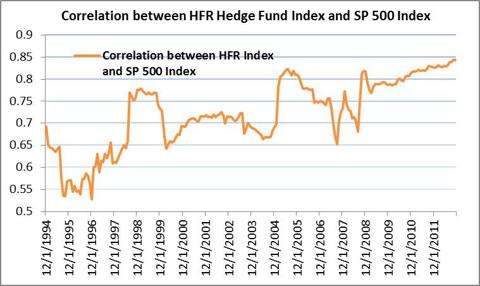 Source: Hedge Fund Research, Julex Capital Management, LLC
In conclusion, as hedge fund AUM and the number of managers grow, good managers who can consistently deliver outsized returns have become very difficult to identify. Before John Paulson became known for his mortgage bets, he was a second-tier merger arbitrage manager. Average hedge funds will not be able to provide excess returns or the diversification benefits they used to offer. Hedge fund investors will have to be very careful in picking strategies and individual managers. To be successful in investing in hedge funds, investors will need a lot of luck.
[Editor's note: Hedge fund replication ETFs include QAI, QMN, CSM, HDG, MCRO, CSLS, ALFA and QEH.]
Disclosure: I have no positions in any stocks mentioned, and no plans to initiate any positions within the next 72 hours. I wrote this article myself, and it expresses my own opinions. I am not receiving compensation for it. I have no business relationship with any company whose stock is mentioned in this article.