On Friday, January 18, Brent Callinicos, Google's Treasurer and Chief Accountant, published a posting titled "And now for a little accounting…" that discussed the pending sale of Motorola's Home segment or set-top-box business that Google (NASDAQ:GOOG) shall be reporting as discontinued operations. Google announced the sale of this business segment in December of 2012 and, according to Callinicos, many Wall Street analysts may have not properly revised their estimates to reflect the change. This could result in some confusion when the company's numbers are released next week.
Under the plan, ARRIS (NASDAQ:ARRS), a communication equipment provider, will acquire the Motorola Home business from Motorola Mobility for $2.35 billion in a cash-and-stock transaction where Google will receive $2.05 billion in cash and approximately $300 million in newly issued ARRIS shares, representing an approximately 15.7% ownership interest in ARRIS.
Callinicos explains "a majority of Wall Street analysts who cover Google have not reflected the Home business as discontinued operations in their estimates." The effect of removing the Motorola Home segment from Google should result in a reduction to the company's revenue by about one billion dollars, and lower the company's earnings per share by as much as forty cents. Google made this announcement last month, on December 19, so any estimates made prior to that date would not account for the change. Current Wall Street average estimates anticipate that Google's revenue should come in at about $12.27 billion, with EPS of $10.54.
If almost all of the analysts have not revised their estimates, then there could be almost a billion in added revenue within these expectations, or about 8% more than there ought to be, and about 3.8% additional EPS than there would be if the change was included in the analysis.
Google is scheduled to report its results after the market close on Tuesday, January 22. The company has continued to grow its revenue over the years on the continuing strength in search as well as healthy revenue growth out of the recently assimilated Motorola business and Google's Network operations. See the consolidated revenue chart for GOOG below (source: Google) :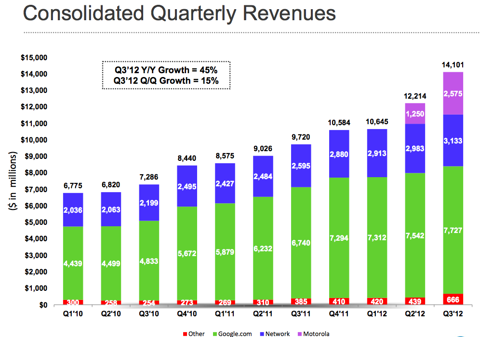 While Google's consolidated revenue for Q3 of 2012 was $14.1 billion, the company's business revenues came in at $11.5 billion. In the third quarter of 2012, Google noted that its U.S. and International operations each represented exactly half of its revenue. Prior to Q3 of 2012, and for several years, Google's International business was slightly larger that its domestic business, averaging about a 53/47 split over the prior ten quarters.
In 2012, the ongoing smartphone operating system war intensified dramatically. On one side sits the iPhone's iOS by Apple (NASDAQ:AAPL), while Google's Android OS is on the other side. Numerous manufacturers make Android phones, while Apple retains total control over its OS and produces the only hardware on the market that uses it. Apple's hardware, including the many versions of the iPhone and iPad, has been incredibly successful and catapulted Apple into becoming the world's most valuable company. Despite this, Google's Android has taken the largest share of the global smartphone market and continues to make strides in the tablet business that is still in its infancy.
Also in 2012, when Apple unveiled its newest version of the iPhone, it announced the discontinuation of its usage of Google's mapping services and instead using its own mapping services. The decision by Apple has largely been determined to be a mistake, if only for being done too hastily and prior to Apple having a sufficient replacement. It is still unclear how this change will affect Google's revenue, but the coming report may shed some light on this.
Google's profit motives in the smartphone business will certainly expand over time, but its primary goal has always been to facilitate consumer usage of its search services. Google continues to derive the majority of its revenue and earnings through search, and the company hopes to maintain a tight grip on the search business through the global shift to mobile devices.
Google continues to find success for Android through its many manufacturers, but after acquiring Motorola, the company has also developed focus on taking market share of Android hardware. In 2012, the company started to release some more polished products, including the Google Q audio/video streaming device and its price-competitive Nexus 7 tablet. Google's Nexus 7 and Amazon's (NASDAQ:AMZN) Kindle Fire models appear to be taking substantial market share of the lower price end of the tablet market, while offerings from Samsung (OTC:SSNLF) compete with Apple at the higher end. The Nexus 7 is designed to sell content through Google's own marketplaces, such as Google Play, while Amazon's is tailored to use Amazon's marketplace.
These price-point differences may begin to blur as competition mounts, including a coming onslaught of Microsoft (NASDAQ:MSFT) Windows 8 smartphones and tablets likely to hit the market throughout 2013. Google also has its own line of new competing personal computer products, such as the recently released low-priced Google Chromebooks that are manufactured by many companies, including Acer and Samsung. Google first started to sell these products in the summer of 2012, and its coming report may also give some information on the success of these Chromebooks. Earlier this month, Lenovo indicated it will have a line of Chromebooks marketed towards students at market in February.
Last week, Facebook (NASDAQ:FB) unveiled a new social search feature known as the Graph Search. The feature is designed to provide the user greater value through searching the pages of the user's friends and providing more personalized information. This new Facebook service will not affect Google's Q4, but it is likely that the company's management will be asked about the move. Google's search system already has a measure of social search within it, provided the searcher is a Google Plus member. A less published but still important part of the announcement by Facebook was that the company would now default internal searches to Microsoft's Bing. This switch may be more significant in the near term.
Disclosure: I have no positions in any stocks mentioned, and no plans to initiate any positions within the next 72 hours. I wrote this article myself, and it expresses my own opinions. I am not receiving compensation for it (other than from Seeking Alpha). I have no business relationship with any company whose stock is mentioned in this article.