A little over 30 years ago, the US had an unusually ugly recession with extraordinarily high inflation rates, interest rates and unemployment rates (all in double digits) while the economy was contracting. While the 1980s and 1990s were good times for the stock market, the last 10 or so years have been challenging.
Bonds have outperformed stocks over the last 30 years because the last half has been an unusually difficult time for earning capital gains with stocks. This was the first time that happened in more than a century and goes against the common belief that capital gains are taken for granted over the long term. However, Treasury yields are close to record lows which will make further capital appreciation with bonds very difficult. The chart below shows the Dow Jones Industrials have pretty much been in a sideways trading pattern since the late 1990s after an impressive rise during the 20th century.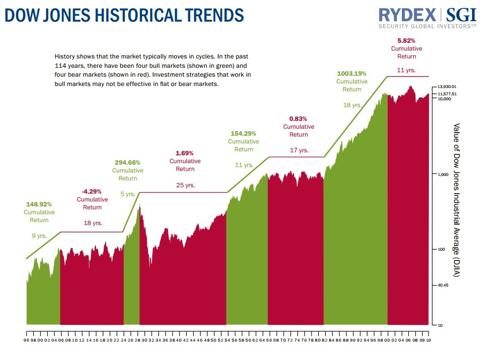 Dividends, especially growing dividends, have become critical for investors seeking higher rates of return on investments. Dividends have generally been more reliable than capital appreciation and have accounted for at least one third of total gains. In recent years, that percentage has been higher. Years ago, a common classification for stocks was "growth and income" and in today's market, that concept is more meaningful. Below are 6 Dividend Aristocrats which have been increasing dividends over the 30 year period along with rising stock prices.
6 Dividend Aristocrats for Income and Appreciation
| | | |
| --- | --- | --- |
| | Price | Yield |
| McDonald's (NYSE:MCD) | $92.26 | 3.3% |
| Genuine Parts (NYSE:GPC) | $65.42 | 3.0% |
| Emerson Electric (NYSE:EMR) | $55.89 | 2.9% |
| Air Products (NYSE:APD) | $88.69 | 2.9% |
| Exxon Mobil (NYSE:XOM) | $90.80 | 2.5% |
| VF Corporation (NYSE:VFC) | $147.94 | 2.4% |
(1) McDonald's is as a global foodservice retailer. With more than 34,000 restaurants serving 69 million customers in over 100 countries, most people know MCD. Growth will come from expanding its chain of restaurants, mainly in emerging countries. The dividend has been increased annually since the first dividend in 1976.
(2) Genuine Parts distributes automotive replacement parts, industrial replacement parts, office products and electrical/electronic materials through over 2000 operations across the US, Canada and Mexico. At $10 billion, it has the smallest market cap in the group. The annual dividend has been increased for 57 consecutive years.
(3) Emerson Electric , a diversified global technology company, designs and supplies product technology and delivers engineering services for industrial, commercial and consumer markets around the world. There are 5 business segments: Process Management, the Industrial Automation, the Network Power, Climate Technologies, and Tools and Storage. The dividend has been increased for 57 consecutive years.
(4) Air Products serves industrial, energy, technology and healthcare markets worldwide. Products include atmospheric gases, process and specialty gases, performance materials, and equipment and services. This is the 31st consecutive year that APD has increased the annual dividend.
(5) Exxon Mobil is the world's largest publicly traded energy company. The company operates 37,000 gross and 31,000 net operated wells. In recent years, XOM has been investing heavily in gas production around the globe. The annual dividend has been increased for 31 consecutive years.
(6) VF Corporation is the world's largest apparel company and a global leader in branded lifestyle apparel with more than 30 brands that include: Wrangler, The North Face, Lee, Vans and Nautica. The dividend has been increased for 41 consecutive years and the stock quadrupled in the last 10 years.
Thousands of companies have shares traded on stock exchanges. Only a little over 50 are Dividend Aristocrats (having raised annual dividends for at least the last 25 years). These companies continued raising dividends through recessions, including the most recent one when several strong companies ended their streaks of raising dividends. In addition, stock prices for these companies have at least doubled in the last 10 years.
Total return comes from capital gains and income. Owning these stocks with growing dividends should provide investors comfort even if stocks sell off. Politicos in DC are deeply divided about raising the debt ceiling and reductions in federal spending, unfavorable for rising stock markets. However, dividends feel good, especially when the stock markets sell off. When markets rise, they feel even better.
Disclosure: I am long VFC. I wrote this article myself, and it expresses my own opinions. I am not receiving compensation for it (other than from Seeking Alpha). I have no business relationship with any company whose stock is mentioned in this article.