By: Brendan Gilmartin
IBM Corp. (NYSE:IBM) is slated to report 4Q 2012 earnings after the close of trading on Tuesday, January 22. Results are typically released at approximately 4:05 p.m. EST and will be followed with a conference call at 4:30 p.m. IBM is a member of the Dow Jones Industrial Average, with broad market influence and could have direct impact on the index futures when it delivers quarterly results.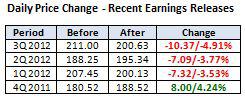 Outliers & Strategy
IBM typically produces a value for the measure Adjusted Earnings Per Share and Non-GAAP Earnings Per Share that is comparable to the Street consensus estimate. (Review historical extractions on the following page).
Adjusted/Non-GAAP Earnings Per Share is forecast to come in at $5.25 per share (Source: Yahoo! Finance) with a range of $5.15 - $5.32, up from $4.71 in the prior year.
Other key measures:
Revenues: The estimate is $29.09 bln (range is: $28.33 bln to $29.66 bln).
Gross Margin: This is a key measure for IBM. A miss could be a catalyst to sell the shares.
Adjusted Earnings Per Share Guidance: Back in October, IBM said its outlook for 2012 operating (non-GAAP) diluted earnings per share remained at least $15.10. With 2012 in the books, the Street is more likely to focus on the outlook for 2013. The current consensus is $16.63.

Keep an eye on Accenture (NYSE:ACN) as a potential sympathy play off the IBM numbers.
Last quarter, IBM surprised the Street by reporting in-line earnings and a revenue figure that fell well below consensus estimates. The result was an immediate pullback in IBM shares, coupled with losses in the equity index futures. The Dow December 2012 E-Mini Index Futures were hit especially hard in reaction to IBM's results, dropping more than 30 points.
Recent News
01/14: JP Morgan downgraded IBM to Neutral from Overweight and cut the price objective from $215 to $197, according to a post on Benzinga.com. The firm cited reduced upside, limited expansion in the software and mainframe businesses, and more modest revenue growth.
12/21: Topeka Capital started coverage on IBM with a Buy rating and a price target of $245, according to StreetInsider.com. The firm points out that IBM should benefit from key trends in 2013 that include cloud computing trends toward analytics, along with troubles at competitors such as Hewlett Packard.
10/30: IBM declared a regular quarterly cash dividend of $0.85 per common share and authorized $5 billion in additional funds for use in the company's stock repurchase program.
Technical Review
IBM shares have been meandering in a narrow range over the past several weeks. Coming into the earnings release, the shares are approaching overhead resistance near $195 - a level coinciding with the 200-Day SMA. A push though that level on strong earnings could drive IBM back toward the $200 threshold. Conversely, support is near the 50-day SMA near $192, with downside risk toward the November lows near $186 in the event of a weak report. (Chart courtesy of StockCharts.com)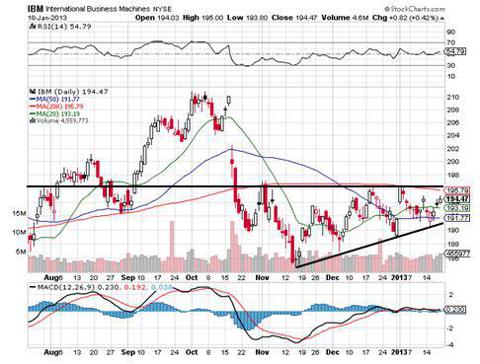 Summary
IBM shares are at an inflection point ahead of the 4Q 2012 earnings release. On one hand, IBM is benefiting from trends that include data analytics, cloud computing, share repurchases, and a favorable valuation. Coming into Tuesday's earnings, much of the focus will center on the outlook for 2013. If IBM can deliver guidance at or above the current Street projection, look for shares to advance back toward $200. A weak outlook could have the opposite effect.
Disclaimer: By using this report, you acknowledge that Selerity, Inc. is in no way liable for losses or gains arising out of commentary, analysis, and or data in this report. Your investment decisions and recommendations are made entirely at your discretion. Selerity does not own securities in companies that they write about, is not an investment adviser, and the content contained herein is not an endorsement to buy or sell any securities. No content published as part of this report constitutes a recommendation that any particular investment, security, portfolio of securities, transaction or investment strategy is suitable for any specific person.
Disclosure: I have no positions in any stocks mentioned, and no plans to initiate any positions within the next 72 hours. I wrote this article myself, and it expresses my own opinions. I am not receiving compensation for it (other than from Seeking Alpha). I have no business relationship with any company whose stock is mentioned in this article.