For those that follow me, Research In Motion (RIMM) is one of the stocks that I have been bullish on for some time now. In fact, RIMM has more than doubled since my original recommendation (please consider: Research In Motion: Good Speculation Play With Limited Risk). Please note I only recommend stocks that have the possibility to double in a period of 12-month period or are good swing trade opportunities. So far with RIMM, we are running ahead of schedule.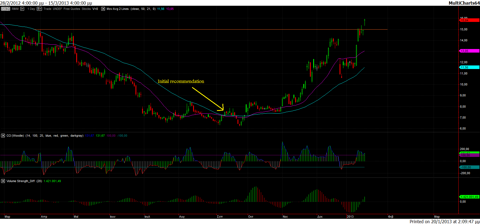 So now that the stock has doubled, what does one do with RIMM from now on? I mean a 100% percent return in a such a small period of time is not a return you find on the Street every day. Should investors take profits here and look for above average returns somewhere else, or should they continue to ride the wave?
Well we have to take several issues into consideration. Let's start with how analysts see the stock. You probably already know that Peter Misek from Jefferies upgraded RIMM on Friday to a buy rating with a $19.50 target price. However what is not widely known is that Misek also says that his most bullish scenario calls for the possibility for RIMM to reach $56 a share compared to a previous target of $43 (read my take on that one here).
So on the one hand, we have an upgrade from a respective firm and on the other hand the possibility for longer-term profits - based on a best bullish case scenario - still extremely high.
I don't know if the short selling crowd follows the news, looks at balance sheet data or even bothers to look at the price action on the charts. If it did, it should not be doing what it is doing in many cases.
Don't get me wrong, I have the highest respect for strategic short sellers, but many times they do things that are incomprehensible to me.
Please consider the short selling chart of RIMM below: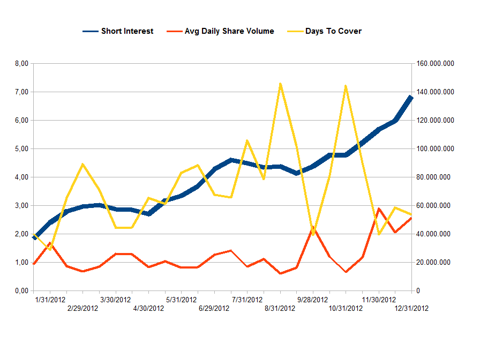 Data from Nasdaq
As of Jan 31, 2012, RIMM has about 137 million shares short, or about 27% of the float. Now I really don't understand the logic by which these shares were shorted, but it makes no difference. The large amount of shares shorted will eventually have to be covered and will some way provide buying support for the stock if and when it decided to correct. In the best case scenario, it will add to the rally.
Bottom Line
The buy upgrade from Jefferies and the target price of $19.5 a share is a reason alone to buy the stock. The most bullish case scenario of $56 a share is another reason. The large amount of shorted stocks are also a reason why RIMM will not correct very easy.
So as to my final verdict, given the forensic evidence we have, my buy rating on RIMM still stands, even at these levels and even though the stock has already doubled from my initial recommendation. On a final note, my recommendation will continue to be a buy, until such time I have evidence that RIMM will not be able to double within a 12-month period or something has happened to the company that will make me change my mind.
Disclosure: I have no positions in any stocks mentioned, and no plans to initiate any positions within the next 72 hours. I wrote this article myself, and it expresses my own opinions. I am not receiving compensation for it (other than from Seeking Alpha). I have no business relationship with any company whose stock is mentioned in this article.