This analysis focuses on Biostar Pharmaceuticals, Inc. (NASDAQ:BSPM) a stock we believe to be significantly undervalued, due to having a market cap well below their net current assets, and a very strong chance of positive earnings prospects, based on recent events.
BSPM is a company operating in China which develops, manufactures and markets pharmaceutical and health supplement products for a variety of diseases and conditions
Balance Sheet
We begin by looking at the latest available balance sheet of BSPM for the 3rd Quarter of 2012.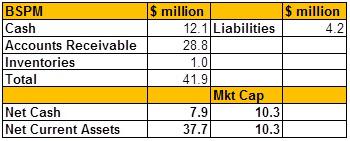 Source: BSPM 10-Q
As can be seen, net cash is only $2.4 million under market cap. Furthermore, if all current assets are taken into account there is a large $27.4 million cushion above market cap. A significant proportion of this is made up of $28.8 million in accounts receivable, which one would imagine should be mostly collectible. This therefore shows from a balance sheet perspective, there is little value loss in any of the market value of BSPM shares.
Income Statement
The first 9 months of 2012 were tough for BSPM, showing a loss of $13.3 million. The losses have been caused by one major incident in China affecting the company's sales. The Chinese drug authority suspended sales of all gel capsules in April across China, due to an investigation revealing too high chromium content in such capsules. One batch of BSPM products were found to be contaminated in the investigation, which represented less than 0.2% of 2011 net sales. This suspension affected BSPM sales with around a 50% decline, and therefore the resulting loss.
Taking the above into account the good news for BSPM was the announcement on July 30 by the Chinese drug authority that BSPM may resume sales of their gel capsule products. We therefore believe these losses should have turned around in Q4 2012, and if not then should do so in 2013.
Other news that bodes well for this stock besides the above is:
BSPM signed a new one year agreement in December to manufacture and supply approximately $8 million of drugs to a military hospital;
A new call centre was established in December as BPSM tries to target more aggressively the B2C market. Since establishment on December 10, it has been taking some 300 customer calls daily and booked between $8,000-$13,000 a day. This looks as if it could significantly improve and add an extra B2C sales stream for the company.
Finally, now that the gel capsule sales are allowed to resume, there most popular product can be resold, a treatment for Hepatitis B, a disease affection some 10% of the Chinese population. This represents a huge market, and a strong argument in favor of this company and their product
Risks
The major risks which investors should consider before investment in BSPM are:
Pricing competition on the market is very fierce, and the company has stated they will probably have to lower prices following the gel capsule incident. This will lower margins and thereby profits.
Of major concern is the age of account receivable. There are some near $19 million dollars in receivables that are between 121 and 365 days old. It also appears to be getting worse as in the first 9 months of 2012 sales were outstanding for an average of 205 days compared with the first 9 months of 2011. This should be monitored by investors. As at the end of the day, sales without the resulting cash are useless.
The final risk is the so called China risk. Operating in China has its risk, with political type risks, as well as the legitimacy of the reported accounts. However, with these risks come the obvious benefits with such a larger market and growth.
Conclusion
Overall, we see BPSM having a strong balance sheet, ready to rebound to profit in 2013. BSPM is worth roughly 80 cents per share on net cash alone and with them poised to return to profit; this makes this company a good investment for those willing to take the risk of investing in a company operating in the Chinese market.
Disclosure: I have no positions in any stocks mentioned, and no plans to initiate any positions within the next 72 hours. I wrote this article myself, and it expresses my own opinions. I am not receiving compensation for it (other than from Seeking Alpha). I have no business relationship with any company whose stock is mentioned in this article.