It was an exciting week for precious metals as the gold price rose sharply and silver surged, all part of broader gains for risk assets that included a few titillating developments for the monetary metals. The move by the German central bank to repatriate a large portion of their gold reserves helped drive the gold price higher and an astounding one-day addition to the holdings of the iShares Silver Trust ETF (SLV) bolstered silver.
Demand was strong in Asia as well as in the U.S. where January coin sales have already set new records. Investors continue to pile into precious metals amid fresh signs of slowing global economic growth that is being countered by record central bank money printing.
The on-again/off-again debt crisis in Washington was surely responsible for some of the buying in precious metals markets last week and this demand is not likely to ease even after word came on Friday that the debt ceiling is expected to be raised temporarily. Absent a credible long-term plan to reduce the nation's deficits, this situation should be positive for precious metals for reasons detailed in However This Debt Crisis Ends Up, It Will Be Good For Gold.
Gold and silver had their best combined performance in eight weeks, the gold price rising 1.3 percent, from $1,662.70 an ounce to $1,684.70, and silver surging 4.8 percent, from $30.44 an ounce to $31.89. After three weeks of trading in 2013, the gold price is up 0.6 percent, still 12.4 percent below its high from September 2011, and silver has risen an impressive 5.1 percent so far this year, but it remains down 35.6 percent from its high almost two years ago.
There is some technical resistance for gold at the $1,700 level and around $32 for silver, so, these will be key levels to watch in the days ahead. But, the more important technical consideration for these metals was the very positive development in trading last week when a sharp sell-off on Thursday was almost immediately reversed, after which the price of both gold and silver headed significantly higher.
To be sure, market sentiment has been poor lately and prior moves such as this - a plunge of $15 for gold - have resulted in lasting price weakness, however, that was not the case last week. After reversing the decline, gold then moved another $15 higher - all within about an hour - and this was a decidedly good sign.
The biggest gold market news in recent days was undoubtedly the announcement by the German central bank that they will repatriate some 674 tonnes of the nation's gold reserves currently held in central bank vaults in Paris and New York.
The graphic below via this item at GoldCore summarizes the move and anyone wanting to catch up on this story might want to peruse the collection of links that are available in this post from Wednesday.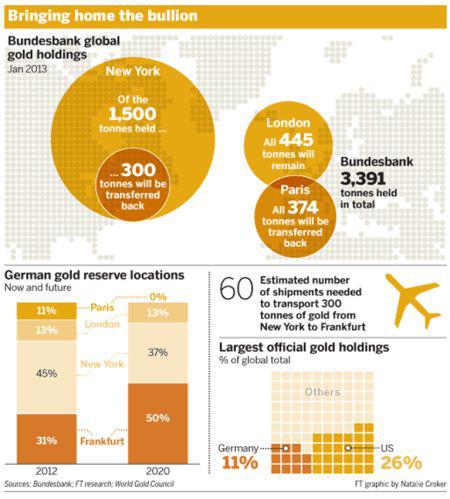 In contrast to many suggestions such as this one by Pimco's Bill Gross that central banks might not trust each other as much as they once did, my view is that this was much more of a political consideration than a question of trust.
The German people have been clamoring for their gold to be brought home and, since there is no longer a legitimate reason for it to be stored abroad (i.e., the threat of an invasion by the Soviet Union), returning this gold to the Bundesbank makes good sense.
With the Bank of Japan on its way to losing some of its independence, the last thing that the Bundesbank would want to do is go against the will of the German people for no good reason.
But, the knock-on effects of this announcement could be very important.
First, it puts a fine point on the idea that gold is not irrelevant today. This announcement makes clear that gold plays an important role in the global monetary system, otherwise the German people and their central bank would be content to leave this "barbarous relic" where it was.
Moving this much gold across the Atlantic won't be easy or cheap and, while many of the world's economists don't understand what the fuss is all about as detailed in Economists Dumbfounded Over German Gold Repatriation, the German people do.
Second, while the world can easily dismiss the move by Venezuela's Hugo Chavez to repatriate his nation's gold last year, it's an entirely different matter when a similar action is taken by the country with the world's second largest gold reserves. This is a case of perception being, perhaps, more important than reality, however, it may lead to other nation's bringing their gold home.
The Netherlands is said to be considering repatriating 300+ tonnes of their gold reserves from New York and if other countries take similar action, this could someday answer the question of how much of the gold reserves held in the U.S. have been leased out on a semi-permanent basis.
The fact that it will take up to seven years to bring Germany's gold home raises more questions than it answers on this matter.
Lastly, in the fullness of time, this may be seen as just one more step on the long path toward gold reclaiming some sort of role as official money in the world as noted in a recent paper(.pdf) by the Official Monetary and Financial Institutions Forum (OMFIF) and a story by Ambrose Evans-Pritchard. Both of these are well worth reading for anyone thinking that, per the OMFIF report, gold "stands ready to fill the vacuum created by the evident failings of the dollar and the euro" on the way to creating a new international monetary system based on multiple reserve currencies and other assets rather than just the U.S. dollar.
Central banks continue to be a key factor in the gold market today and, much overlooked last week due to the story about German gold repatriation, was news that the Central Bank of Russia added 20 tonnes to their gold reserves in December, the largest increase in over two years. Emerging market central banks added more than 500 tonnes to their gold reserves in 2012, the highest total in 48 years, and they will likely add even more this year.
The other big news for precious metals last week was the incredible one-day addition of some 571 tonnes of silver for the iShares Silver Trust ETF as indicated in the chart below.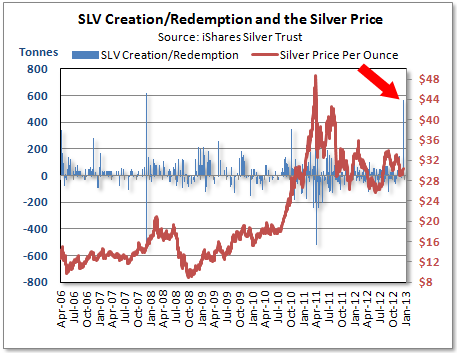 As noted here recently, this fund had been adding steadily to its holdings over the last month, but, as detailed in this story on Wednesday, this latest addition represented purchases of over $500 million in silver that pushed the fund's assets to nearly $11 billion.
Since the silver price surged more than 80 percent in 2010, its somewhat pedestrian moves of -10 percent in 2011 and +9 percent in 2012 have many analysts thinking that the metal is set for another meteoric rise this year.
Holdings at the $72 billion SPDR Gold Shares ETF (GLD) fell by another five tonnes last week which would be disconcerting if not for the remarkable surge in coin sales at the U.S. mint.
Though coin sales were down in 2012, they have rebounded recently and gold coins are on track for their highest monthly sales in 14 years.
Not surprisingly, silver coin sales have been even stronger as dealers smashed the one-day record for buying on January 7th when American Eagle silver coin sales resumed after being sold out since mid-December.
On Friday, the Mint informed authorized purchasers that sales of silver coins have again been suspended and that more inventory should be available during the last week of the month. Some 6.7 million ounces of Silver Eagle coins were sold between January 7th and 15th, already a new record after exceeding the all-time high sales total of 6.4 million ounces two years ago.
In China, demand is expected to improve further in advance of the Chinese New Year on February 10th and, in India, panic buying triggered by talk of higher import duties has slowed with retail demand virtually coming to a halt, as might be expected during this seasonally weak time of the year for Indian gold sales.
A summary of some recent price forecasts for gold and silver was provided in last week's Are Gold And Silver Price Forecasts Of Any Value? and it's worth pointing out that some analysts have become more bullish after the developments seen last week. Thomson Reuters GFMS came out with their 2013 gold forecast on Wednesday and they see prices climbing to new highs this year, reaching a new record average price of $1,847 an ounce.
Disclosure: I am long GLD, SLV. I wrote this article myself, and it expresses my own opinions. I am not receiving compensation for it (other than from Seeking Alpha). I have no business relationship with any company whose stock is mentioned in this article.
Additional disclosure: I also own gold and silver coins and bars