Intel Corp (NASDAQ:INTC) fourth quarter earnings report was mixed; management outlined some operating strengths, but the news was overshadowed by weak 2013 guidance and concerns over high forward R&D / capital costs. The Street punished the stock. Shares fell over six percent on high volume the day after the release.
Intel Corp -- Six month Price and Volume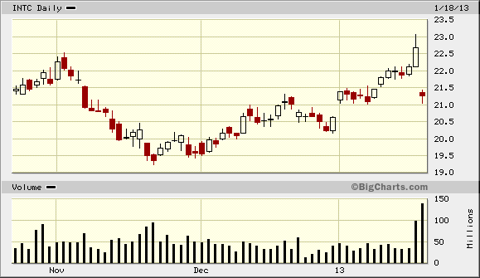 courtesy of bigcharts.marketwatch.com
Did investors panic? Is it time to double down? Is a turnaround at hand?
Let's take a look at some longer-term, historical margin figures and the trends in these underlying measures. I submit that INTC margins harmonize themselves with the overall direction of INTC business.
Every company has particular metrics that tend to align with the overall business. These metrics may be financial or operational. In the case of Intel, senior leadership has long measured margins as key corporate markers. More specifically, gross margin has been highlighted.
Gross Margin is Revenue (Total Sales) less Cost of Goods Sold (COGS) divided by Revenue. The figure, expressed as a ratio, represents the percent of total sales revenue that a business retains after incurring the direct costs associated with producing the goods and/or services sold by a company.
We will also review Intel's operating and net margin trends.
Operating Margin is a measurement of what proportion of a company's revenue is left over after paying for COGS, plus variable costs of production such as wages, marketing, administration, R&D and amortization.
Net Margin (also referred to as Profit Margin) is the ratio of bottom-line percent profit after tax as a function of revenue.
Historical Gross Margins
Here is a chart outlining Intel Corporation's annual gross margins between 2002 and 2012. I have added the projected 2013 margin based upon data provided by management on the press release and conference call last Friday.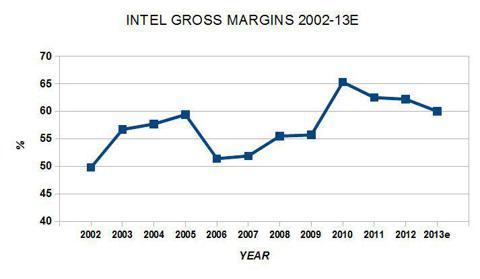 Looking at the chart closely, one notices that while gross margins have declined the last two years, the figure remains perched atop a step-change in such margins as INTC emerged from the 2008-09 recession. Furthermore, management forecast the 2013 margin to be about 60 percent: while this would indicate a third down year, it also is above the top of the last cyclical peak experienced in 2005.
What does this mean?
Well, I believe it means that Intel is wrestling with two issues. First, there is the notion that the "PC is dead," which I suspect is a bit overblown. The second issue may actually be contributing to the purported strength of the first premise: Intel is coping with the trough of a routine business cycle. Certainly, the economies of China, Europe and Latin America (think Brazil) have been struggling of late. If valid, then it may be expected that as these economies recover, Intel margins should improve, too.
I plan to watch to see if 2013-14 gross margins hold at 60 percent. If so, then I suspect that the economic business cycle is improving and with it, Intel Corp's fortunes.
Now let's look at gross margins at a more granular level: quarterly results over the past three years.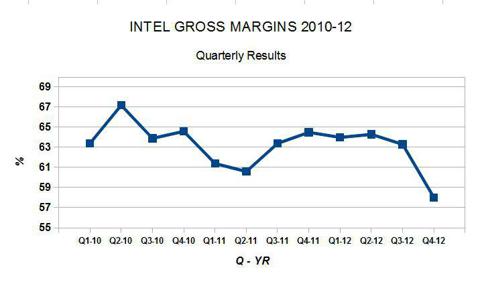 Eyeballing the chart, I see that margins have hung around 63 to 65 percent each quarter over the past several years; with the exception of the most recent quarter. Here we see that Intel's gross margin fell to 58 percent. This is right around the annual cyclical high of 2006. Intel management forecast the same 58 percent figure for the first quarter of 2013.
This tells me that while little margin improvement is expected in early 2013, it must by definition ramp up considerably if management's 2013 full-year margin forecast of 60 percent is to be met. Indeed, should an investor fret too much over two quarters (one actual and one estimated) of sub-par gross margins? I think not.
In any event, it's something for the investor to watch going forward.
First, I will be watching a full-year 60 percent gross margin as a baseline. This could indicate a cyclical low as well as an inflection point whereas Intel begins to revoke the corner on the "dead PC, no smartphone" argument. Just to be clear, neither INTC management nor I expect a great deal of smartphone penetration in 2013.
Second, I plan to pay attention to the quarterly gross margin figures to see how well the 2013 forecast 60 percent benchmark shapes up. Anything greater than 58 percent in Q1 2013 is a bonus. I would expect to see meaningful improvement in the second half of the year.
Operating and Net Margins
Here's a chart of historical Operating Margins.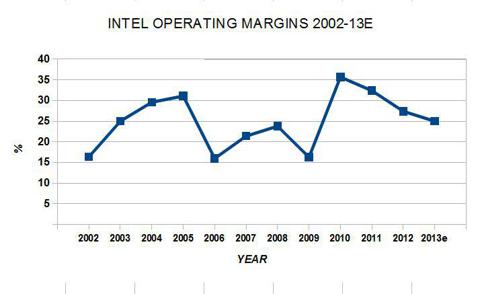 As with gross margins, the trend has been down. Indeed, the 2013 forecast (based upon management figures) continues to trend down. This is a concern, but partially mitigated by the fact that corporate leadership already warned investors that near-term R&D spending will be higher as the company retools itself. It should also be noted that Intel management has held MG&A (management, general and administrative) costs at a level 15 percent function of revenue for many years. This line item is not the source of the decline.
Rounding out this exercise, let's look at the net margins.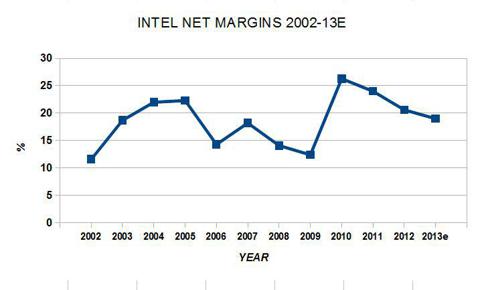 Somewhat paralleling Operating Margins, the trend has been down, including the 2013 forecast. Net margin builds upon op margin, layering on non-operating income, interest paid, and taxes.
So what should we look for when analyzing the future of these margins?
Well, I will be using Operating and Net Margin to confirm the Intel Gross Margin vector. In the case of both the op and net figures, the trend appears most important to me.
Conclusion
Margin analysis is especially instructive in the case of Intel Corp. While a review of several margin measurements are helpful, gross margin may offer the best leading indicator as to the health of the business.
It is as important to know the direction of these margins. The vectors are as important as the absolute numbers.
I believe holding an approximate 60 percent gross margin is an important marker, unless the business outlines a home-run initiative whereas revenues are expected to spike up significantly in consideration for planned margin softening.
If operating and net margins improve a few percentage points to roughly 30 percent and a high mid-20 percent figure, respectively, I suggest this may confirm the business has turned the corner.
Finally, I'd also keep an eye on two other indicators not mentioned earlier: ASP (average selling price) and the dividend growth rate.
ASP is a key operational metric tracked closely by Intel management. It measures revenue as a function of the raw number and "mix" of products it sells. If the ASP is rising, it means that Intel is selling more higher-end chips: think data center / server chips.
Dividend growth is always a sound measure for gauging the confidence of management and its board of directors. Rarely does a board raise the dividend if a company is expecting a business downturn. Intel has more than doubled its dividend right through the Great Recession. Indeed, the five-year compound dividend growth rate has been 12.7 percent.
As a long-term Intel investor, I plan to neither purchase more stock nor sell. It's time for me to hold shares, watch the numbers, listen to the conference calls, and collect the fat dividend checks. I note that the chip business has historically been cyclical. Today, it is no secular growth trend. Concurrently, I am not convinced the current state of the business portends the death of the PC.
Senior management does not lack the resources or capability to adjust and adapt. Nor are they in denial. My intuition (and Intel history) says that the company is too big, too strong, and has too much talent to stay down.
Complete your own due diligence on all your stock picks, and good luck with all your 2013 investments.
Disclosure: I am long INTC. I wrote this article myself, and it expresses my own opinions. I am not receiving compensation for it (other than from Seeking Alpha). I have no business relationship with any company whose stock is mentioned in this article.