On Wednesday, January 23, Apple (NASDAQ:AAPL) is scheduled to report its earnings for its first fiscal quarter of 2013, or calendar Q4 of 2012. The company previously indicated that it expects its revenue to come in around $52 billion and diluted earnings would be roughly $11 billion or about $11.75 per share, but the market expects the tech giant to perform exceedingly better. Wall Street estimates anticipate about a five percent beat on revenue, with an average street estimate of $54.7 billion, and about a ten percent beat on EPS, or about $13.41 per share.
In 2012, Apple became the most valuable company in the world, but since peaking in September, shares have been in a state of decline. Shares in Apple are presently down about 30% since mid-September and about nine percent since the start of 2013. See a recent performance chart for Apple: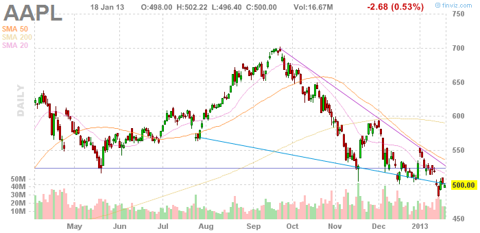 Despite the continued popularity of the iPhone, iPad, and Apple's Mac computers, recent concerns have mounted that Apple is set up to disappoint. Reasons behind such concerns include that Android will continue to take market share among mobile devices, that Apple's uncharacteristically high profit margins will have to eventually considerably decline and that Apple cannot continue to innovate like it did under Steve Jobs.
Apple is generally known for underestimating its own numbers and not providing updates, and so the market will not consider its earnings to be a beat unless it beats the higher Wall Street expectations. Nonetheless, the guidance Apple provided was considerable. For example, the company estimated revenue of $52 billion, which would be the company's largest quarterly sales number. In the same quarter the year prior, Apple had $46.3 billion in sales.
It should be expected that Apple's revenue would be strong last quarter. First, it is a holiday quarter, which is generally the strongest quarter for retailers. Second, the company released the iPhone 5 Apple just before the start of the quarter, and subsequently released the smartphone in China on December 14, selling two million units in the first three days in China (This does not include Hong Kong sales, where the iPhone release coincided with the U.S. launch). Third, the company released multiple new versions of some of its hardware, including a MacBook Pro laptop with a Retina Display, a revised iMac desktop and the iPad Mini. Fourth, on December 4, the company launched the iTunes store in Russia, Turkey, India, South Africa and 52 additional countries, making the online retail site available in 119 countries.
All of these launches should help give Apple a strong quarter of sales. The vast majority of its sales will be generated by the iPhone 5 and iPad Mini, but its more expensive computers might also perform well. Further, the substantial expansion of iTunes could also grow Apple's revenue. The confluence of all of these releases indicates that Apple should recognize a revenue spike for the quarter.
Over the last three years, on average, Apple has outperformed its revenue guidance by about 15 percent. This is at least part of why average Wall Street estimates are $2.7 billion above Apple's guidance. Though it is true that in 2012, Apple's revenue beats were less substantial than in prior quarters, the company experienced huge revenue beats in the 2011 holiday quarter and the subsequent start to the 2012 Calendar year. Holiday shopping is always strong, and Internet purchasing continues to take share from stores. Apple's model has the benefit of selling its products in both its own brick-and-mortar stores and its online Apple Store, as well as through competing stores and sites. Moreover, Apple retains tighter control over accessories for Apple's products, like its magnetic iPad covers, and ancillary small gift ideas for the Apple user, like an iTunes gift card.
There are also some external indications that Apple's quarter should be decent. For example, AT&T (NYSE:T) indicated that it sold a record number of iPhones during the quarter, which means the mobile carrier unloaded over seven and a half million iPhones in the last three months, though not all of those sales were necessarily iPhone 5 models. Verizon (NYSE:VZ) and Sprint (NYSE:S) will also likely report strong iPhone sales numbers, with Sprint selling iPhones to prepaid customers under its Virgin Mobile USA brand though the second half of 2012. These major telecoms have not yet reported their earnings for the prior quarter. The two domestic telecom leaders are sandwiching Apple's report with theirs. Verizon is scheduled to report its Q4 2012 earnings on Tuesday, January 22, and AT&T will report its Q4 on Thursday, January 24..
One other matter that many investors will be looking into in Apple's report is the company's growth in China. In the third quarter of 2012, or Apples fiscal Q4, Apple indicated that 60 percent of its sales were international, and China continued to be its fastest growing major market. Apple's Chinese revenue totaled $5.7 billion for the quarter, which was a 26 percent year-over-year increase. The company's Mac sales increased by 44 percent, iPad was up 45 percent and iPhone was up 38%. For its full fiscal 2012 that completed in September of 2012, Apple generated $23.8 billion in revenue within China, which was about a $10 billion or 78 percent year-on-year increase. As Tim Cook, Apple's CEO commented on the company's last earnings conference call, "Greater China now represents about 15% of Apple for the fiscal year and so we're extremely happy with how we've done in China."
While Apple's revenue number is likely to beat Apple's guidance, and perhaps even Wall Street's average expectations, the more difficult bar will be income. Even though Apple's revenue guidance of $52 billion for the last quarter is $5.7 billion higher than the company's reported revenue for the same quarter in 2011, Apple expects to earn $11.75 per share, which is about 15 percent below the $13.87 that the company earned in that same quarter a year earlier. Like with revenue, Apple has historically beaten its guidance by a wide margin.
Though Apple's expenses did increase compared to a year earlier and the company is likely underestimating its earnings potential, the primary difference in Apple's own guidance is based upon the company's declining average profit margin. For the holiday quarter in 2011, Apple's gross profit margin was an impressive 44.7 percent. In the third quarter of calendar 2012, which was Apple's fiscal Q4 of 2012, Apple reported that its gross margin had contracted to 40 percent, compared to 40.3 percent for the same quarter last year and Apple's guidance of 38.5 percent. For this holiday quarter, Apple estimated its gross margin would decline to 36 percent.
If Apple's profit margin does not meet its own guidance, the market should take that news negatively. Innovative hardware of almost any variety usually starts selling at a very high margin. Over time, competition and volume, as well as improved production and distribution will reduce margins. Apple's margins will, therefore, inevitably decline from their recent lofty perch, but the pace at which that decline occurs is still rather unclear. This does not necessarily mean Apple will recognize declining earnings in the future, as so many of Apple's markets are still rapidly growing. Nonetheless, the recent pace of technological advancement and competition indicates that the price of smartphones and tablets should continue to decline in the coming years, and this would affect Apple's margins.
Last week, Intel's reported relatively weak numbers that sent a suspicion to the market that the quarter would be terribly poor for personal computer manufacturers and component makers. Though the strength of Apple's report will likely be based on its mobile devices, Apple does still have a large and growing personal computer business. If Apple's report confirms the substantial atrophy occurring within personal computing, it will likely trigger a broad technology selloff. Similarly, Microsoft (NASDAQ:MSFT) reports on Thursday, January 24, and even if Apple's report is stellar, a weak report by Microsoft will bode poorly for about half of the technology sector.
Disclosure: I have no positions in any stocks mentioned, and no plans to initiate any positions within the next 72 hours. I wrote this article myself, and it expresses my own opinions. I am not receiving compensation for it (other than from Seeking Alpha). I have no business relationship with any company whose stock is mentioned in this article.