I own Apple (NASDAQ:AAPL) for the 2.1% dividend yield, potential capital appreciation and option income. Apple reports 1st quarter earnings on January 23rd. I sell weekly options for volatility income. I will highlight my income strategy and a fundamental analysis of Apple share price valuation. My focus is to earn income on Apple dividends and Apple options.
1. Dividend Income
Apple management began a dividend in 2012. I fully expect the dividend to be increased in 2013. Right now, the yield is 2.1%. Income investors seek dividend growth stocks. I believe Apple will increase their 2013 dividend. Apple will begin to appear in dividend growth holdings.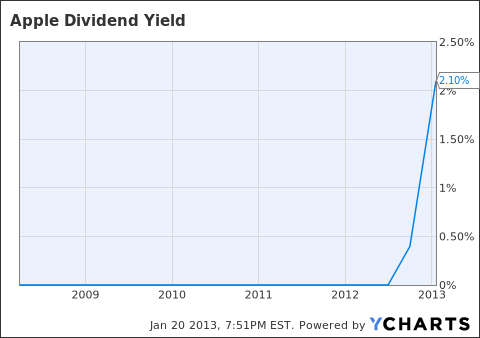 data by YCharts
Here is the Apple's 2012 dividend history:

I expect this quarterly dividend to increase in calendar year 2013. The balance sheet supports a 50% dividend increase to provide a 3.15% yield based upon today's $500 stock price.
2. Share Price Volatility Income
The company reports earnings after the close on Wednesday. I want to earn income based upon the pent-up demand for an increase or decrease in share valuation.
I sold Apple $500 covered calls for a $1,795-credit per option. This call will expire worthless if Apple is below $500 on January 25th. If Apple is higher than $500 on January 25th, then I will buy back the weekly Jan 4 call and sell a January 31st expiration call.
Fundamental Analysis: Apple Shares Are Simply Oversold
Apple shares have been steadily losing value of late, down 39% from a September 2012 high of $705.07 to about $500 as of January 18th. The shares are trading at a price-to-earnings ratio (P/E) of 11.5x and a dividend yield of 2.1%.
Likely Causes for the Drop
This sharp drop in three months has been attributed variously to: a) the fiscal cliff impasse with across-the-board selling to lock in lower capital gains taxes in 2012; b) selective Wall Street analyst reports calling a peak on iPhone and iPad dominance; c) fewer customer lines for iPhone 5 in China; d) iPad sales being cannibalized by the iPad mini; e) continued weakness in Europe and a consequent lowering in share price target to the $700 range; f) rumors that Apple recently cut component orders from Asian suppliers for the March quarter; g) a federal court ruling that Apple infringed on three patents held by MobileMedia Ideas; and h) likely selling on the rumor, perhaps so investors locked in gains before 2012's year end. Apple shares, however, have continued to experience selling pressure in the 2013 calendar year.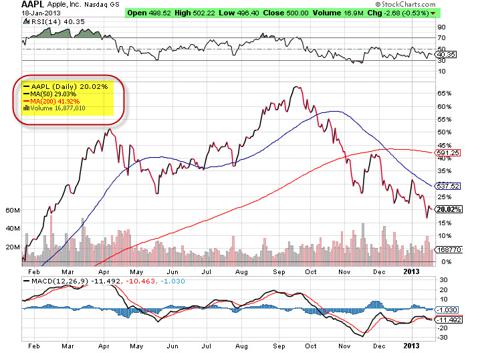 Some of these concerns seem misplaced, and we wouldn't put it above the analyst community to selectively leak out bad reports when it furthers their sub rosa interests. For example, reports of fewer lines in China can be directly attributed to twice the number of Apple sales outlets than when the iPhone 4S launched, to online reservations specifically so people wouldn't have to wait in line. Oh wait, Apple can't do that… analysts would rather see lines streaking around the block so they know demand is strong and to higher online pre-orders. This is a lot of analyst guess work.
Short-Term Price Drop
As market watchers know, analyst opinions and bearish sentiment, specially ahead of a New Year compounded by fiscal cliff worries, can impact share prices significantly in the near term and cause them to break below fundamental value, with almost no way to predict or call a bottom. At times like this, it's possible that Apple shares could continue to slide but a 39% correction already appears over-done.
Moreover, some analysts cite weaker margins in the 4th quarter, but these likely reflect Apple's investments in a slew of enhanced and wholly-new product lines (such as Apple Television sets with support for apps and other cool functions) and an investing phase that naturally causes a temporary dip in margins only to have them bounce back once newer products are launched.
But Sound Long-Term Fundamentals
Longer term, Apple shares likely will bounce back, perhaps as early as in January, with die-hard Apple investors seizing upon the tiniest sliver of good news to drive shares back up again, such as a potential distribution agreement with China Mobile or early signs of blow-out Holiday sales.
We liken Apple's substantial share price drop to the short-term dive in Google (NASDAQ:GOOG) shares to $262 in November 2008 even though it was clear-as-day that Google's fundamentals were fully intact (Google shares are now back to the $705 level). In time, we expect the same Google-like bounce-back with Apple shares, with a strong possibility that this pullback is just the catalyst it needs for a bullish tail-wind to carry them well past $700 to the $1,000 level, but let's not get ahead of ourselves.
Suffice it to say that Apple's fundamentals are very strong; that at current levels, Apple shares trade at a P/E ratio (11.5x) that is half of Apple's most recent quarterly earnings growth rate (24%), giving it a PEG Ratio of 0.5 (anything less than 1.0 suggests a stock is undervalued); that Apple has cash and investments of $121.25 billion (25% of its market capitalization) and zero debt; and that current valuation measures do not adequately factor-in anticipated growth from new Apple products in the hottest sector in technology - smart mobile devices and applications (apps) that are growing at an explosive pace across the world, with Apple as the brand of choice for many (yes, Android has more market share but Apple's still the one everyone wants to be seen with).
Dividend Support
In addition, Apple's strong operating cash flow could lead to dividend increases in future quarters and supplement share price appreciation. As a dividend stock, Apple will also attract a more stable base of long-term investors that could dampen price volatility to some extent.
Strong Revenue and Earnings Growth
Apple, had net sales of $156.5 billion for its fiscal year ended September 29, 2012, with annual revenues up 45% over fiscal year 2011. Revenues in its fourth quarter, $35.97 billion, were up 27% over fourth quarter 2011, but lagged the pace of the full-year increase. Some of this slowdown in quarterly sales growth can be attributed to Apple's seasonally higher Thanksgiving and Christmas sales in the fourth quarter, and it's likely that annual sales growth figures could come in above fourth quarter 2012 sales growth.
Apple's cost of sales increased in the fourth quarter, to 60% from 56% in the full year. Higher cost of sales and a 1% increase in operating expenses brought Apple's operating margin down to 30% in the fourth quarter from 35% in the full year. As a result, net profit margin fell to 23% in the fourth quarter from 27% in the full year. Quarterly net profits were up 24% over fourth quarter 2011 but lagged the 61% earnings growth for the full year.
Even so, at the current earnings growth rate (24%), Apple shares trade at a P/E ratio of 11.5x that significantly discounts growth prospects and also lags market index P/E averages.

Valuations also discount Apple's sizable balance sheet and cash flow strengths.
Strong Balance Sheet, Investments in Growth and Acquisitions, Zero Debt
For example, Apple holds cash, cash equivalents and marketable securities worth $121.25 billion, up 48.6% over the past year but, admittedly, growing at a slower quarterly pace. This hoard is equivalent to 25% of Apple's market capitalization, and subtracting it gives shares an effective P/E ratio of 8.7x earnings, which is low by almost any measure for a company such as Apple.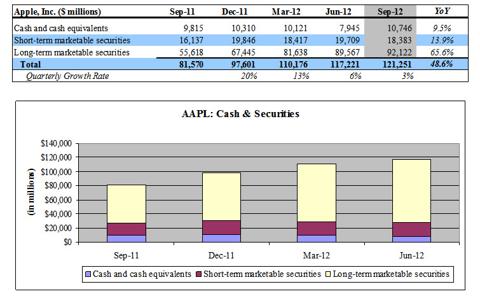 Part of the slowdown in Apple's quarterly cash growth can be explained by higher investments that the company has been making in Property, Plant and Equipment (PPE, net) and selective acquisitions (in app search engine (Chomp for $50 million), security (AuthenTec for $356 million) and HTML5 (Particle, terms undisclosed) in 2012), that set the stage for continued expansion in the hottest growth segment in technology - smart mobile technologies. And current share price levels do not reflect the explosive potential of mobile growth that's yet to come, in the US and abroad.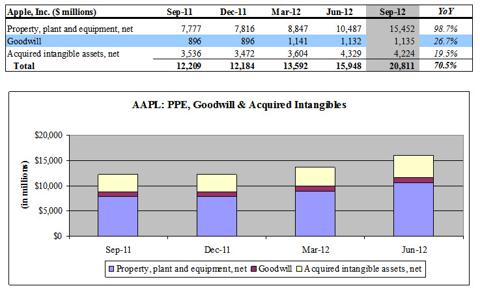 As the table and chart below show, Apple is steadily growing its assets and shareholders' equity at a faster pace than liabilities, and total liabilities account for less than a third of total assets.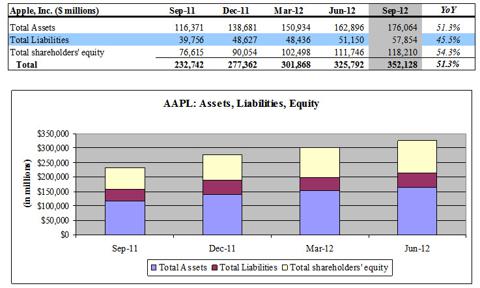 Strong Operating Cash Flow; Independence from Wall Street
Finally, Apple's business operations generate substantial cash, with operating cash up 35.5% in fiscal-year 2012 relative to fiscal-year 2011. Much of this cash is regularly plowed into investments and some of it is invested in short- and long-term marketable securities. Investors should also note Apple's minimal financing activities which, in conjunction with zero debt on the balance sheet, give Apple unprecedented financial flexibility to chart its own course without being beholden to the capital markets or mindful of analyst opinion.

The table below shows Apple's integrated balance sheet over the past five quarters, with the year-over-year (YoY) column on the right underscoring gains made in Total Assets (up 51.3%), Total Equity (up 54.3%) and Retained Earnings (up 61.2%) over the past year, with zero debt.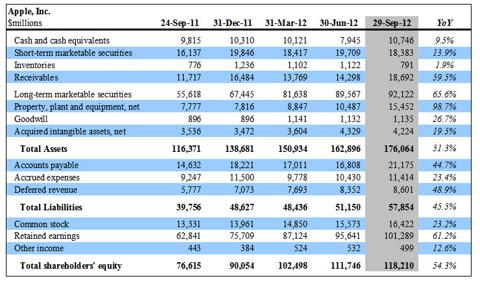 Summary
Apple's strong balance sheet, massive hoard of cash and marketable securities, exceptionally strong consumer awareness and brand recognition, exceptionally innovative DNA and strong pipeline of products and services - in the most dynamic and fast growing sector (smart mobile technologies) - indicate that Apple shares are significantly undervalued at current levels given the tremendous opportunity ahead for the company in the US and abroad.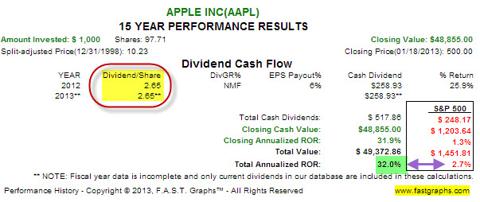 Even though Apple does not have leading market share in many segments, including smartphones (where Android is king), it has much going for it that will continue to catalyze future sales and profits, and deliver strong shareholder returns, including dividends.
Nobody said making money was easy. An investment plan requires stock analysis.
Disclosure: I am long AAPL. I wrote this article myself, and it expresses my own opinions. I am not receiving compensation for it (other than from Seeking Alpha). I have no business relationship with any company whose stock is mentioned in this article.
Additional disclosure: I am short AAPL covered calls. I am long AAPL protective puts. I am long bullish AAPL butterfly calls.