As product delays have become the norm for Research In Motion (RIMM), their upcoming Jan. 30, 2013 launch of Blackberry 10 has been long anticipated. Developer testing of the new operating platform and phone has sparked excitement and positive reviews, keeping a declining number of loyal Blackberry users hopeful and happy for their long overdue upgrades. Despite the new Blackberry finally being comparable to competing smartphones, it will only allow RIM to temporarily stay afloat in a market saturated with Android and iPhone users. RIM will continue to lag behind Apple (NASDAQ:AAPL), Samsung (OTC:SSNLF) and Google (NASDAQ:GOOG), and be unable to break through the high switching barriers to win the heart of consumers and regain market share.
RIM's recent jump in share price (35% in 2 weeks) lies mainly in the expectation and rumours of the new product, and one should be wary to invest in RIM stock. The supposed high performance of the new Blackberry phone and platform will not likely translate to a successful adoption of the product. Regardless of the optimistic reviews for BB10's smooth interface and new innovations, the smart phone market is already swamped with major competitors, and RIM faces other serious challenges.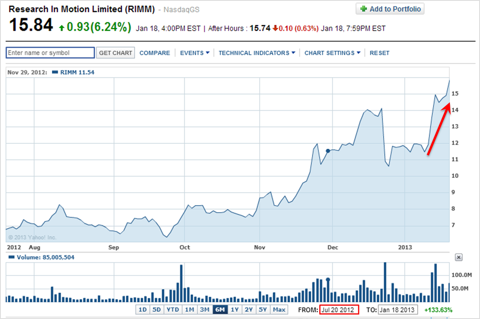 Loyal Customer Base
The Blackberry's largest downfall has been the inability to form a loyal customer base, and thus caused the steady and rapid decline in market share. Apple has already secured loyal users through the easy integration of all electronic devices (music players, phones, tablets, computers, and TV integration). Once Apple users have synced their digital media, there is little incentive to switch just their phone, especially with their monetary investment in iTunes purchases. Even with Android phones, once consumers have purchased apps, the cost to switch to a Blackberry becomes more than just signing a new phone contract.
Unlike Apple's digital hub strategy, RIM only competes in the smartphone market and the tablet market (which was another delayed product launch). Blackberry was never able to establish this committed customer base with the limited number and limited functionality of apps that were available on Blackberry World (recent porting of over 15,000 apps, and availability of music and TV shows will not win over existing iTunes users). The slow success of the Playbook in the tablet market also did not secure a strong base of customers.
Competitive Advantage Eroded
Blackberry's competitive advantage has historically come from their two key strengths - the physical QWERTY keyboard, and their dominance in the enterprise market. While trying to restore their original edge as market leaders of smart phones, RIM further eroded their competitive advantage by shifting their strategy to follow market trends, rather than pioneering based on their core competencies.
The launch of the Playbook was a precedent for RIM sidestepping from their core focus of business users, and creating a product too similar to the competition. Rather than producing a tablet to fulfil the needs of their corporate user base, they launched an entertainment tablet, tapping into the same market as the Apple iPad and Samsung Galaxy Tab.
The first of their two new phones does not even focus on Blackberry's most differentiating feature of the physical keyboard. The new phone will just be equivalent to most Androids and iPhones in size and functionality, and Devoted Blackberry users who love the keyboard will need to become accustomed to the new touch keypad. Alternatively, they might continue to patiently wait for the next phone launch, hinging on RIM's reputation of delayed product launches, and further weakening RIM's potential to retain their user base.
On another note, the BB10's new 'Flow' concept, centered around one-thumb operation, is not new compared with the Apple iPhone being publicized as optimally sized for your thumb. RIM is again lagging in this aspect, and no doubt will be slow to capture new users as the market is now trending to larger phones such as the Samsung Galaxy Note.
Security As RIM's Last Lifeline
RIM's last lifeline may be the security of their system, retaining users that deal with sensitive data. Even still, companies that don't require the encryption and high security have already cut costs and converted to support iPhones, Androids, and a bring-your-own-device model. There will be declining incentive to stay with Blackberry Enterprise Server as other phone platforms become more secure in the future.
On the bright side, their recent approval from VISA of Near Field Communications may help RIM set the standard for providing secure mobile payment. However, the challenge for RIM lies in the fact that mobile wallets are still just a complement rather than a replacement to your wallet. Mobile payment has a fair distance to go before becoming mainstream, and RIM will be competing with more flexible technologies such as Square, that is touchless and works across multiple platforms and devices.
Conclusion
The upcoming launch of Blackberry 10 is a large step for RIM, but is only a small step to regain market share. Regardless of the tech specs of the next phone, RIM continues to face challenges of retaining their existing customer base, due to shifting away from their core competencies. The recent stock surge initiated by hopeful investors should be taken with caution, as new innovation with BB10 likely will not attract existing Android and iPhone users.
Disclosure: I have no positions in any stocks mentioned, and no plans to initiate any positions within the next 72 hours. I wrote this article myself, and it expresses my own opinions. I am not receiving compensation for it (other than from Seeking Alpha). I have no business relationship with any company whose stock is mentioned in this article.