You'll have to forgive me if I'm a bit bummed right now. You see, I consider myself a value investor. And after years of volatile action, I've been able to sift through the rubble at various times and in various sectors and often come away at least with a gem or two.
And despite getting burned like we all occasionally do, these turbulent times have allowed me to accumulate a core portfolio of some of the best companies in the world at nice prices. I'm really thrilled to have them!
But, for the first time in awhile I'm really not feeling it. As I hawkishly scan my watchlist, which is now bulked up to over 100 companies, I'm just not finding much worth swooping down for. It's been this way for the last two months.
In this article I will show some of my favorite companies and why I'm just not compelled to buy right now. Some of these stocks I already own and some of them I would really like to. There's a good chance you will like some of these companies, too. They all have a couple of things in common:
They tend to be "best of breed" companies with excellent competitive advantages of some kind.
They are shareholder friendly and have generous, progressive dividend policies.
The View From 10,000 Feet
One useful indicator I rely on is the S&P 500 earnings yield / 10-year US Treasury yields ratio. This page from Investopedia explains it well: when the ratio is over 1, stocks are a good value. Conversely, they are expensive when the ratio is below 1. I've heard that whenever the ratio is over 2, stocks are considered a "screaming buy."
| | | |
| --- | --- | --- |
| S&P 500 Earnings Yield, % | 5.95 | |
| 10-Year Treasury Yield, % | 1.84 | |
| S&P 500 Earnings Yield Ratio | | 3.233 |
Data courtesy of multpl.com
As we can see, the earnings yield shows us that now is the time to "Buy! Buy! Buy!" But hold on a minute. The 10-Year Treasury Yields, as many know, are being artificially held down by the Federal Reserve's bond buying.
While we can't exactly quantify the effect, some recent estimates have the Fed buying 90% of all new Treasury notes. That won't continue forever. It can't. Unfortunately, this artificial buyer of last resort has made a favorite indicator less valid than usual.
One other indicator I look at is the S&P 500's trailing twelve-month price to earnings ratio vs. its historical average.
| | |
| --- | --- |
| S&P Trailing Twelve Month P/E ratio | 16.83 |
| Mean historical P/E ratio since 1887 | 15.49 |
| Premium (in percentage points) | 8.6% |
Data courtesy of multpl.com
So, we can see that the S&P 500 is trading at 8.6% higher than its mean multiple. A slight premium. I don't really like to buy things at a slight premium. I like to buy when cheap, and as we will see, quality companies are trading at even more of a premium. Those who like to buy great companies at good prices don't likely have much to do right now. Let's take a look. I'll start with Leggett & Platt.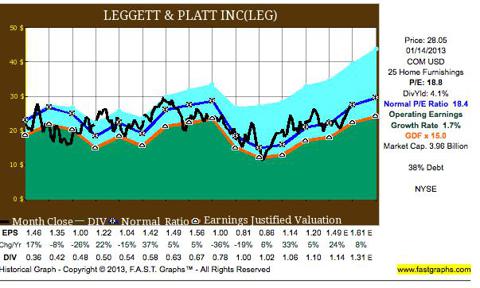 Graphs by F.A.S.T. Graphs
Leggett & Platt (NYSE:LEG) has been around since 1883. It is a manufacturer of components of products for residential furnishings, commercial fixtures, industrial materials and other specialized components. Its components are found in many homes, retail stores, offices and automobiles. Raising dividends each year for at least 25 years, it is an S&P Dividend Aristocrat.
Taking a look at the 15-year F.A.S.T. Graph chart, we can see that the price (the black line) has spiked well above the company's earnings trajectory (the orange line and green area). Though the dividend of 4.1% looks appealing, the trailing twelve month PE ratio is almost nineteen. In the last six months the stock has run up by nearly a third.
Leggett and Platt is the safest and best way to take part in the housing recovery, but I'll have to pass for now.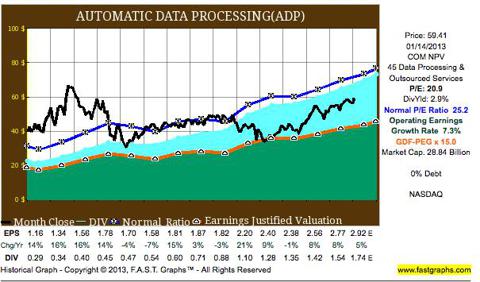 ADP (NASDAQ:ADP) is a provider of payroll, tax and benefits administration for most large companies. It is on the Dividend Channels "S.A.F.E 25" list.
The stock has had quite a run as of late: up almost ten percent since a mid-November low. The current yield has dropped to 2.9% with a P/E ratio just below 21.
Most importantly, the stock price is well above the earnings trajectory. Admittedly, when we look at the F.A.S.T. Graph there have only been two points to buy: A long period between 2009-10 and back in 2003. I might settle for a P/E of 18 and yield of 3.2 or 3.3% for this one, but its not worth chasing up here.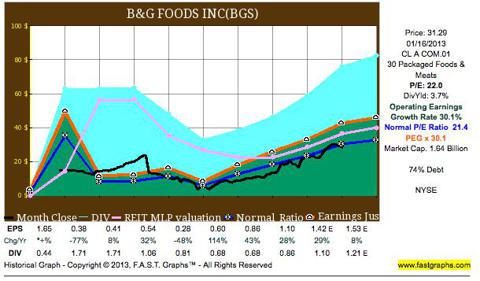 B&G Foods (NYSE:BGS) manufactures and sells shelf-stable food and household products, many of which are very well known and in areas traditionally shielded from private-label competition. B&G is known for leveraging and then buying well-known brands from other companies to grow cash flow.
Their margins and return metrics, compared to many other packaged food companies, are exceptional. Some of their better-known brands are Mrs. Dash, Cream of Wheat, B&M, Grandmas and Molly McButter. B&G foods was among the top stocks on the Dividend Channel's DividendRank report as of last November.
Looking at the F.A.S.T. Graph, we see that B&G trades more in line with its "normal P/E ratio," which is 21.4 times. The current P/E, 22, is a tad higher. Since the new year, the stock has rallied sharply; jumping almost 16%. The dividend yield has since dropped to 3.7%. It seems our chance to get in was at that time.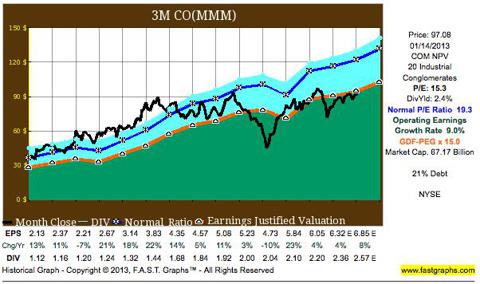 3M (NYSE:MMM) is a diversified industrial conglomerate most known for its Post-It Notes and Scotch Tape. It's areas of operation include industrial and transportation, healthcare, display and graphics, security, electro and communications and finally consumer and office products. 3M is the best industrial conglomerate in the world.
The stock has ticked up 6 percent since the new year. The F.A.S.T Graph has it trading at no particular discount. As I mentioned in a previous article, the dividend is my favored way to value 3M. At 2.4%, I'm not too excited about it. Keep holding your fire on this one.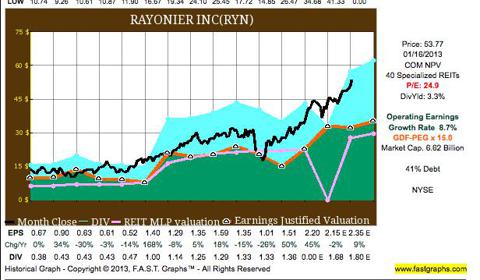 Rayonier (NYSE:RYN) is a timberlands management Real Estate Investment Trust [REIT] with an international presence and a $6 billion plus market cap. They produce timber, fluff pulp and performance fibers such as cellulose, but specifically do not make commodity pulp. Rayonier has raised dividends in eight of the last ten years.
Like many of these high quality stocks, Rayonier's stock has vaulted higher as of late. Since late November, the stock has increased by over 13.5 percent. The F.A.S.T. Graph shows Rayonier trading at well over the orange earnings line and the dividend has slipped to below 3.3%. Since 2011 this stock has had an incredible run.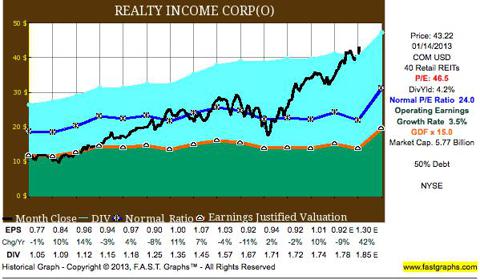 Realty Income (NYSE:O) is a REIT which owns and acquires retail properties and generates revenue under long-term lease agreements. The retail entities on their properties tend to be those resistant to e-commerce. Realty Income, also known as "The Monthly Dividend Company," has been paying monthly distributions for over 43 years and is rated by S&P as a "dividend achiever."
Our F.A.S.T. Graph shows stable earnings and a steadily climbing stock price, with a few bumps, since 2009. It is well past its FFO earnings trajectory. Since new years, the stock has climbed 9 percent and an impressive 18 percent since November 2012. Great as this best of breed retail REIT may be, it's probably time to exercise caution.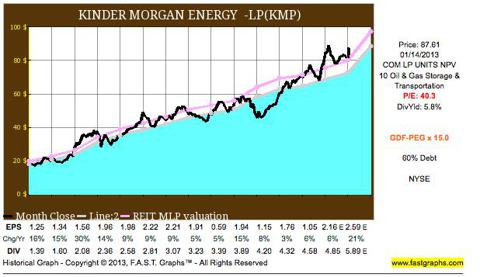 Kinder Morgan Energy Partners (NYSE:KMP) is a Master Limited Partnership engaged in the transportation and storage of energy in North America. Under visionary CEO Rich Kinder, Kinder Morgan was one of the first players in this tax-favored, cash-generating space and is now the biggest by far.
Kinder, recipient of Morningstar's CEO of the year, receives an annual salary of $1 with no bonuses or stock options. He simply relies on the same dividends that investors do. Kinder Morgan is a company run by shareholders, for shareholders.
Being a longtime unitholder in KMP shares, I've learned to buy only when the dividend yield is in the high 6s as a rule of thumb. This strategy has thusfar given substantial capital gains. Since KMP is currently yielding 5.8%, I'm not interested.
The F.A.S.T. Graph validates this, as KMP is trading well above its income valuation line: the pink line without a shaded area. Since the new year, KMP stock has hiked 12.8 percent.
My gut feeling says tread lightly. Sure, the yield is great compared to other assets these days, but it's important to remember the risk profile of Master Limited Partnerships.
Always Looking For Value
Not all good companies have lofty prices right now. While equities are getting pricier and pricier there are some sectors that have been unfavored; namely tech and energy. Lets look at one stalwart from each of the two respective sectors: IBM (NYSE:IBM) and ConocoPhillips (NYSE:COP).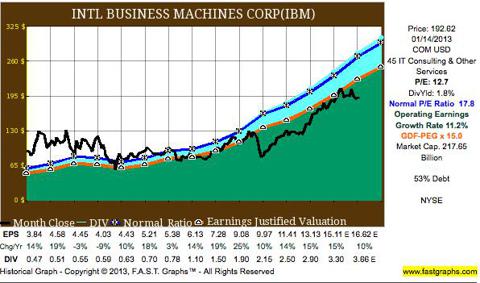 IBM is a diversified Information Technology giant operating in five areas: technology services, business services, systems and technology, software and Global Financing. Years ago they shed their famous but lower margin hardware unit and concentrated on higher margin, non-commoditized businesses such as software and consulting. IBM is an S&P "Dividend Achiever."
This F.A.S.T. Graph shows a different story from the previous seven. IBM trades at a reasonable multiple of 12.7 and is a good bit below its earnings trajectory. Like many in the tech sector, IBM stock hasn't much participated in the recent rally. Since November it has bounced between $186 and $195 and is now perched at $193 per share.
It wouldn't be a bad idea to pick up some of this great company at these affordable levels. Still, caution is needed. Most big tech stocks have fallen greatly as of late but IBM is yet to give up the ghost. If IBM follows the other megacaps, you could be getting it a lot cheaper than here.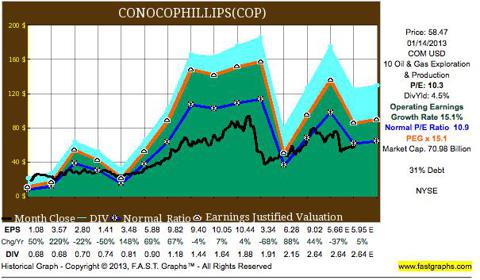 ConocoPhillips explores for, produces and markets crude oil, natural gas and natural gas liquids. Previously an integrated oil company, they have since spun off their downstream business to focus on exploration and production. Most of their assets are in North America, Europe, Asia and Australia, but their exploration program is a global one.
In the past few years, ConocoPhillips has been shedding some of its less productive, non-core assets with a focus on improving efficiency and returning cash to shareholders. As such, the company now has an industry leading dividend.
Looking at our trusty F.A.S.T. Graph, we can see earnings and the stock are volatile and highly cyclical. This is a trademark of many oil companies. The best times to buy have been when earnings are troughed. That's not the case now, despite the "value" displayed on the graph.
Still, the now higher dividend yield should provide some cushion for investors. But remember that this company's stock is highly correlated to oil prices, which are historically volatile. Dennis Gartman, the "Commodity King," recently opined that international oil prices could drop to as low as $65 a barrel from current levels. If so, ConocoPhillips could get a lot cheaper.
Stay Fearful, Have Cash
I hope you've found this exercise useful. Though there are a couple of good values still out there, we must be careful. Beware of pundits who come on TV and yell "Buy! Buy! Buy!" at these levels, especially those who have to come on every day. "Do nothing," even when it is a good strategy, doesn't get ratings. Its too darn boring for TV. That's fine. Most of us don't have a TV show and don't have to entertain an audience. Sometimes the boring thing is simply the best thing to do.
Disclosure: I am long KMP, RYN, COP, MMM, IBM. I wrote this article myself, and it expresses my own opinions. I am not receiving compensation for it (other than from Seeking Alpha). I have no business relationship with any company whose stock is mentioned in this article.