Regular readers of my articles here on Seeking Alpha are aware that I think residential mortgage REITs face serious macro obstacles to their business models, especially the mREITs focused on agency mortgage-backed securities. One mortgage REIT that I believe has potential for decent returns and a very attractive dividend in 2013 and beyond is MFA Financial (NYSE:MFA).
MFA Financial initiated operations in 1998, making the company one of the oldest mortgage REITs. The company has always been self-managed, with an investment goal of finding the best mortgage-backed securities opportunities, whether agency or non-agency. Since 2000, MFA Financial has produced a 16% average annual return for investors.
Positive Factors
The major factor in MFA Financial's favor is the company's non-agency MBS portfolio. The $6.5 billion face of non-agency MBS are booked at a current value of $5.2 billion. The non-agency holdings account for $2.1 billion of the total company equity of $3.3 billion. As of the 2012 third quarter, these MBS were leveraged 1.5 times. On an un-leveraged basis, the non-agency holdings were producing a 6.65% risk adjusted yield.
MFA Financial uses very conservative bookkeeping concerning the value of non-agency paper. A $1.5 billion - or 23% of the face amount - reserve is maintained against losses from the portfolio. Gains from better than expected prepayment results result in steady additions to net income. The non-agency portfolio provides two important benefits to long term earnings and book value growth:
Principal repayments from homeowners provide a dollar of cash for assets purchased for 73 cents. A higher prepayment rate produces immediate profits.
Rising home values will both increase the value of the non-agency securities and reduce defaults or result in higher principal recovery rates on loans that do default.
The MFA Financial agency MBS holdings are focused on hybrid mortgages - 70% - and 15-year mortgages - 30%. These low duration loans had at the end of the third quarter an average cost of 103.2, one of the lowest premiums in the agency mREIT space. The company expects its borrowing costs - the portfolio is leveraged 7.4 times - to decline measurably as high cost swaps come off the books.
Negative Factors
Like the purely agency MBS REITs, MFA Financial is feeling the squeeze on yields vs. costs for the leveraged agency MBS holdings. Net spread for the entire portfolio declined by 20 basis points from the 2012 second to third quarter. As a result, the most recent 20 cent quarterly dividend is down from the 24 cents paid in the 2012 first quarter than 23 cents and 21 cents paid in subsequent quarters. However, MFA Financial also paid 20 cents in December of 2011 after paying 25 cents for the first three-quarters of that year.
The total universe of non-agency MBS has declined to $1 trillion from a market of $2.2 trillion in 2007. The market continues to run off at 15% per year with little or no new production. In a couple of years MFA Financial may not be able to find anything worth buying in the non-agency space.
In my opinion, the leveraged, agency MBS strategy will continue to see margins squeezed. With its focus on hybrid, rate resetting mortgage securities, MFA Financial may be able to lower its financing costs, but that may not be enough.
Conclusions
The strength and potential of its non-agency MBS holdings make MFA Financial one of the few - only for me - currently attractive investment candidates in the residential mortgage REIT sector. Investors buying now have the potential for a 20% total return in 2013. Dividends will chip in 8% on the current share price and rising home prices should allow the company to increase its book value and hopefully pull the share price up by another 10% to 15%.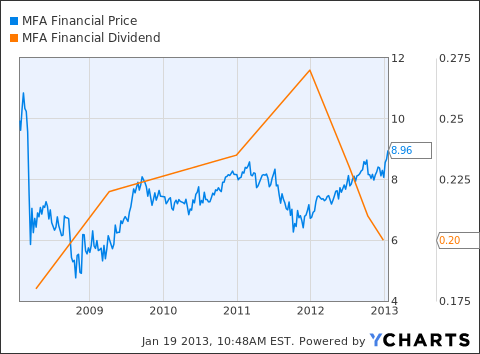 data by YCharts
Disclosure: I have no positions in any stocks mentioned, and no plans to initiate any positions within the next 72 hours. I wrote this article myself, and it expresses my own opinions. I am not receiving compensation for it (other than from Seeking Alpha). I have no business relationship with any company whose stock is mentioned in this article.