Sears Holdings Corp. (NASDAQ:SHLD) recently announced that its Chairman, Edward Lampert, will now be the retailer's fifth chief executive officer in seven years. Lampert will take over the CEO position on February 2, when Lou D'Ambrosio officially steps down because of a health matter in his family. D'Ambrosio, is also a member of the board of directors and will remain on the board until the company's next shareholder meeting in May.
Lampert bought Kmart out of bankruptcy in 2003 and combined the retailer with Sears in 2005. The first CEO was Alan Lacy, a former Kraft executive who ran Sears before the merger. Less than a year later, Lampert replaced Lacy with Aylwin Lewis, a former restaurant industry executive. In 2008, Lampert reorganized the company and named W. Bruce Johnson as interim CEO, until D'Ambrosio was named in 2011. D'Ambrosio came from Avaya, a telecommunications company with its roots in Lucent and Bell Labs, and had prior executive experience at International Business Machines Corp.
The selection of D'Ambrosio appeared to be one based upon a need for the business to embrace Internet sales, but D'Ambrosio also pledged to invest in stores and leverage the company's substantial customer base and loyalty programs. Under D'Ambrosio, Sears supplied salesmen in 450 of its stores thousands of iPod Touch and iPad units to track inventory and customer orders, and provided free wireless access for its customers.
The company's most successful source of revenue has been through the sale of property. Last year, Sears completed the spinoff of its Hometown, Hardware and Outlet stores, and a partial spinoff of Sears Canada. The company also closed down several large U.S. stores and began leasing space. Sears also began licensing its products and brands, including Craftsman, Kenmore and DieHard, within competing retailers such as Costco Wholesale (NASDAQ:COST). Lampert also holds a large position in AutoZone (NYSE:AZO), which could have clear synergies with DiaHard and Craftsman.
Despite these endeavors, the company has continued to hemorrhage cash. In November, Sears reported a Q3 net loss of $498 million or $4.70 per share, from a loss of $421 million or $3.95 per share a year earlier. The company also reported that its revenue declined by 5.8 percent to $8.86 billion. Revenue has been in a perpetual state of decline since 2007. Sears anticipates a Q4 loss of between $280 million and $360 million, or between $2.64 and $3.40 per share. Another issue for Sears has been its substantial pension and retirement obligations. Q4 will include a $450 million one-time charge for pension settlements and $42 million in other pension expenses.
When Lampert first acquired both Kmart and Sears, it appeared that his goal was to sell off the substantial commercial retail square footage. The company continues to sell assets, but it is also attempting to maintain value in its many brands. Chances are that the company can continue to do both, and slowly become a landlord and seller of retail space, while also developing a market for its brands through Sears and other retailers.
After bottoming out in 2008 and 2009, Sears went on to quadruple in share price, peaking in April of 2010 at over $120. Since then, the company has lost most of those gains. See a 5-year performance chart for Sears: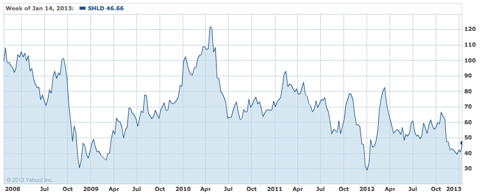 Despite this substantial recent decline in share price, Sears continues to suffer from an extremely high short position. Sears started 2013 with over nine million shares held short, and a float of about 41.83 million shares. Lampert's more active position in the operations of Sears may prompt some of these shorts to exit. Through ESL investments and RBS Partners, as well as Lampert's personal stake in the company, Lampert retains substantial control over Sears and its future strategy. Another significant holder of SHLD is Fairholme Capital Management, which continues to be a large long-term investor in Sears under Lampert.
Disclosure: I have no positions in any stocks mentioned, and no plans to initiate any positions within the next 72 hours. I wrote this article myself, and it expresses my own opinions. I am not receiving compensation for it (other than from Seeking Alpha). I have no business relationship with any company whose stock is mentioned in this article.