If you follow homebuilding stocks at all you know that 2012 was an amazing year for them. Some such as PulteGroup (NYSE:PHM) were up close to 200% in 2012 and were among the top gainers in the S&P 500. Everywhere you turn, the pundits will tell you that housing has recovered and now is the greatest time ever to buy a home and that homebuilding stocks will continue to go up, up and away. Sounds familiar, doesn't it, because that was the same reasoning you were being fed in 2004 and 2005 when nobody ever believed that house prices would stop rising. Well they did.
This is not an argument that housing is a bad investment. Heck I would not argue with anyone that buying a house today, if you intend to live there for a long period of time and can lock in an interest rate of below 3.5%, is a bad idea.
But I would argue with those who believe that the business of building new homes is a great investment as I think there are significant headwinds that stand in the way of the great homebuilder rally. This article will focus on one builder in particular, Ryland Homes (NYSE:RYL), whose valuation has reached nose bleed proportions and at some point soon should see a sharp 30% correction. The 3 part article will focus on the following points:
Point 1 - Builders trade historically off of a Price to Book Value ((NYSE:PB)) ratio and not a Price-to-Earnings (PE) ratio.
Point 2 - The recovery in the new home business from a profitability standpoint has been driven by huge land impairments taken in the past few years as well as downsizing SG&A to a level where cutting any more is cutting into the bone.
Point 3 - Cost increases from replacement land and materials/labor will outpace price increases that builders are able to realize on actually selling their homes.
Point 1: You are kidding yourself if you believe anything other than this important fact about homebuilding companies. The vast majority of their earnings over time have not come from building houses but from buying land cheaply and having that land appreciate between when it is purchased and when they build and sell a house on it. This is why the price a homebuilding company trades at compared to its book value is more important than its earning power. You are gauging whether or not the book value (assets) will increase in value over time. The chart below shows the historical price to book value of a basket of homebuilding stocks for close to 25 years prior up to the market crash for builders in 2007. You will see it ranged from a high of about 2.7x BV to a low of .5x BV.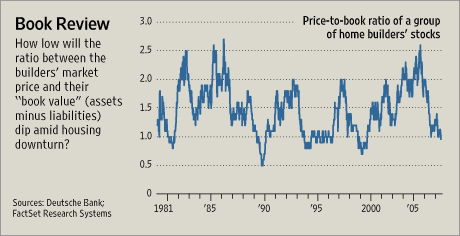 Today RYL trades at a PB Ratio of 3.78x. This as you can see from the chart above is pretty much unheard of. Even at prior market peaks the PB valuation for the builder group as a whole never made it much above 2.5x. Toll Brothers (NYSE:TOL), who is potentially best in class from the standpoint that they alone live in the luxury home world and have competition only from small customer builders, trades at a 1.95x valuation.
Some will make the argument that the builders have large tax assets (from the losses incurred during the market downturn) that should give them an "adjusted" book value. The problem is that the tax asset will be used against future earnings before it is realized. So if you see the table below and note that RYL has a $263M tax asset, you have to realize it will be $751M in pre-tax earnings (at a 35% tax rate) to fully realize the tax asset. RYL might earn $80M in 2013 so assume it will take them 7 more years IF earnings continue to grow to realize that tax asset in total.
| | | | | | |
| --- | --- | --- | --- | --- | --- |
| | 1/18/2013 | | Tax Asset | | 1/18/2013 (Adjusted) |
| | | | | | |
| Market Cap | 1,780,000,000 | | | | 1,780,000,000 |
| | | | | | |
| Stockholders Equity | 471,000,000 | | 263,000,000 | | 734,000,000 |
| | | | | | |
| Price to Book Value | 3.78 | | | | 2.43 |
| | | | | | |
But even if we give RYL full credit for the deferred tax asset they are still trading at a PB value of over 2.4x which again is close to what the builders traded at during the peaks (right before the last huge collapse).
Suffice to say just from a PB value ratio alone, Ryland is a great short candidate. Parts 2 and 3 will discuss how builders are operating in a much different environment than the last times they emerged from the doldrums of the new home market and what this means for their outlook ahead.
Disclosure: I have no positions in any stocks mentioned, and no plans to initiate any positions within the next 72 hours. I wrote this article myself, and it expresses my own opinions. I am not receiving compensation for it (other than from Seeking Alpha). I have no business relationship with any company whose stock is mentioned in this article.