Profile: Parke Bancorp (NASDAQ:PKBK) is a community bank, with an emphasis on providing personal and business financial services to individuals and small-sized businesses primarily in Gloucester, Atlantic and Cape May counties in New Jersey and Philadelphia and surrounding counties in Pennsylvania.
Community banks play an important role in the economy as they give oxygen to small business and allow individuals to loan money to buy a house. How a community bank differs from a big bank, e.g. Bank of America (NYSE:BAC), is explained here in detail. The most important difference is that community banks stick to the core activity of banking: earning money from the difference between the interest rate on deposits and the interest rate they charge on loans. Therefore community banks are less likely to report "monster losses" resulting from excessive risk taking.
Solid growth of underlying value: The low risk profile is reflected in the stability of the company's earnings. Historical results plotted below show the bank has been profitable in the last 10 years (even during the financial crisis of 2008-2009). This is also reflected in the equity value that has increased substantially in past decade .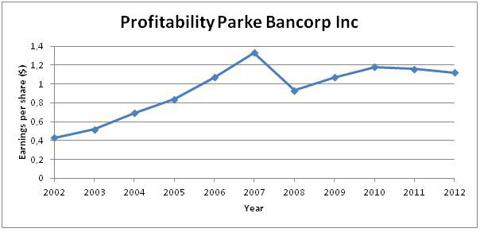 Note: EPS is corrected for a stock dividend which increased the number of outstanding shares by 10%.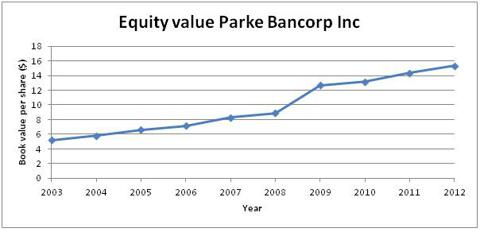 Note: Book value per share is corrected for a stock dividend which increased the number of outstanding shares by 10%.
Extreme undervaluation: Currently the stock is trading at an attractive price-to-earnings ratio of about five. Stock price is also below the net cash position, underpinning a negative enterprise value. Equity value per share is more than double of current stock price.
| | |
| --- | --- |
| | Per Share |
| Cash | €20.43 |
| Net Cash | €6.69 |
| Equity value | €11.51 |
| Price / earnings | 5.25 |
| Price / book | 0.46 |
Fair value of the stock: Using a very conservative DCF-model (considering 0% earnings growth and a 12% discount rate), the value of the future earnings is estimated at minimum $6.8 per share. Fair value is then calculated by summing up discounted earnings ($6.80 per share) and net cash position ($6.69 per share) (which in theory is free to return to the shareholder). Thus fair value of the share is estimated conservatively at $13.5 per share (approximately 150% above current stock price).
Peer analysis: Parke Bancorp outperforms its peer community banks based on several ratios, showing the company is more efficient in generating profits from sales. Community banks like Parke Bancorp are in general more efficient in generating profits than big banks. For example, the ROA of Parke is about double the ROA of Bank Of America.

Parke Bancorp, Inc.'s peer group consists of the following: 1st Colonial Bancorp, Inc. (OTCPK:FCOB), BCB Bancorp, Inc. (NASDAQ:BCBP), Community Partners Bancorp (CPBC), Elmer Bancorp, Inc. (OTCPK:ELMA), Republic First Bancorp, Inc. (NASDAQ:FRBK), Royal Bancshares of Pennsylvania, Inc. (NASDAQ:RBPAA), Stewardship Financial Corporation (NASDAQ:SSFN), Unity Bancorp, Inc. (NASDAQ:UNTY)
Asset quality: One reason for concern is the quality of Parke's assets. 6.9% of all assets or $9.8 per share (vs. $11.5 equity value per share) are nonperforming assets (NPAs). Nonperforming assets consist of nonaccrual loans and leases, renegotiated loans and leases, and real estate owned. In the case of Parke Bancorp about half of all nonperforming assets are in real estate. CEO comments in last earnings report (Q3 results 2012): "We have made progress in disposing of some of our troubled assets, although we have a ways to go. The very slow legal process in New Jersey makes it difficult to gain control of a troubled asset, which is needed in order to sell the collateral." Although the real estate owned may not be a problem at this moment (with US real estate market back in the lift), some potential investors might be on the sideline until asset quality is improved. It is expected that the evolution in asset quality will be an important driver for future stock price movement.
Insider ownership: Insider trades give a neutral image as 2 directors have been buying while 3 others have been selling in past 12 months. The net change in management ownership decreased insignificantly with 13.5k shares. More importantly, management stake is quite high (owning about 32% of all outstanding shares), giving a positive signal towards the market.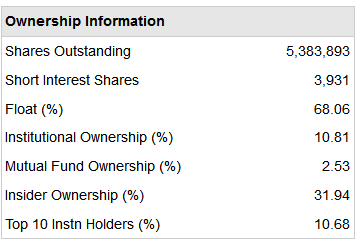 Stock price has been heading south: From a technical point of view, the stock is in a long downward trend since 2010. It is close to its 3-years-low. MACD is slowly crawling up to zero after leaning on the resistance line for half a year. This indicates that a bottom formation is in make. The downward triangle is almost at its end and thus something is bound to happen. All it needs is a little upward or downward push to break the triangle.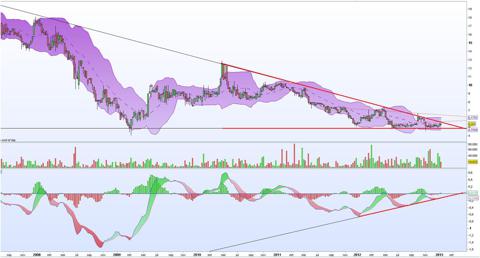 Big banks are heading north: Stock prices of other financial institutions have been increasing substantially since the start of 2012. Parke Bancorp, however, is lagging its peers. The logical assumption is that Parke Bancorp catches up with other financials and will be breaking upward.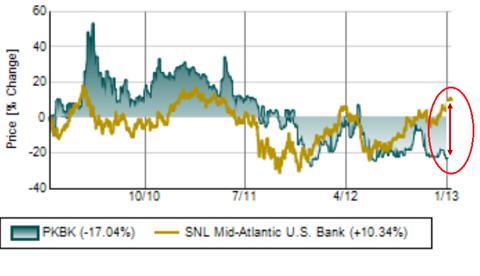 Returning shareholders can improve: The company has given a stock dividend in May 2012. This is not a good way of returning shareholders: increasing number of outstanding shares is exactly compensated by the decrease in intrinsic value per share (if it weren't for dividend taxes that need to be paid). I advise the board to start a share buyback program with parts of its cash. This is currently by far the best way to repay loyal shareholders: stock price is boosted and intrinsic value of remaining shares increase as shares are bought back at bargain prices.
Outline: Mr. Market has mistaken once again: Stock prices of big banks increased dramatically while Parke remains untouched. I can only conclude investors prefer big financial corporations with more leverage (higher loan/equity ratios) over an efficient small cap. Investors who seek value and have patience may find a solid buy in this stock.
Disclosure: I am long PKBK. I wrote this article myself, and it expresses my own opinions. I am not receiving compensation for it (other than from Seeking Alpha). I have no business relationship with any company whose stock is mentioned in this article.