Macular degeneration is one of the most debilitating age-related degenerative medical conditions. It results in the loss of vision leading to difficulty in reading or recognizing faces. The condition worsens with age if not treated effectively. San Diego-based Lpath (LPTN), which focuses on bioactive lipid-targeted therapeutics, recently won a key patent for its monoclonal antibodies against sphingosine-1-phosphate (S1P), including sonepcizumab. The patent was awarded by the European Patent Office (EPO), which is usually skeptical of larger pharmaceutical companies from the U.S. or Canada. Lpath's European patent number 1948234 will empower the company to treat a number of ocular conditions, including age-related macular degeneration (AMD). Lpath has developed three drug candidates. iSONEP is currently in a Phase 2 trial for wet AMD. ASONEP will soon begin a Phase 2 trial in Renal Cell Carcinoma patients. Lpathomab is a preclinical drug candidate that holds promise in neuropathic pain, neurotrauma, and other diseases. Lpath has a strong drug pipeline, but needs to partner with a large drug maker.
Below, I will examine global trends which could increase the demand for the effective treatment of AMD, and present a hypothetical scenario in which Lpath could receive preferential treatment for drug approval in Europe by partnering with a large European drug maker like Roche Holding (OTCQX:RHHBY) over a large U.S. based pharmaceutical like Pfizer (NYSE:PFE), Merck (NYSE:MRK) or Bristol-Myers Squibb (NYSE:BMY).
AMD: Second Leading Cause Of Vision Loss
According to a report by The Disability Federation of Ireland, there are approximately 161 million people with vision impairment worldwide. Of the 124 million people with low vision, 37 million are considered legally blind. The report highlights that the global population of visually-impaired persons is expected to double by 2020. The population of people with vision loss age 55 and above is predicted to increase. The World Health Organization predicts that the prevalence of blindness for persons over the age of 55 will grow 43% by 2016, 116% by 2026, and 170% by 2031. AMD is currently the second leading cause of vision loss behind other causes (accidents).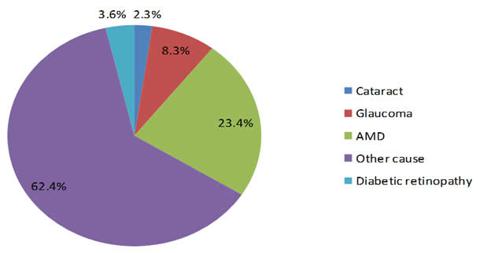 AMD: Largely An Age Related Issue
Based on data from the most recent U.S. Census, an estimated 937, 000 (0.78%) Americans older than 40 years were considered to be blind. An additional 2.4 million Americans (1.98%) were considered to have low vision. The leading cause of blindness among white persons was age-related macular degeneration (54.4% of the cases). The number of blind persons in the U.S. is projected to increase by 70% to 1.6 million by 2020.
Blindness or low vision affects approximately 1 in 28 Americans over the age of 40. The prevalence of visual disabilities will increase significantly during the next 20 years, owing largely to the aging of the U.S. population.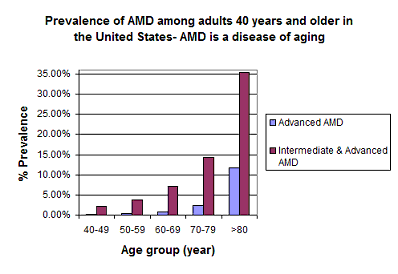 AMD: Market Opportunity
According to a report published by Decision Resources in 2012, robust annual growth through 2012 in the AMD market is expected to be driven by the expanding use of Lucentis in Europe. However, the report also said that off-label use of Avastin would take market share away from Lucentis from 2012 to 2017. Decision Resources is a leading global research and advisory firm for pharmaceutical and healthcare issues.
Similarly, Pharmacor, Decision Resources' advisory service that assesses the overall clinical and commercial environment for drug therapies, released a report entitled Age-Related Macular Degeneration. The report said that the near-term opportunity in wet AMD exists in the development of therapies that offer efficacy at least similar to that of Lucentis, including dosing advantages. However, since retinal specialists prescribe Lucentis less frequently (as needed) than its approved monthly dosing, which is the dosing used in clinical trials, emerging therapies face high barriers in providing convincing evidence for dosing improvements over Lucentis.
Though experts have considered Regeneron/Bayer's aflibercept the most promising emerging therapy for wet AMD, recent clinical data has cast doubt on the drug's ability to demonstrate significant efficacy and better dosing over Lucentis. Because of this, aflibercept is expected to capture approximately 10% patient share in AMD in 2017. Its sales are expected to lag due to strong competition from Lucentis and Avastin.
According to Decision Resources Analyst Irene Koulinska, M.D., Sc.D.,
Overall growth of the AMD market for prescription therapies is driven by agents for the wet form of the disease, in particular, vascular endothelial growth factor inhibitors. We estimate that sales of this drug class will grow at a rate of 2% annually between 2007 and 2017. This reflects, primarily, the patient share dynamics between the approved agent from this class, Lucentis, and its less expensive, off-label alternative, Avastin.
Using Avastin with ISONEP May Be Beneficial
Avastin is an angiogenesis inhibitor which slows down the growth of new blood vessels. Avastin is used to treat cancers and to stop tumors from spreading quickly. It is also used to treat age-related macular degeneration and other eye conditions. A recent clinical trial sponsored by Lpath will attempt to determine the safety and efficacy of four monthly iSONEP injections alone or in combination with Avastin among those who have AMD.
Using iSONEP with Avastin may have a synergetic or additive effect and may contribute to better prognosis for those who suffer from AMD. Avastin is manufactured by Genentech, which is owned by Europe-based Roche Holding. If the clinical trials succeed, partnership between Roche and Lpath would give the latter huge leverage in obtaining approvals in Europe.
Partnership: Europe Or U.S.?
As we all know, it is very difficult to enter the European market and gaining future patent approvals by the European Union will be doubly easy for Lpath, because it is a smaller company and not a big pharma like Merck, Bristol-Myers Squib or Pfizer. The European Union has consistently been antagonistic towards big pharma, especially when they are based in the U.S. Roche is a European company based in Switzerland and has considerable leverage within the EU. The company meets the requirements of European pharmaceutical standards and has a significantly larger on-the-ground presence in Europe than American pharmaceutical companies.
By collaborating with Roche, Lpath would be able to ward off the negative image that big U.S.-based pharmaceutical companies have, and earn the goodwill of European authorities. Lpath has a lot more potential in a partnership with Roche Holding, as opposed to Pfizer, Merck or Bristol-Myers Squibb.
U.S. Big Pharma Plagued by Million Dollar Lawsuits
Pfizer is already bogged down by a large number of government and civil lawsuits. The company expected to pay $825 million in November 2012. Pfizer's agreed to plead guilty to a misbranding offense. It will spend about $234 million to resolve criminal allegations.
In November 2011, Merck had announced that it would pay almost $1 billion to resolve criminal and civil charges related to its Vioxx drug, a painkiller. The company had made false claims about the drug's cardiovascular safety. A year later in November 2012, it came to light that almost 265 cases had been filed against Merck with regard to its Propecia product. Propecia helps men to fight hair loss and baldness, but has often been linked to low testosterone and impotency, sometimes irreversible. Sweden's Medical Products Agency suggested that Propecia causes persistence of erectile dysfunction after discontinuation, something that Merck was forced to state in its labels within Sweden. That has not been followed elsewhere.
In March 2011, a California court accused Bristol-Myers Squibb of fraud and kickbacks. The lawsuit accused Bristol-Myers of paying thousands of dollars to doctors who prescribed its drugs. No wonder then, that the European Union does not take American big pharma seriously.
U.S. Big Pharma's Long History Of Rejections in Europe
U.S.-based pharmaceuticals have a long history of being rejected in the EU. Consider the following:
In July 2009, the EU panel squashed Merck KGaA's hopes of extending the use of Erbitux, its leading oncology drug, to lung cancer.

In January 2011, Merck's hopes of gaining European marketing approval for its multiple-sclerosis pill Cladribine were squashed after a European Union panel confirmed its negative opinion on the drug that was once set to be the first multiple-sclerosis pill worldwide.
If Lpath Collaborates with Roche Holding
If Lpath collaborates with Roche Holding, it will be easy for it to win additional European patents and gain approvals, which are often scrutinized heavily when it comes to American big pharma. Lpath is starting small, and collaborating with Roche Holding would prove to be the fuel that will help the company take on Goliaths like Merck, Pfizer and Bristol-Myers Squibb.
The EU does not see Lpath as a threat, but it certainly sees its competitors Merck, Pfizer and Bristol-Myers as threats to European health standards. By using its relationship and influence with Roche (if the relationship does materialize), Lpath will be able to grow successfully in the European market. Investors should watch Lpath closely in the coming months and be prepared to buy.
Disclosure: I have no positions in any stocks mentioned, and no plans to initiate any positions within the next 72 hours. I wrote this article myself, and it expresses my own opinions. I am not receiving compensation for it (other than from Seeking Alpha). I have no business relationship with any company whose stock is mentioned in this article.