Small-cap gold miners have not been loved by investors in recent times. Contrarian investors with a certain tolerance for risk might find that looking at this sub-sector could provide interesting investment opportunities in the near future. Operations in politically stable regions might be a preferred option at a point in time where resource nationalism is becoming an increasing concern. In this article we would like to introduce two Canadian gold miners who are both poised to do well in 2013, and who are in fact neighbours in the well-established Timmins region. Both companies are producing small cap operations with plenty of upside. Both companies have catalysts in the pipeline that might warrant a re-rate in coming months.
First up is Lake Shore Gold (NYSEMKT:LSG) who acquired and brought into production the West Timmins Mine and have an operational mill at their second prospective area, the Bell Creek Complex where they are also mining some ore. The company's third asset is the Fenn-Gib project. All within roughly 100km. Reserves at the West Timmins Mine stand at 823800oz with an additional resource of 2.75Moz. The overall resource owned by $LSG comes in at just over 7Moz. Considering their market capitalisation of around $380M investors get gold in the ground at a considerable discount compared to peers. In fact, the P/NAV ratio of just over 0.4 (Bloomberg and Thomson, January 2013) compares extremely favourably to a peer group average of 0.75.
In their news release dated January 10 LSG confirmed reaching their 2012 production target of 85Koz. As a result of the ongoing expansion program LSG is targeting a production increase of 50% in 2013 and a further increase to 150Koz per annum in 2014. This increase in gold production should be accompanied by a significant cost reduction to U$700.00 per ounce including royalties by 2014 (U$800-875 in 2013 and over $900 in 2012). LSG have $61M in cash and bullion in the bank as of December 31 2012. Recent management success is further underpinned by accomplishing the 2012 expansion works in time and with a capital expenditure of 10% less than the initial forecast. Forecast capex spending is significantly less in coming years boding well for the bottom line when combined with the forecast increase in production. More detail is readily available from their web site.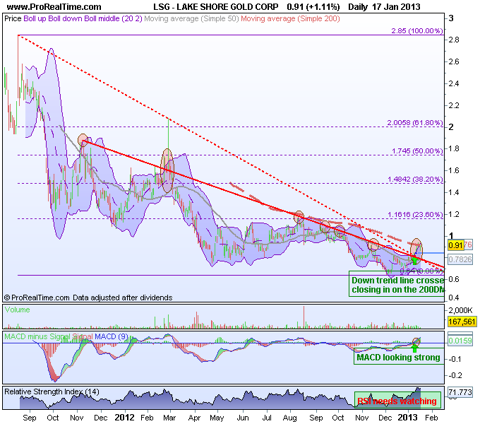 The share price has been beaten down quite a bit over the past year and a half from a high of $2.24 in August 2011 to a low of $0.64 in December 2012. From a technical analysis point of view a break out of the downtrend has occurred but is still awaiting confirmation. Keeping a close eye on the chart in coming days is advisable for those seeking an opportune entry into LSG. We will be offering more details and updates on the technical analysis on our instablog.
For those interested in entering it should be stressed that $LSG is essentially a one mine operation which makes them very vulnerable to black swan events. The investment thesis for this stock hinges on the management delivering on their forecasts making it a two-fold bet: firstly, the management delivering; and secondly, the forecasts turning out to be correct. In that sense the high investments rewards that seem possible at the moment are accompanied by significant risks.
More or less just down the road from LSG is Brigus Gold (BRD) with their operating Black Fox Mine and a mill some 40km away from the mine. Their market cap is around $220M. The Black Fox resource is given at 1Moz out of which 840000oz are proven or probable. Production at this mine has been ramping up steadily and costs have been reduced each quarter in 2012. Forecasts show these trends to continue reaching 25Koz per quarter at a cash cost of $725 at the end of 2013. The P/NAV ratio for BRD is noted at 0.65 which is higher than LSG but still below the peer average. 8% of the gold produced at Black Fox is sold at a significant discount to Sandstorm Gold (NYSEMKT:SAND) due to a streaming arrangement. This reduces revenues on the one hand, but on the other hand investors can take some reassurance due to this apparent tick of approval form this streaming company.
Cash on hand at the end of September 2012 was quoted at U$16.3M with a total debt of U$80M in the form of Convertible Debentures (U$ 50M) and Senior Secured Notes (U$ 30M).
The Grey Fox project is situated not far from the Black Fox mine. Currently the resource at Grey Fox stands at just over 570,000oz. This number is due to rise significantly when the latest drilling results will be incorporated into the feasibility study to be released later this year. According to the time line published on their web site, Grey Fox should be in production by 2015.
Their third asset is called the Goldfields Project situated near Uranium City, Saskatchewan. A pre-feasibility study for this project has been released showing a reserve in excess of 1Moz and an initial mine life of 13 years. Production is some time away yet.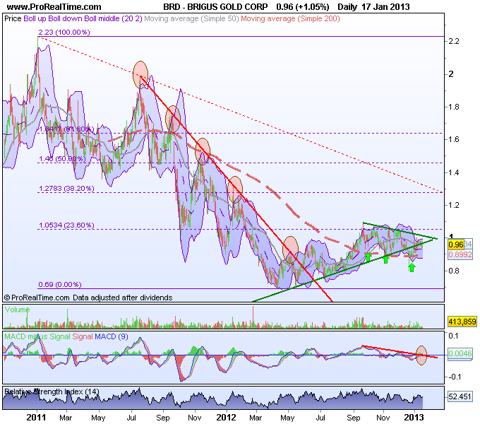 BRD's chart above paints the longer term picture. The share price reached a high of $2.23 early in 2011 and has been in steady decline until a low point of $0.69 was recorded in May last year. This strong down trend was broken in early June 2012 and since then a slow uptrend has been observed. A golden cross occurred early in October 2012 delivering a strong buy signal. For those seeking entry into BRD it should be noted that a pennant pattern is currently playing out. A break to the upside of this pattern could offer an opportunity in coming weeks. We will be providing further technical analysis and updates on our instablog for BRD.
The risks associated with owning BRD are also driven by the one-mine and one-mill operation and the bet on management delivering on their forecasts. The development of the Grey Fox mine will mitigate some of this risk and if successful, should be a catalyst for a re-rate.
In conclusion: both companies LSG and BRD look like good investments for investors with a reasonable risk appetite looking for growth stories with healthy fundamentals among small-cap gold producers in a safe jurisdiction. Both companies have a number of catalysts in the waiting that could move the share price to the upside in 2013. Management of both companies have delivered in 2012. From a chart analysis perspective $LSG might offer an entry point in the very near future, and $BRD is worth watching if the first signs of a re-rate to hold up. We will be providing brief updates on these two companies on our instablog in coming weeks.
Disclosure: I have no positions in any stocks mentioned, but may initiate a long position in LSG over the next 72 hours. I wrote this article myself, and it expresses my own opinions. I am not receiving compensation for it (other than from Seeking Alpha). I have no business relationship with any company whose stock is mentioned in this article.