Some things are always going to be certainties in life. You're not going to hit the multi-state lottery, the sky isn't going to come crashing down on us, Donald Trump is never going to change his hairstyle; and Apple (NASDAQ:AAPL) is definitely, most certainly, positively not going to be trading at $500/share on January 24th, the day after their earnings release. Knowing that, let's look at a basic strategy to invest wisely ahead of Apple earnings this week.
Apple, whose stock is meandering aimlessly like a lost child over the past few months, has finally seemed to find a line in the sand around the $500 mark ahead of what is going to prove to be a massive binary event for the company on January 23rd. Investors that were on the freight train to $700 early in 2012 have been left to scratch their head wondering what's become of their golden child in recent months, as analysts duke it out over Apple's future on every conceivable medium.
With the recent downturn in Apple's stock price, we've been hearing more and more about how the Apple "gravy train" could be coming to an end. CNBC.com and Seeking Alpha have been littered with articles claiming that the dream run has ended on what seems to be an extremely fundamentally sound Apple. While there certainly has been a pullback on the share price recently, the company as a whole seems to still be in an aggressive growth mode.
Most recently, the share price has taken a nose dive on technical indicators such as the "death cross" (short-term moving average crossing below long-term moving average), compounded by reports that Apple has recently cut orders on parts used in the iPhone 5. The chart below shows the bearish signal created by the moving averages near December 10th and also could present another bearish argument by showing that the RSI clearly shows that Apple is not oversold.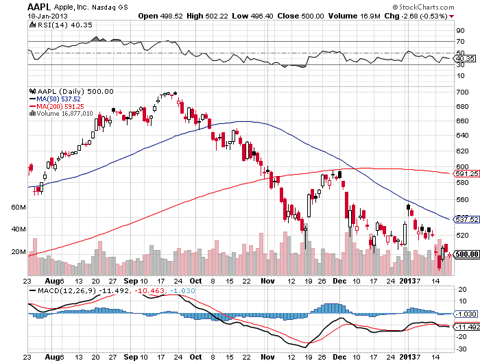 Every day since their touching record highs of $700/share and ensuing downturn in late September, the microscope has been on Apple shares; bears arguing that the stock was well overbought and bulls arguing that they're still sitting on potentially the most revolutionary company in the history of mankind.
The question with upcoming earnings is going to lie in sales of the new iPad mini during the holiday quarter, traditionally a strong quarter for both Apple and retail companies alike. The trend that Apple has been in the last few months seems to be a fairly healthily traded one. RSI indicators hit oversold only once, in mid-November, where the stock had a "dead cat" bounce and then continued its plummet to almost 20% off it's highs. RSI shows healthy trading once again in the current short-term fall that the stock has been in, further proving that the stock is neither oversold nor overbought.
For earnings to be released on January 23rd, analysts are going to be looking for an EPS at $13.41 and revenue at $54.7 billion, up 18% YOY.
This investor loves a nice, basic call/put spread heading into upcoming earnings. February 1, 2013 $460 puts are trading at a $5.85 premium, with a premium + price difference of about $46. February 1, 2013 $545 calls are a thrifty $6.00 premium, making their premium + price difference $51. You're covering both bases here, and I see this to be a prudent and safe investment due to the usual nature and higher than usual pressure on Apple's earnings. Earnings will be one of the two volatile situations:
1. Complete and total annihilation of analyst expectations (anywhere from 9%+, in my opinion), which are usually much higher than the company's guidance as Apple has a history of sandbagging guidance as much as possible. In this case, we can look for investors to assume that the line in the sand of $500 was an absolute bottom. Emotion and panic buying will come into play, as retail falls over one another to be the first one to hop back on the invincible Apple train; who's next stop in this scenario could possibly be rocketing through the 200DMA of $590 as it heads back towards the mid $600 level.
2. Anything else. In which case, look out below. Calling the chart above a slight downtrend is like saying the Beatles "had a couple of slight hit songs". The downtrend will likely continue to the next massive resistance level, which is around the $378 region. (14-day RSI at 20%)
The important thing when playing this type of options spread is the volatility. There is such a small chance of a situation occurring where the stock is not going to react and swing one way or another -- and it's because of the amount of pressure that has been thrown on the back of this earnings release. The pressure is a direct derivative of the downtrend the company has been in. Also, germane to note here is that I don't only see earnings to be a binary event for the stock, but I believe it's going to be the beginning of another sustained trend in how the company trades. With no other major news on the horizon for Apple, this earnings release is going to dictate the trend in which this stock trades for a while; likely the coming months.
The inherent risk in this strategy lies in a situation where Apple stock doesn't respond sharply in one direction. A likely scenario where that could happen would be one in which Apple simply meets, or just barely exceeds earnings. Offering great quarter results with stale guidance could potentially result in much less volatility. If this risk is of concern, going long options with expiration towards the end of the year or even buying LEAPS (2014, 2015) could help hedge that. The more time value built in, the more expensive the contract will be, but with the advantage of time on your side you may find yourself in a situation of being able to cash both sides of the spread; or at the least, cut losses from 100% on one end.
Of course, if you're bullish Apple in the long-term like this investor, the strategy could be writing covered calls into earnings for the age-old technical investing strategy of "CYA". A second option is to go long the puts and buy the equity. There's an added bonus to this strategy, if you're holding long the equity you can scoop up the dividends coming in early February. On the heels of a great earnings release, this could be the cherry on top of the cake and a point where I'd consider some slight profit-taking.
In a fundementally sound Apple, this investor would be going long the equity and writing calls. Best of luck to all investors on a successful short trading week.
Disclosure: I have no positions in any stocks mentioned, and no plans to initiate any positions within the next 72 hours. I wrote this article myself, and it expresses my own opinions. I am not receiving compensation for it (other than from Seeking Alpha). I have no business relationship with any company whose stock is mentioned in this article.