In the most recent December and during January, the market has been subtly hinting that inflation may become a problem in the coming months. Some, not so subtle hints, however, are suggesting that crude oil prices may experience a price spike before this summer. See the arguments and charts below for why I believe oil could reach $130 by summer.
Macroeconomic Conditions Favor Inflation
Between the creation of $85 billion of new money each month, rising U.S. interest rates, weakness in the U.S. Dollar, and much more economic activity from Europe and China, inflation seems imminent during the first half of this year. The TIPS bond, which is inflation indexed, has been continually rising since October, even outperforming standard treasury bonds on a relative basis. This means expected inflation is rising. Does expected inflation accurately predict actual, future inflation? Yes. In the chart below, which plots inflation expectations vs. actual inflation, it is evident that investors have usually grossly underestimated actual future inflation.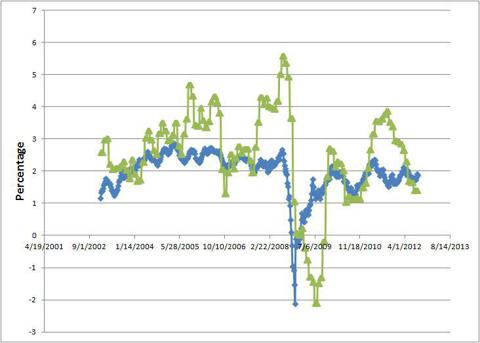 My "quick and dirty" of finding the trend of expected inflation is to use the ratio between the ETF (NYSEARCA:TIP), which is linked to TIPS bonds and (NYSEARCA:IEF), which is linked to 7-10 year treasury bonds. See the chart below; the rising line means that expected inflation is rising, since TIP is outperforming IEF. These factors increase the probability of higher prices of everything, including oil.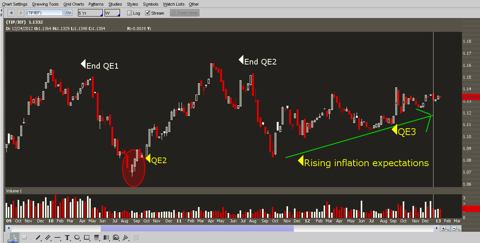 Seasonality
Seasonality is not a price predictor alone, but can offer some valuable hints as to where the price of a stock or commodity will go in the future. Below is the same chart above, but with an overlay. This overlay is a seasonal bias index for crude oil calculated from weekly, detrended futures data. Said another way, this index gives the average upward/downward bias for the commodity for each week and month during of the calendar year. Using this index, oil is expected to be weakest during late November through early January and then strongest from mid-March to mid-July. Drawing conclusions from those indexes, oil should be expected to rise in the coming months.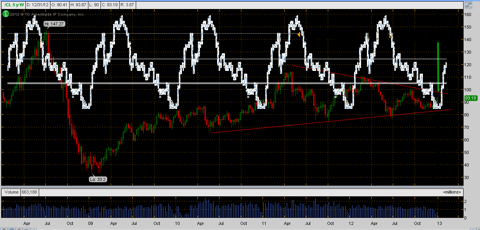 Technical Buy Signals
Since winter of 2011, crude oil has done nothing. Yes, it has had very violent swings, but directionally, it has stayed in the same price range for two years. These swings, when formed tightly together, can form price patterns, which in the field of technical analysis, can be used to predict future prices. In the chart below, I see long-term "triangle" patterns. The one I speak of is bounded by the upward sloping, red support line beneath the price and by the blue line above the price. This breakout occurred last week when price broke above its long-term overhead resistance line near $94, and was confirmed this week by continued price movement above the consolidation.
Does this breakout look valid? Let us look at the internal strength indicators to seek confirmation. Plotted on the bottom sub-graph is a momentum indicator, called the "relative strength index," or RSI. First, notice the levels in the RSI and the price of crude oil at the June 2012 and November 2012 bottoms. While the price levels at these two bottoms were relatively similar, the level in the RSI during the November bottom was drastically higher than the June bottom. This represents internal strength in the underlying, or in this case, the oil market.
Another signal of strength comes from a system I devised, based on trendline breakouts in the RSI. The system, this week, issued a weekly buy signal on crude oil. The system buys when the RSI crosses a trendline from below above the 40 level in the indicator and sells when there was a downward trendline breakout below the 60 level in the RSI. From 2005 to 2011, this system returned a 306% back-tested return vs. an 84% buy and hold return, so it may be a signal worth acting upon.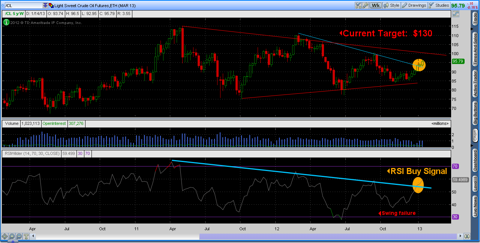 Economic Implications
Oil prices rose last year and the year before during the spring before falling, and the economy remained healthy. Why will this time be any different? Business conditions are different. If you have not noticed, the dollar has shown exceptional weakness in the past several weeks, and interest rates have been climbing. Also, worldwide economic activity seems to be growing, which means more energy consumption.
Another argument comes from the length of this past bull market. Lasting 46 months, the bull market is very mature, and money is moving between assets. Just look at the sectors leading in recent months. Past leaders, such as technology, utilities, and retail have lagged while energy, industrials, and materials have become new market leaders. Energy is historically the last asset to outperform before a bear market and seasonal, economic, and technical factors all point to higher crude prices. This time, given the macroeconomic conditions, seems different than previous oil rises in recent years, and more like the ones in 2008 and 2000. Investing in some (NYSEARCA:USO) and (NYSEARCA:XLE) may be a good idea now before prices start moving. To diversify, (NYSEARCA:XLB) also performs well in inflationary markets. Given the evidence, it seems likely that money will be flowing into oil, pushing its price up, in the coming months. Instead of experiencing the proverbial "pain at the pump" from the rising prices, perhaps this time consider profiting from the price rise instead.
Disclosure: I am long XLE. I wrote this article myself, and it expresses my own opinions. I am not receiving compensation for it (other than from Seeking Alpha). I have no business relationship with any company whose stock is mentioned in this article.