One of the biggest acquisitions in the entire market in 2012 was the acquisition of Ralcorp (RAH) by ConAgra (NYSE:CAG). The purpose of this acquisition was to give CAG exposure to the higher growth private-label market. Many investors fail to realize that CAG tried to acquire RAH a year earlier, as described here. Private-label companies will benefit from the lower consumer income due to the ~2% increase in Social Security taxes. Consumers will be looking to cut costs in order to save money. This will be done by buying more private-labels potentially. The other side of the argument is that consumers will use up what is in their cupboard. This will potentially lead to short-term declines in sales for all food manufacturers, but will see a big boost once consumer confidence rallies more.
Standard & Poor's cut the rating of CAG on December 31, 2012. S&P is quoted as saying:
"The downgrade for ConAgra reflects our belief that ConAgra will not be able to restore its credit measures, including adjusted debt to EBITDA (earnings before interest, taxes, depreciation and amortization) to below 3x and funds from operations to total debt to nearly 30%, within two years."
This was after the article I had posted about CAG overpaying for RAH. S&P is still a well-respected credit agency. From an equity rating, it has a $34 price target on it currently. The downgrade by S&P should be a concern for investors as the amount of debt CAG is taking on is becoming a concern, and the potential slowing of RAH's growth. CAG's rating is now BBB-, one step above junk status.
In the past few months, CAG has issued a few debt offerings and an equity offering to finance the acquisition. On September 10, 2012, it issued $248.61M in debt. On December 21, 2012, it entered into an unsecured term loan agreement where Bank of America (NYSE:BAC) will provide $1.5B, with the potential for $2B. On December 28, 2012, it issued $300M of 4.95% notes due August 15, 2020, and $450M of 6.625% notes due August 15, 2039. On January 7, 2013 CAG issued $240M worth of stock, diluting current shareholder value. On January 15, 2013, it issued $749.67M of 1.3% due 2016.
RAH has had solid growth over the last few years. The problem is that accounts receivable typically has grown faster than revenue. This leads to a problem with cash flow as it takes longer to collect. It was only until this year that revenue and receivables grew at about the same rate (2009 and 2010 receivables actually grew less).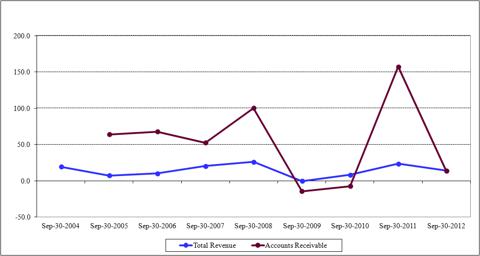 Also, gross profit margin has struggled to breach the 20% level. EBITDA margin has increased from ~10% to the low teens in recent years. The problem lies with net profit margin though. It peaked in 2009 and has struggled ever since. In 2011, RAH was actually losing money.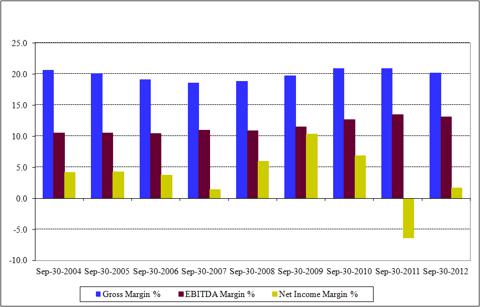 Cash flow from operations for RAH isn't exactly riveting either. RAH's operating cash flow varies significantly and half the time has declined. There is no consistency with its operating cash flow. For a consumer staples company that is not acceptable. This is a very risky bet by CAG on RAH's cash flow. The two companies should create synergies but it will take potentially more time than management is expecting. Supply chains coming together aren't always easy. Luckily, CAG has a solid global supply chain given its reach and logistics.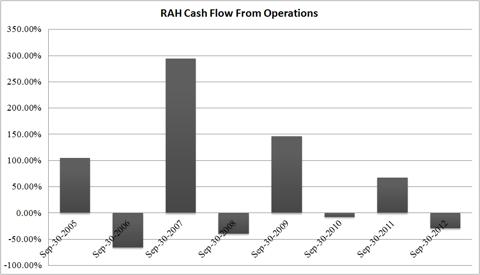 CAG originally tried to acquire RAH for 9.5x EV/EBITDA and 1.7x EV/Book Value, but that offer was rejected. On this year's attempt at acquiring it, it acquired RAH for 12.4x EV/EBITDA and 2.9x EV/Book Value. On an EV/Net Income basis, this increased from 23.1x to 37.4x. These values seem like big jumps and too big of a premium. The total value of the RAH deal including liabilities is $6.9B ($5B without). If one were to assume even that RAH went back to earning ~$290M in net income like it did in 2009, it would take 23.8 years using net income. RAH only earned $73.4M this past fiscal year. On a cash flow from operations basis, it would take about 13.8 years assuming CFO of $500M/year. This seems like a long-time for a company that appears to have growth slowing.
On top of this, CAG's balance sheet is already shaky. It has not consolidated RAH yet into the financial statements as the acquisition is incomplete. Upon looking solely at goodwill and intangibles, CAG has a high amount on a common size basis (Source: Capital IQ):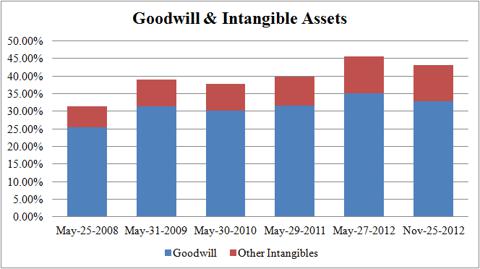 Goodwill and Intangible Assets on a common size basis is not a huge concern as long as the company is creating value for shareholders and growing sales, net income and most importantly, cash flow. This way the company can avoid a write-down. Upon looking at CAG, growth has not been consistent or that strong (Source: Capital IQ):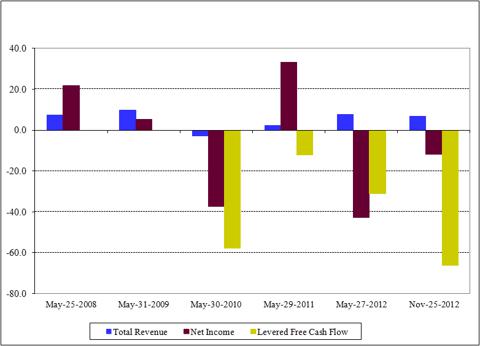 It was not like CAH divested huge assets in 2010 and 2012 to lead to lower net income. CAG is struggling to create positive net income growth and free cash flow given the acquisitions it has had in the past. This is a huge red flag on management's appetite for acquisitions. Management is hiding the lower inefficiencies by showing sales growth with acquisitions.
By paying as much as it did for RAH, CAG will have to raise these amounts further. This is very unhealthy to do, especially given the volatile cash flow from operations for RAH. RAH is being acquired for ~$7B, including the liabilities and ~$5B in just equity. This acquisition will accelerate the trend of increasing goodwill and intangible assets. It will make CAG have a common size value for Goodwill plus Intangible Assets of 65.52%!.(amounts in $mil, Source: Analyst):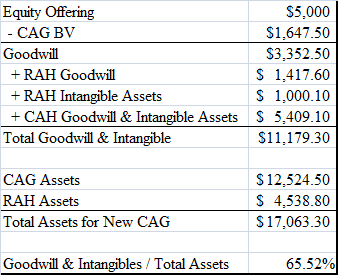 It would not be a surprise to see CAG have to write-down this acquisition within a few years, as I believe CAG overpaid for RAH. S&P must be seeing this troubling balance sheet. CAG having that amount of goodwill and intangible assets as a whole is extremely unhealthy. This thesis may take a few years to play out and could be wrong given the trend towards consumers saving money with private-label brands, but CAG has just created one of the unhealthiest balance sheets that should be a cause of concern for investors.
Disclosure: I have no positions in any stocks mentioned, and no plans to initiate any positions within the next 72 hours. I wrote this article myself, and it expresses my own opinions. I am not receiving compensation for it (other than from Seeking Alpha). I have no business relationship with any company whose stock is mentioned in this article.