Warren Buffett, chairman and CEO of Berkshire Hathaway (NYSE:BRK.B), widely considered to be the greatest long-term investor in recent history, has said:
It's far better to buy a wonderful company at a fair price than a fair company at a wonderful price.
Wells Fargo (NYSE:WFC) fits this criteria and belongs in any long-term investor's portfolio.
Company History
WFC is one of the largest banks in the world. Based on assets, WFC is the world's 23rd largest bank. However, when looking at market cap, WFC jumps on the list into the top five in the world and number one among U.S. banks easily surpassing the likes of JP Morgan Chase (NYSE:JPM), Citigroup (NYSE:C), and Bank of America (NYSE:BAC). Despite being "smaller" than a lot of other banks, WFC has achieved greater shareholder value because it is a wonderful company, not a fair one. Investors can learn more about the character of WFC by looking at the company's storied history. WFC's history is so storied that it actually has 9 museums of its own.
1852: Henry Wells and William Fargo founded Wells, Fargo & Co. to serve the West. The new company offered banking (buying gold, and selling paper bank drafts as good as gold) - and express (rapid delivery of the gold and anything else valuable).
Wells Fargo opened for business in the gold rush port of San Francisco, and soon Wells Fargo's agents opened offices in the other new cities and mining camps of the West. In the boom and bust economy of the 1850s, Wells Fargo earned a reputation of trust by dealing rapidly and responsibly with people's money. In the 1860s, it earned everlasting fame - and its corporate symbol - with the grand adventure of the overland stagecoach line.
1910: The Company's network linked 6,000 locations, including new offices in the Upper Midwest and Great Lakes regions.
1918: Wells Fargo was part of 10,000 communities across the country. That year, however, the federal government took over the nation's express network as part of its effort in the First World War. Wells Fargo was left with just one bank in San Francisco.
Through the 20th Century Wells Fargo rebuilt from just one office in San Francisco. From 1905 to 1923 it was a premier downtown San Francisco institution. Expanding in 1923 to two marbled banking halls, Wells Fargo was a "banker's bank" that served all the west.
In 1960s prosperity, Wells Fargo became a northern California regional bank with branch offices everywhere people lived and played, from the coast to the mountains. In the 1980s Wells Fargo expanded into a state-wide bank and became the seventh largest bank in the nation - and launched its online service.
Of course, there is one additional, more recent, transformational, event which must be mentioned and that is WFC's acquisition of Wachovia for $15.1 billion in 2008. I think it is fair to say that this aggressive move has paid off quite well for WFC. A prime example of this is the company's record setting earnings. While most financial companies have recovered from the 2008 meltdown, few have been able to report record earnings. This is a testament to the strength of WFC and its management.
Valuation
As shown by the chart below, with a price to book value of 1.25, it is difficult to argue that WFC is cheap when compared to its peers such as JP Morgan, Citigroup, and Bank of America. Clearly, for those looking to buy a "cheap" bank stock WFC is not the answer. However, for those looking to buy a high quality company, especially a bank, WFC must be considered. While WFC might not be cheap, especially compared to other banks, it is also difficult to say WFC is overvalued. In the past, as shown below, WFC had traded at more than 2.5 times book value. It should be noted that, when WFC traded at 2.5 times book value, that valuation also represented a significant premium to its peers.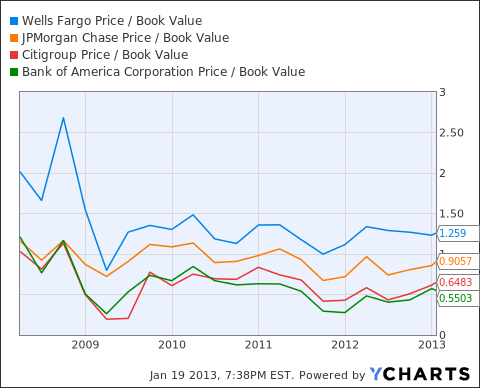 Buffett's Favorite Bank
Without question, Warren Buffett's favorite bank stock is WFC. Of late, Buffett has been adding to his already massive stake quite aggressively. Currently, WFC is Berkshire's second biggest holding just behind Coca Cola (NYSE:KO). In the past, Buffett has made opportunistic buys of other banking stocks such as Bank of America and Goldman Sachs. Buffett also holds a large stake in U.S. Bancorp (NYSE:USB). However, it is WFC that Buffett continues to buy at these levels, not GS, USB, or BAC.
Returning Money To Shareholders
In late 2012, WFC announced it was increasing its share buyback program to $6.9 billion. In addition to the share buyback, WFC continues to return money to shareholders through its dividend. Right now, WFC pays out an annual dividend of $0.88 per share giving the stock a yield of 2.52%. In 2013, I expect WFC to raise the dividend. Meredith Whitney, the noted bank analyst who predicted steep dividend cuts and massive writedowns prior to the financial crisis in 2008 has recently turned more positive on the group suggesting that the Federal Reserve could, in March, give approval for banks to return more capital to shareholders. In a CNBC interview, Whitney said that Bank of America could quadruple its dividend. If weak banks like Bank of America are given approval to increase their dividend then I expect strong banks like WFC to substantially increase their dividends in 2013.
Risks
The biggest risk facing WFC shares is, in my opinion, the abundant optimism surrounding the stock. Currently, there are 14 strong buy and 2 buy recommendations compared to just 1 sell recommendation by Wall Street firms. Another example of the optimism surrounding the stock can be seen by looking at the list of articles about WFC on Seeking Alpha, there are few if any negative views of the stock. Even if the optimistic view of WFC turns out true, I am not sure how many skeptics remain to be converted to the bull camp. Given this, it is possible that the stock does not respond positively to good news over the short-term and responds negatively to neutral news.
Conclusion
WFC is, in my opinion, one of the few stocks that investors should buy and hold. While WFC is certainly not cheap, it is also not so expensive that the price is unreasonable. WFC is, without doubt, a wonderful company. With history like no other in its industry, WFC is a terrific company to invest in. However, it must be noted that, at the moment, there is a great deal of optimism surrounding WFC which could lead to a lack of new buyers over the short-term. That being said, the current optimism surrounding the stock is not reason enough not to own it, especially for long-term investor.
Disclosure: I have no positions in any stocks mentioned, and no plans to initiate any positions within the next 72 hours. I wrote this article myself, and it expresses my own opinions. I am not receiving compensation for it (other than from Seeking Alpha). I have no business relationship with any company whose stock is mentioned in this article.