Based on the stock performance, Surge Energy (OTCPK:ZPTAF) has not surged at all during the last 9 months. Actually the stock has dived and some bears rejoice, calling it "Diving Energy" instead. However, this "hard landing" below $4 activated the siren "blood in the streets," waking my "piranhas" up who grabbed this unmatched buying opportunity.
Dear Bears, you better be very cautious with your shorting bets currently, as the stock performance does not match the substantial fundamental improvement and growth yoy. Let me explain you why:
Strengths
Production Growth: The production has grown more than 70% since inception in 2010. From an average production of 3,026 boepd in 2010, the company hit 8,900 boepd (average) for 2012 and forecasts a production of 10,300 boepd (average) for 2013 which is heavily oil weighted (73% oil and liquids).
Reserves (2P) Growth: After the latest acquisition in early 2012, the reserves (2P) have surged from 21 MMboe in 2010 to 36.77 MMboe (72% oil and liquids). The drilling success of 2012 makes me forecast a growth of at least 25% once the new reserves report is released in early 2013.
Funds from Operations (FFO) Growth: The funds from operations have grown more than 250% since inception in 2010 and they grow consistently with a double digit figure every year. The average FFO also rose from $16 million in 2010 to $93 million in 2012 and they are expected to hit $110 million in 2013. Additionally, most of the funds from operations for 2013 are protected as 50% of 2013 oil, liquids and natural gas production is hedged.
Credit Facility Rise: As a result of the consistent growth yoy, the bank line was increased recently once again from $250 million to $290 million leaving plenty of "breathing space" to the company which has a net debt of $203 million currently.
Debt/FFO Under Control: The D/CF (annualized) ratio is in safe territory (below 2) whereas the company has significant cushions in place (huge undeveloped land) in case an unforeseen event occurs and activates the "sale alarm."
Profitable - Below Intrinsic Value: Surge is highly profitable for the nine months of 2012 and it trades for PBV=0,7 currently.
Land Diversification: Three highly oily core areas that extend from the tight formations in Slave Point, pass from the conventional wells of Southeast Alberta and end at the oilfields of North Dakota,,the second largest oil-producing state.
Proven Management: The competence and the efficiency of the management are indisputable as these folks grew Breaker Energy quite rapidly and sold it to NAL Energy in 2009.
Weaknesses
The Sector: The investors with exposure to the Canadian resource sector experienced hard times during 2012. The TSX/S&P Venture index has fallen from 1,700 down to 1,190 currently, and this has brought several energy companies, Surge including, down to fire-sale prices.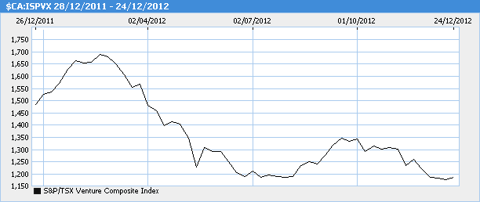 The Operating Hiccups of Q3 2012: Surge's average production was negatively impacted by 450 boepd at Valhalla South due to an unscheduled facility upgrade, unplanned outages and restrictions and the decision to defer drilling and completing two gross (1.25 net) wells to Q4 2012 because of the depressed solution gas prices associated with the oil production at that time.
In addition, Surge changed its completion technique modifying the frac design. In the short-term, this hampered Q3 production by 525 bbld. However, the new frac design enables the wells to exhibit superior deliverability in the mid to long-term, which will ultimately enhance the overall economics of the play.
Opportunities
The Differentials: The Canadian oil players were severely hit by the spread between Edmonton and WTI in 2012 primarily due to pipeline capacity constraints. However the effects from the recent completion of the Seaway's reversal become apparent quickly as the spread has narrowed much in January 2013 and stands at $7 currently from $20 in late 2012. Enbridge (NYSE:ENB) also plans a twin line for Seaway that will further boost capacity to 850,000 bopd in 2014, increasing the flow from Cushing, OK to Gulf Coast refineries.
Enbridge will also fund the Light Oil Access Program, which is a $6.2 billion project that aims to ease congestion in the US Midwest refining hub and move oil from Canada to the US refineries, adding 400,000 bopd to the current network, effective 2014.
Inventory and Land: With 485,000 net undeveloped acres and more than 435 net drilling locations, Surge Energy will remain busy and oily for many years ahead. The company estimates that it will exit 2013 with 11,165 boepd (74% oil and liquids).
Waterflood: The waterflood operations started in late 2012 in order to exploit the exposure to ~570 mmbbls of DPIIP with <1% oil recovery to date and eventually propel higher both the production and the reserves.
Significant Discount To Peers: With a current production of 11,500 boepd and Enterprise Value ((NYSE:EV)) of $470 million, Surge trades for only $40,800/boepd (73% oil & liquids) and $12,8/boe of reserves which is a huge discount to the peers' valuation.
Based on their 2012 exit productions, Whitecap Resources (OTCPK:SPGYF) has an EV of $1.5 billion which gives $88,300/boepd (69% oil and liquids) and $21,22/boe. DeeThree Exploration's (DTHRF.PK) EV is $530 million resulting in $88,300/boepd (71% oil and liquids) and $36,30/boe. Moreover, Legacy Oil (OTCPK:LEGPF) has EV of $1.5 billion that gives $83,800/boepd (87% oil and liquids) and $17,05/boe.
Acquisition Target: The M&A activity in Surge's three core neighborhoods is vibrant. Bonterra Energy (OTCPK:BNEFF) acquired recently Spartan Oil (OTC:SRTNF), a junior oil-weighted producer, for $112,000/boepd (82% oil and liquids) and $21/boe of reserves.
Enerplus Corporation (NYSE:ERF) sold few weeks ago its Manitoba oil-producing assets (1,600 boepd) for $135,000/boepd and $25,7/boe of reserves as that was not a core area for the company.
In 2012, Continental Resources (NYSE:CLR) bought the privately-held Wheatland for $340 million paying $136,000/boepd and $20/boe of 2P reserves. Continental is the #1 producer and leasehold owner in North Dakota that tries to become oilier while Wheatland is a junior oil-weighted producer of 2,500 boepd with land in North Dakota and Montana.
In Feb 2012, Crescent Point Energy (CSCTF.PK) also added on its core position in Manitoba and acquired light oil assets with production of 940 boepd for $130 million. Crescent Point believes this property has significant upside potential through infill drilling and waterflood optimization.
Additionally, EOG Resources (NYSE:EOG) and Hess Corporation (NYSE:HES) are Surge's neighbors in North Dakota holding significant core acreage there. EOG Resources has made it clear that the natural gas prices will remain depressed in 2013 and this is why it targets on growing its oil-weighted production in 2013.
Hess Corporation is also in the process of re-balancing its portfolio in favor of lower risk, geographically more secure assets while growing its unconventional oil resources. Hess has a global portfolio with assets all over the world holding 800,000 net acres in North Dakota. Asset sales of $1-$2 billion are underway according to the company. I believe that Hess will sell its assets in Kurdistan and Asia-Pacific to add acres on its homeland.
Penn West Petroleum (PWE) is another major player that strives to become oilier lately. Penn West's properties are adjacent to Surge's acreage in North Dakota and in Slave Point.
All this being said, Surge must adopt a Shareholder Rights Plan soon to properly evaluate any unsolicited take-over bid and to maximize value for all shareholders.
Threats
Commodity Volatility: As it happens with any commodity company, Surge's liquidity is impacted by the oil and natural gas prices. If they drop significantly in 2013, the operating cash flow from the unhedged production will decline.
Conclusion
With an Estimated Net Asset Value ((NYSE:NAV)) per share at $9.24, Surge is grossly undervalued based on any metric. Although I don't know exactly what Surge is worth, it is worth considerably more than what the current share price suggests.
Disclosure: I am long OTCPK:ZPTAF. I wrote this article myself, and it expresses my own opinions. I am not receiving compensation for it (other than from Seeking Alpha). I have no business relationship with any company whose stock is mentioned in this article.