Webster Financial (NYSE:WBS) reported Q4 2012 EPS of 52 cents, beating estimates by 4 cents. The street responded with mild enthusiasm, bidding shares up 2.11% to close at $22.30. At a TTM P/E of 11.97, the regional bank continues undervalued. Today's share prices don't reflect the steady operational improvements that have been driving increased EPS.
Background
From the 10-K:
Webster Financial Corporation (collectively, with its consolidated subsidiaries, "Webster", the "Company", our company, we or us), is a bank holding company and financial holding company under the Bank Holding Company Act of 1956, as amended, which is headquartered in Waterbury, Connecticut and incorporated under the laws of Delaware since 1986. Webster Financial Corporation's principal asset at December 31, 2011 is all of the outstanding capital stock of Webster Bank, National Association ("Webster Bank"). Webster had assets of $18.7 billion and equity of $1.8 billion at December 31, 2011.

Webster, through Webster Bank and various subsidiaries, delivers financial services to individuals, families and businesses primarily throughout southern New England and into Westchester County, New York. Webster provides business and consumer banking, mortgage lending, financial planning, trust and investment services through 168 banking offices, 473 ATMs, telephone banking, mobile banking and its Internet website (websterbank.com). Webster also offers equipment financing, commercial real estate lending and asset-based lending across the Northeast. Webster Bank offers health savings accounts on a nationwide basis, through its HSA Bank division and its internet website (hsabank.com). Webster's common stock is traded on the New York Stock Exchange under the symbol "WBS".

Our company's mission statement, the foundation of our operating principles, is simply stated as "We Find A Way" to help individuals, families and businesses achieve their financial goals. The Company operates with a local market orientation and with a vision to be the leading commercial bank between Westchester County, NY and Boston, MA. Operating objectives include acquiring and developing customer relationships through marketing, on boarding and cross-sale efforts to fuel organic growth and expanding geographically in contiguous markets through a build and buy strategy. The core of our company value proposition is the service quality model that we refer to as the "Type W Personality", which promises knowledgeable and reliable relationship-based bankers who know their markets and make decisions at the local level.
The company experienced difficulties in connection with the financial crisis, and received a capital infusion from Warburg Pincus, as well as support (since repaid) from the US Government. Earnings and tangible book value have increased steadily in recent years. Shares have increased from $10 when Warburg Pincus got involved to a 52 week high of $24.98, achieved in September 2012.
Valuation
After considering the gradual erosion of NIM (Net Interest Margin) and the improving Efficiency Ratio, both discussed below, I estimate 2013 EPS at $1.98. Applying a forward multiple of 13.8, I think shares are worth $27 today.
Tangible book value per share stands at $16.47. NewAlliance, a Connecticut regional bank, was acquired by First Niagara (NASDAQ:FNFG) on 4/15/2011 at a Price/Tangible Book of 1.63. Using this as a comparable, shares of WBS are worth $27.
Net Interest Margin
With the Fed maintaining rates at an extremely low level, net interest margins have been decreasing at an average 4 bps per quarter, a trend management expects to continue through 2013. Here's the relevant information from the press release: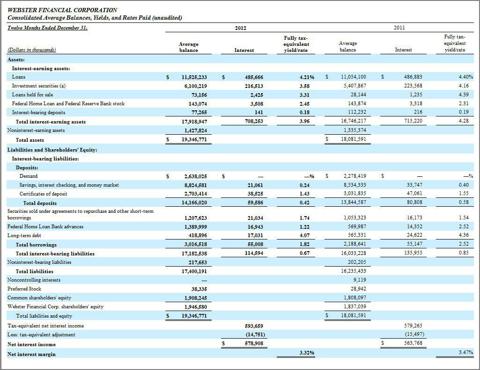 Studying this, net interest income increased 2.7% for the year, due to increased interest earning assets and consistent reductions in the rates paid on interest bearing liabilities. It's a game of inches and fraction of an inch, which has management's full attention.
Efficiency Ratio
With NIM under compression, expense reduction is critical. The company is now meeting its target of a 60% efficiency ratio. From the press release, here are the last 5 quarters:

During the conference call, management stated that the 60% target will be exceeded for 1Q 2013, but will be met sustainably thereafter. I'm projecting on that basis.
Dividend
The dividend stands at 10 cents quarterly, yielding 1.79% at a recent price of $22.30. It was reduced to 1 cent during the financial crisis, but was increased to 5 cents as of May 2011 and to 10 cents as of May 2012. The last increase was announced in April. It seems likely that the dividend will be increased another nickel in due course.
Investment Implications
Investors who buy WBS at today's prices have a realistic expectation of receiving increased dividend income and eventual share price appreciation.
The company's progress on maintaining the efficiency ratio at or below 60 should be tracked quarterly, as should the expected 4 bps per quarter NIM deterioration.
I'm investing on the basis that shares will reach $28 within the next two years, for an annualized return of 12.1%, to which the dividend, currently yielding 1.79%, can be added.
Options Strategy
I wrote WBS up favorably in June 2011, with shares trading in the $20 area. At the time, I discussed a diagonal call spread strategy, long WBS Jan 2012 12.5 calls and short WBS Oct 2011 22.5 calls. That trade was closed in April 2012 with an IRR of 30.2%.
A successor trade, initiated in May 2012, has developed into a long vertical call spread, WBS April 2013 12.5/22.5. IRR as of the most recent close stands at 57.5%.
The options strategy here has performed admirably, while the stock has not gained as much as expected. Given the favorable results, I plan to continue the trade if market conditions make it attractive.
A Digression on Mediocrity
As stock picks go, it's fair to portray this one as mediocre, for the simple fact that progress toward the target of $28 has been disappointingly slow and uncertain.
The irony here is, when this mediocre price performance of the underlying is coupled with the diagonal spread options strategy, returns going back to 2009 have been well above average.
Living in Connecticut, Webster is a local company and I've done business with them both personally and through businesses I've worked for. Regional banks aren't as complex as the big banks on Wall Street, and I think I understand WBS pretty well.
Sometimes it's easier to make money with a mediocre company that you understand than it is playing guessing games with more glamorous prospects.
Disclosure: I am long WBS. I wrote this article myself, and it expresses my own opinions. I am not receiving compensation for it (other than from Seeking Alpha). I have no business relationship with any company whose stock is mentioned in this article.